Drybulk shippers specialize in transporting cargos, typically commodities, such as iron ore, coal, grain and other materials around the world. Drybulk companies include but are not limited to DryShips (NASDAQ:DRYS), Diana Shipping, Inc. (NYSE:DSX), Golden Ocean Group Ltd. (NASDAQ:GOGL), Navios Maritime Holdings, Inc. (NYSE:NM), Navios Maritime Partners L.P. (NYSE:NMM), Scorpio Bulkers (NYSE:SALT), Safe Bulkers, Inc. (NYSE:SB), Star Bulk Carriers Corp. (NASDAQ:SBLK) and Ship Finance International Limited (NYSE:SFL).
With the Baltic Dry Index recently bouncing off record lows, dry bulk investors and companies are hopeful the worst is over. The smaller classes have led the way in this reversal with the Capesize segment still weighing heavily on the index.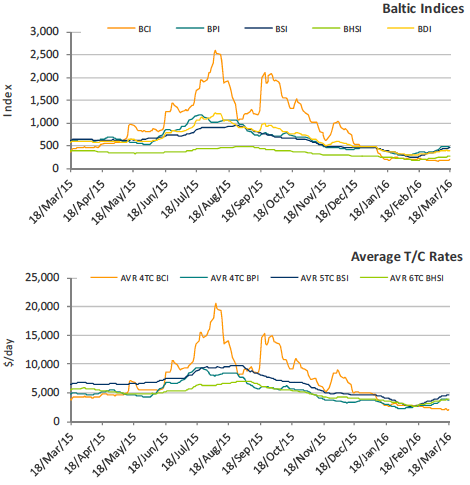 Source: Intermodal Week 12 Report (Subscription)
The reason for the dismal Capesize performance is simple: Current conditions as well as the outlook for this segment are without a doubt the worst of all classes.
Here we will examine key macro drivers on the supply and demand side that should continue to keep the Capesize class under extreme pressure over the coming years.
Demand
According to Maritime Connector, 93% of all cargo for Capesize bulkers is comprised of iron ore and coal. They note that "at present, most Capesize bulkers are being used for ore transportation between Australia and China, and Brazil and China."
Few ports around the world able to support a Capesize and beyond. Additionally, not many nations demand the commodity volume that would require regular Capesize visits. This means their role is largely restricted.
Therefore, import demand trends in key nations will have a significant impact on this particular class. Let's take a quick look.
Coal
Almost half of global coal imports come from just three nations. They are China, India, and Japan.
According to the Institute for Energy Economics and Financial Analysis, IEEFA, "China's thermal coal imports peaked in 2013, having fallen 40% since then." Additionally, "Japan's thermal coal imports likely peaked in 2014 and Indian thermal coal imports likely peaked in mid-2015."
China's long term decline can be traced to a slowing economy, a structural shift impacting more energy intensive sectors, government policies, and energy diversification.
India has embarked on a combination of increasing domestic coal production, promoting greater energy efficiency, and diversifying sources, with recent notable investments on the renewable side.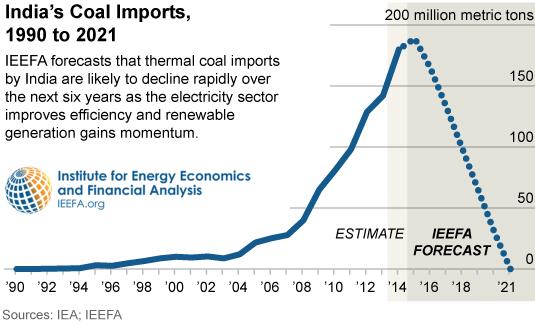 Source: IEEFA
The IEEFA reports that "Energy Minister Piyush Goyal has set extremely ambitious targets in regard to increasing Indian energy supply, including adding 175GW of renewable energy installation by 2022. Beyond this, there have been suggestions that India consider including a commitment to 350GW of renewables by 2030 in their Intended Nationally Determined Contribution (INDC)."
This combination could make for thermal coal independence by 2021 provided the government and private sector can reach the stated target of 1.5 Bt by 2020. If India is successful, this move will represent the single largest impact on dry bulk.
Finally, Japan has made no secret about increasing safety and modernizing its energy segment, with coal and nuclear being targeted for reductions.
This all paints a very grim picture for overall seaborne coal transport going forward.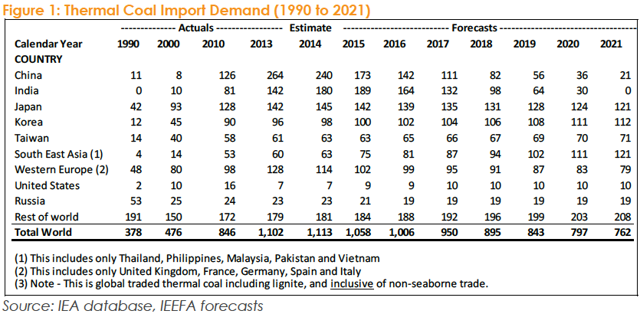 Click to enlarge
Source: IEEFA
The long story continues to be increasing pressure on the capesize segment based on a long term demand decline for one of its key commodities.
Iron Ore
When it comes to iron ore, one country dominates the landscape. In 2014, China was responsible for 65% of all global iron ore imports. Approximately, 98% of that iron ore was used in the steel sector.
The latest news out of China to close many "Zombie" steel mills and reduce capacity is sure to weigh on the Capesize segment. While I have seen reports about closures of coal mines and steel mills in China, I have yet to see that carry over into iron ore mines. This leads me to believe that China at this point intends to keep iron ore capacity and therefore the reduction in iron ore demand from steel mill closures will come mostly at the expense of imports.
Bloomberg reported on March 7th: China's new phase of "growth is underpinned by consumption and services and is inherently less steel intensive," BHP's Western Australian iron ore asset president, Edgar Basto, told a conference Tuesday in Perth. "Overall steel and pig iron production are expected to be subdued in 2016."

Chinese demand may weaken because of under-investment in real estate and infrastructure while mine supply will remain strong, Citigroup said in a report e-mailed Tuesday.
Additionally, the recent news of 30 Valemax vessels contracted by three Chinese shippers, in Chinese shipyards, signals that future imports are going to be impacted by massive tonnage which can produce a savings of up to $2/ton over Capesize vessels.
In short, the magnitude of these steel mill closures hasn't been appropriately factored into previous iron ore import forecasts. Therefore, I believe revisions to the downside are going to be coming soon. Also, the addition of over 12M DWT of VLOC vessels that will hit the water approximately in 2018-2020 will undercut Capesize vessels currently serving this market. Those vessels are more efficient and carry approximately 120% more cargo than a Capesize.
Supply
The trouble on the supply side will persist for many years with the Capesize segment impacted more than any other.
Recent demolitions have given a bit of hope. Clarksons reports that "the first 3 months of 2016 are shaping up to be the biggest quarter on record for bulkcarrier demolition. In the first 9 weeks of the year, 120 bulkcarriers of 10.1m dwt have been reported sold, a pace that, if continued, will see the current record of 10.9m dwt set in Q2 2015 surpassed."
But when taken into context they aren't so impressive.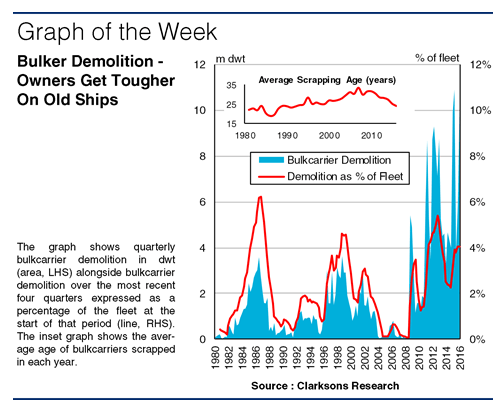 Source: Clarksons
Notice, the scrapping age hasn't approached levels seen in the past and the percentage of the fleet sold for demolition is still lower than the bear cycles in the mid-1980's, late-1990's and even 2012. So while the dwt figures sound impressive on the surface, they are lackluster in terms of percentage.
Making things a bit more challenging on the Capesize segment is scarcity of tonnage over 20 years of age. My estimates place it at just shy of 19.5 M dwt. Additionally, some are likely on long term charters which could mean demolition is years off.
Unless things change drastically, BIMCO sees no chance of a rebalancing in the market until at least 2018.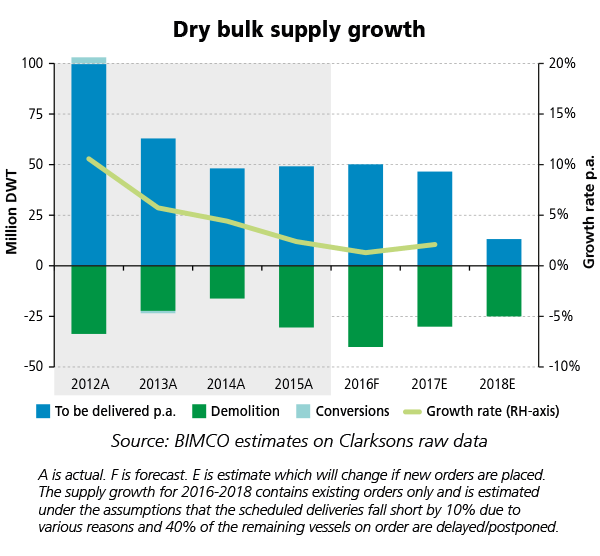 Source: BIMCO
BIMCO reports: For 2016, BIMCO expects new deliveries of 50 million DWT despite extensive postponements, delays and rescheduling. On record for scheduled deliveries, Clarksons report 92 million DWT for 2016. BIMCO assess that 40% of the scheduled deliveries will be delayed by one year. Moreover, the majority of the capacity will be delivered in first half of the year.

The distribution of new capacity is likely to remain unchanged from 2015. In round numbers that means: 40% of the new capacity will be delivered into the capesize segment, 20% into panamax, 30 % into handymax and 10% into the handysize segment.
This mix won't change. With newbuild orders drying up in 2015, most of the deliveries in 2017 and beyond are most likely larger classes considering build time and availability of ship yard capacity.
Notice that 2018 is the first year that demolitions are projected to outpace deliveries, bringing the potential of negative fleet growth, a desperately needed condition if this oversupply issue is to be corrected by 2020.
Conclusion
There are several things we can take from this outlook.
Most likely, the Baltic Dry Index will see the smaller classes leading the way out. However, due to the short haul nature and seasonal demand fluctuations for the smaller classes, it is going to be harder to determine a sustained upswing from a false start.
While the Capesize segment is set to suffer the longest, the Panamax segment looks to see their supply side correct first based on demolition potential; having the oldest average vessel age. Additionally, the Panamax supply going forward looks the most favorable for a recovery in terms of newbuilds hitting the water as a percent of overall dry bulk fleet size.
Therefore, companies with a large Capesize fleet, like Star Bulk, will suffer disproportionately in the coming years when compared to companies with a focus on the smaller classes, like Scorpio Bulkers which recently, and wisely, sold all Capesize vessels (owned and newbuilds). This means that when a recovery in the dry bulk begins to manifest, fleet profile will play an important role in selecting the winning company.
I welcome all questions/comments and invite you to follow me on Seeking Alpha as I continue to cover all aspects of maritime trade. Thank you for reading.
Disclosure: I/we have no positions in any stocks mentioned, and no plans to initiate any positions within the next 72 hours.
I wrote this article myself, and it expresses my own opinions. I am not receiving compensation for it (other than from Seeking Alpha). I have no business relationship with any company whose stock is mentioned in this article.
Editor's Note: This article covers one or more stocks trading at less than $1 per share and/or with less than a $100 million market cap. Please be aware of the risks associated with these stocks.