The price of oil picked up in the past few weeks and even reached $40 on account of a weaker U.S. dollar and the slow drop in U.S. oil output. This hasn't stopped storage to keep building up in recent weeks, which isn't a good indicator for the oil market. Other factors including the expected meeting of Russia and OPEC members next month may have also contributed to the rally of oil. Although a possible agreement to maintain output unchanged isn't likely to do much for the oil market. All signs point for oil prices to change course and resume its downward trend.
Oil and U.S. dollar
The greenback devalued against major currencies, which provided a boost to the price of oil. The chart below shows the weighted U.S. dollar index and oil prices since the beginning of the year. Over the last couple of months the U.S. dollar lost ground.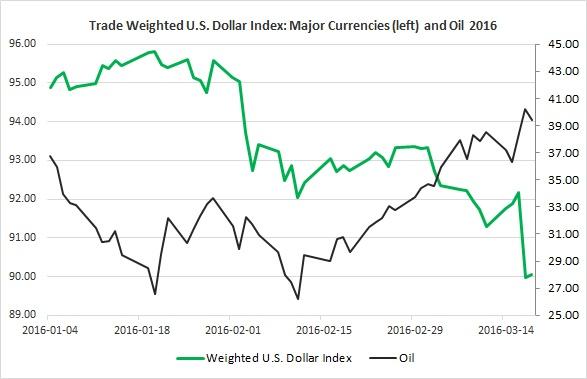 Source: EIA and FRED
This trend helped commodities prices in general and oil in particular. And the latest dovish FOMC statement also provided additional reason for traders to sell-off the U.S. dollar. But it's important to remember that the devaluation of the U.S. could be transitory: Mainly because banks are heading towards devaluing their currencies. All awhile the Federal Reserve seems less concerned about weakening the U.S. dollar. After all, the labor market continues to progress and inflation is also slowly moving towards the Fed's target. Finally, the U.S. GDP doesn't heavily rely on exports so the Fed doesn't need to cut rates to boost exports. Therefore if the U.S. dollar were to change course and start strengthening again, oil prices are likely to be adversely affected by this shift.
Output and storage
Even though the oil output in the U.S. has slowly been coming down, the same can't be said of inventories.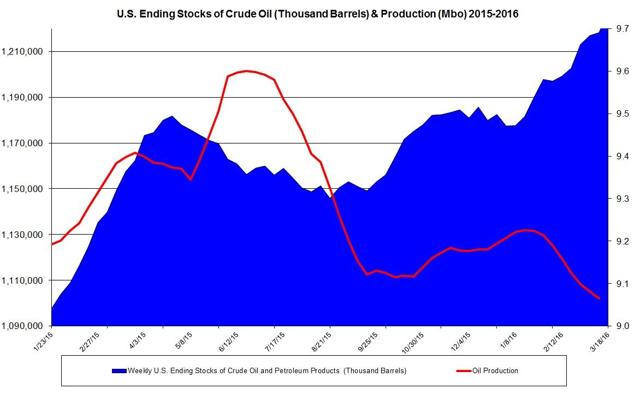 Source: EIA
Oil producers are still slashing their output and reducing the number of rigs. And the current output is 9.06 million barrels per day, which is 3% lower than last year and 5.6% below the high point back in June 2015. The output is still projected to decline to an annual average of 8.7 million barrels per day, which is 4% lower than the current level. So why oil storage isn't falling? For one, oil imports continue to rise and are currently at 8.1 million barrels per day - close to 12% higher than in 2015. So the oil output and imports combined are still up for the year by over 3%. Second, the demand isn't rising as fast as imports do. This could change coming the summer as the driving season begins and demand for oil increases. But in the meantime, as long as imports continue to rise or demand doesn't pick up, the buildup in storage is likely to continue.
Finally, the highly anticipated meeting among Russia and OPEC members on April 17th could a lot of hype that won't have a substantial impact on the oil market. The meeting will be about whether all members could agree to freeze output at the current levels. After all, even if some OPEC members and Russia countries agree not to ramp up production, it won't mean anything because the only member willing to sign this agreement that can raise its output is Saudi Arabia. And Iran and Libya aren't likely to sign this agreement because they want to ramp up their respective production. So it seems unlikely this meeting will yield an agreement that will help drive back up oil prices.
Bottom line
So far the market conditions provided back-wind to the oil market. Storage levels in the U.S. continue to rise. And while production is slowly falling, it's still moving very slowly. Finally, the upcoming meeting of OPEC members and Russia may have provided some optimism in the market for a rally in oil prices. But this meeting isn't likely to tighten the oil market. (For more please see: A couple of notes on the oil market")
Disclosure: I/we have no positions in any stocks mentioned, and no plans to initiate any positions within the next 72 hours.
I wrote this article myself, and it expresses my own opinions. I am not receiving compensation for it (other than from Seeking Alpha). I have no business relationship with any company whose stock is mentioned in this article.