SeaDrill Ltd. (NYSE:SDRL) continues to fight an uphill battle, and shareholders have gotten used to bad news out of the offshore drilling sector. The market for drillships remains oversupplied, and crude oil prices continue to weigh on energy companies that make a living out of contracting for oil and gas exploration jobs. SeaDrill is trying to ride out the downturn by delaying capital expenditures and managing cash carefully, but it is also willing to make deep concessions in order to extend existing contracts.
SeaDrill has been anything but a winning investment over the last year since fundamentals in the oil patch deteriorated from quarter to quarter. SeaDrill, like most other energy-related companies, has fallen on hard times in light of slumping crude oil prices and reduced capital budgets. And SeaDrill's shares could not escape the pull either: Over the last year SeaDrill crashed a whopping ~68 percent. In fact, SeaDrill would have crashed even more than that if it wasn't for the speculation that one of SeaDrill's shareholders, billionaire and shipping magnate John Fredriksen, was planning on propping up the struggling offshore company. Fredriksen, who has said that his investment in SeaDrill is a long-term investment, has sold one third of his stake in salmon farmer Marine Harvest ASA and raised ~$510 million.
Speculation about a life-line from Fredriksen caused SeaDrill's shares to spike while higher crude oil prices also contributed to the surge. However, SeaDrill has lost some of the gains made in early March on the back of lower trending oil prices and profit-taking that has also affected other oil and natural gas companies. WTI crude oil has fallen below $40/barrel again yesterday, leading to a sharp sell-off in energy companies including offshore drilling company SeaDrill.
Profit-Taking Remains Biggest Single Risk Factor Over The Short Haul
Profit-taking has already taken place after the gigantic short squeeze at the beginning of the month that sent SeaDrill's shares as high as $7.49 on March 4, 2016.
SeaDrill crashed ~10 percent on Wednesday, however, after crude oil prices softened.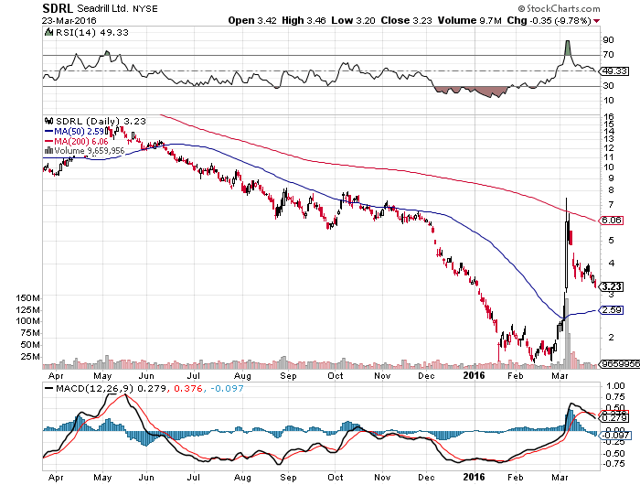 Click to enlarge
The rebound of crude oil prices has helped SeaDrill's shares a lot lately, but investors need to be prepared for another drop in oil prices on resurfacing supply concerns that have heavily weighed on valuations in 2015 and early 2016. Oil and natural gas companies, with very few exceptions, are still pumping a LOT of energy out of the ground, and a retest of the $35/barrel crude oil price mark is certainly within the realms of possibility.
SeaDrill Announces West Tellus Contract Extension
SeaDrill announced on Wednesday that it has extended its contract with Petroleo Brasileiro SA for the West Tellus drillship. The 18-month contract extension will add $32 million net to SeaDrill's backlog (after accounting for dayrate concessions).
Your Takeaway
The contract extension is good news at a time when good news really are in short supply. That being said, though, SeaDrill remains at risk of more profit-taking over the short haul if crude oil prices fall back on resurfacing supply concerns. Profit protection through stop-loss orders is a MUST, or investors are otherwise risking losing their March profits.
Disclosure: I am/we are long SDRL.
I wrote this article myself, and it expresses my own opinions. I am not receiving compensation for it (other than from Seeking Alpha). I have no business relationship with any company whose stock is mentioned in this article.