Last week, Baidu (NASDAQ:BIDU), China's largest Internet provider, reported its fourth quarter and end-of-year results. The highlights are as follows:
Total revenues in the fourth quarter of 2011 were RMB4.474 billion ($710.9 million), an 82.5% increase from the corresponding period in 2010.
Total revenues in fiscal year 2011 were RMB14.501 billion ($2.304 billion), an 83.2% increase from 2010.
Operating profit in the fourth quarter of 2011 was RMB2.297 billion ($365.0 million), an 80.2% increase from the corresponding period in 2010.
Operating profit in fiscal year 2011 was RMB7.577 billion ($1.204 billion), a 91.4% increase from 2010.
Net income attributable to Baidu in the fourth quarter of 2011 was RMB2.054 billion ($326.3 million), a 76.9% increase from the corresponding period in 2010.
Net income attributable to Baidu in fiscal year 2011 was RMB6.639 billion ($1.055 billion), an 88.3% increase from 2010.
These results are impressive and point to the company's ability to harbor its strength in China, the world's largest internet population. China has more than a half a billion users and in the fourth-quarter alone China's online search market grew by 70.2%. This marks an exceptional opportunity for BIDU to take advantage of, being that only 38.3% of China's internet is penetrated. That being said, China has stringent laws and in the future the best option for BIDU may be to geographically diversifty its footprint.
While these results are impressive, they come in a company that has little competition and a geographic penetration that is not widespread outside of China. The past three years have been exceptional for BIDU in the wake of Google (NASDAQ:GOOG), BIDU's largest competitor, pulling out of China due to the nation's strict censorship of information. Even with increases of over 80% in both profit and revenue in 2011, BIDU needs to prove to the world that it can 1.) withstand competition from its largest rival GOOG in other markets like Brazil/Middle East and 2.) launch a mobile and social networking strategy that is sustainable and scalable into the long-term time horizon.
Until these events commence, BIDU's success will be largely hinged upon Chinese growth. If China's past is any indication of the future in regard to censorship, BIDU may face hurdles in the coming years.
click to enlarge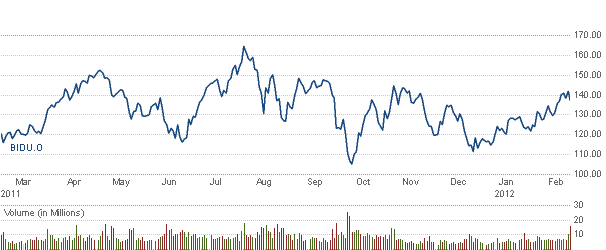 Click to enlarge
(CNBC)
BIDU entry into other markets is a test for the company's future:
In the wake of the company's earnings, it was rumored that BIDU would be taking on GOOG in Brazil by entering this market. In the past BIDU has attempted to enter Japan and has been largely unsuccessful due to the presence of Yahoo (NASDAQ:YHOO) and GOOG. BIDU has already begun to expand its multi-language platform into areas in the Middle East, but the results from these efforts are not proven yet. In Brazil, GOOG represents nearly 90% of the internet search market. Hong Bo told China Daily that "while competing with its international counterparts, Baidu has no obvious advantages." Bo also mentioned the company's unsuccessful ventures into other markets due to the dominance of GOOG.
This sentiment is rooted within the fact that BIDU is behind GOOG in development and market exposure. In the world of the internet, GOOG has been able to turn whole populations into users due to the company's extensive offerings and incredible simplicity from a consumer perspective. Unless BIDU is able to come into markets like Brazil and the Middle East with a bang and steal some of GOOG/competitors market-share, there is no reason to believe that the company can extend itself into other markets and keep up with the growth expectations if China becomes a more difficult country to capitalize on from an internet perspective.
A successful mobile and social networking strategy:
Over the past two years, GOOG has been able to capture the world's attention with its Android mobile operating system and its social networking site "Google+." Larry Page, GOOG CEO, stated,
I am super excited about the growth of Android, Gmail, and Google+, which now has 90 million users globally - well over double what I announced just three months ago. By building a meaningful relationship with our users through Google+ we will create amazing experiences across our services. I'm very excited about what we can do in 2012 - there are tremendous opportunities to help users and grow our business.
The words of Page stand as a model for what BIDU needs to do in the coming years to catch up and be able to hold its ground against GOOG in the long-term. BIDU has been making efforts to develop a strong mobile and online video sector to spur growth, but has been largely unsuccessful. The company plans to launch its own browser Baidu Liuluanqi, but without seeing tangible results from these efforts, it is not wise to gamble that BIDU can follow in the footsteps of GOOG and organically tap into this growth.
BIDU has a lot to prove in the coming years. Don't buy into hype of the future, act on tangible products proving to be scalable. Though it is not necessary for the company to develop these plans in the short-term due to its near monopoloy over the Chinese market, without these products, the company will have a difficult time expanding outside of its home country.
Financials:
Forward price/earnings: 21.16. This is much higher than GOOG, but due to the company's low PEG ratio, investors should not see it as a sign of overvaluation. If the company is unable to do the aforementioned, though, the chart below may look quite differently in five years.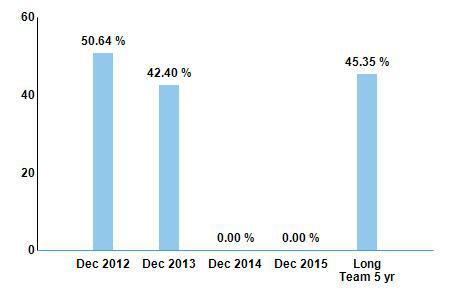 (Nasdaq)
PEG: .64. This illustrates that the stock is not overvalued in comparison to its growth prospects. Though the company is not overvalued, if the company proves incapable of expanding into other markets, the current valuation could prove expensive.
Return on Equity: 53.54%. This is a very strong figure and is among the strongest in the industry. This illustrates that in the past BIDU has been able to use its dollars effectively, but this does not prove that it will be able to compete directly against GOOG or build a strong mobile platform.
Cash-Debt: $1.85 billion. The cash position that BIDU is currently in is not weak by any means, but is miniscule in comparison to GOOG. This is important because in business, cash is king and has the ability to obtain individuals that bring revolutionary ideas to the table. GOOG's cash position should make BIDU nervous while it enters GOOG turf in Brazil.
Dividend: 0%. This is typical among the industry due to the cash being more effective in the hands of the company than in the hands of investors.
Conclusion: Until BIDU proves to both Wall Street and Main Street that it has what it takes to compete against GOOG and develop a strong mobile platform, the company is at the mercy of China and obtains no strategic advantages outside of this market. With the growth occurring now in China, BIDU is naturally doing well, but if BIDU penetrates the Chinese market and has nowhere to go, it will already be too late for investors.
(All finacial data has been obtained through Yahoo! Finance)
Disclosure: I have no positions in any stocks mentioned, and no plans to initiate any positions within the next 72 hours.