Nike (NYSE:NKE) stock fell almost 4% after reporting fiscal third quarter earnings that I thought were very, very strong. Regardless of what analysts expected, anytime a company the size of Nike can grow revenue 7.6% and report a 12% increase in future orders, it is a darn good three months. However, the problem is not earnings or the company's growth, but rather valuation, and a stock that has become too expensive. Therein lies the reason why investors are best served buying Foot Locker (NYSE:FL), and avoiding NKE altogether.
16 months ago I would have never suggested FL over NKE, even though the former was cheaper. The reason is because Nike was the creme of the crop, the only reason one would want to invest in the footwear space. Back then, there was Nike and then everyone else, and if the investment outlook for Foot Locker is based on the performance of footwear as a whole, then it made sense to just stick with NKE when its business was head and shoulders above everything else.
Nowadays, that is not the case. Sure, Nike is the largest, and is most certainly growing fast. However, Skechers has risen with incredible growth of 28.7% in 2014, 32% in 2015, and is expected to grow another 17% this year, which is more than likely very conservative given that Skechers has exceeded expectations in each of the last two years by a distant margin. Furthermore, Under Armour's (NYSE:UA) footwear business has arrived as a legitimate contender against Nike.
During Under Armour's last quarter, footwear sales rose 95% year-over-year, and just recently, its Curry line became the best selling basketball shoe among active players. This performance led me to recently suggest that Steph Curry could realistically be the next Michael Jordan, in footwear sales anyway.
Nonetheless, my point is that Nike is no longer carrying the footwear space on its back. The industry is filled with brands growing at double digits, even Adidas has seen a resurgence of late. Therefore, if Foot Locker is a reflection of the entire industry, and its 7.9% increase in comparable sales last quarter suggests it is, then FL stock has become a terrific investment.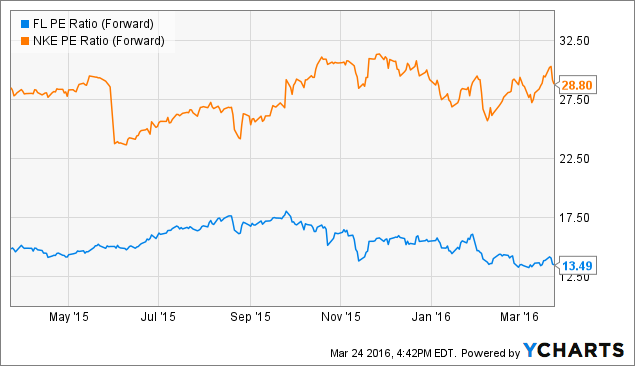 FL PE Ratio (Forward) data by YCharts
That said, one could certainly make an argument that NKE is worth more than FL on a stock multiple basis due to its long-term consistency and continued growth. However, it becomes quite excessive when that premium is upwards of 110%, a price to next year's earnings of 28.8 vs. 13.5.
Nike is one of the largest retail companies in the world, sporting a market capitalization over $100 billion. When you start to look throughout the sector, there are not too many large retail companies sporting a forward P/E ratio of nearly 30. Thus, it is hard to argue that NKE stock is worth a higher premium, but one could certainly argue that NKE could fall 10%, even 20% and still be expensive. In fact, NKE could lose such value and still trade at a big premium to other retailers/designers.
Meanwhile, FL trades at a multiple that you'd expect from Wal-Mart (NYSE:WMT) or Nordstrom (NYSE:JWN), and actually, FL stock is cheaper than the likes of WMT and other companies that are growing at rates comparable to GDP. This fact is a great indication that FL is significantly undervalued, hardly reflecting the incredible growth that is taking place with the products that stock its shelves.
When you consider all these facts, from valuation to growth, it is clear that an investment in Foot Locker includes less downside risk with significantly more upside over time. While I am not saying that Nike is a bad company, it is an expensive company, and FL stock provides the growth at half the cost.
Disclosure: I am/we are long FL, SKX.
I wrote this article myself, and it expresses my own opinions. I am not receiving compensation for it (other than from Seeking Alpha). I have no business relationship with any company whose stock is mentioned in this article.