AIG Ordered to Pay $9.5 Million
On March 14, 2016, three affiliates of American International Group (NYSE:AIG) were fined $9.5 million by the SEC for reportedly engaging in reverse-churning and steering investors of retirement products into costly mutual funds with wrap fees. The wrap fees are higher fees that normally apply to higher volume traders, but the investors were ones that traded less frequently and were thus eligible for cheaper products.
The affiliate firms, FEC Securities Corp., SagePoint Financial, and Royal Alliance Associates sold unsuspecting investors funds with 12b-1 fees, which provided the brokers with marketing fees to benefit them, even though they should have instead steered the investors into funds with cheaper fees. The SEC's enforcement division said that this was a clear conflict of interest in derogation of the duty brokers and dealers owe to investors.
The excess fees resulted in $2 million in profits for the three firms. The fines are in addition to refunds the affiliates were already required to pay to the investors. All three affiliates are part of AIG's Advisor Group arm.
Carl Icahn has been pressuring AIG to sell off the Advisor Group as part of his push for the AIG to streamline itself, asserting the company is too large to succeed. AIG will sell the Advisor Group in a sale to PSP Investments and the Lightyear Group, stating that the Department of Labor rules requiring broker-dealers to act in the best interests of clients may not be good for AIG.
Buyback Blackout Begins March 24
Under SEC rules, companies must halt repurchases of their shares for approximately five weeks before their earnings reports. For AIG, the buyback blackout period begins on March 24. AIG has relied on buying back its shares to take advantage of the S&P 500's Buyback Index, which has been outperforming the S&P Index since February. Since AIG has underperformed the S&P by 14 percent since the beginning of 2016, the company is considered to be particularly vulnerable during its blackout period for the value of its stock.
AIG vs. Berkshire Hathaway
By contrast to AIG's continued weak performance, Berkshire Hathaway (BRK.A, BRK.B) appears almost untouchable. The per share price reached more than $210,000 on March 19. As of 10:47 a.m. on March 26, the per-share price was at $213,680.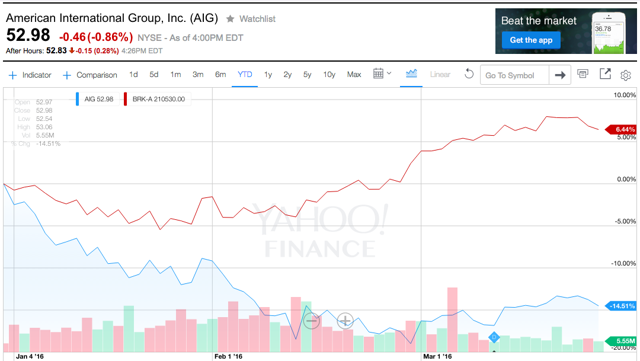 Source: Nasdaq.com.
Conclusion: Cash Out of AIG, Consider Stronger Insurance Alternatives
AIG's continued bad news, its SEC fines, its reluctance to follow Carl Icahn's advice, the hits to its reputation, its weak performance and its upcoming blackout period all combine to make us recommend that investors get out while they still can.
We believe that AIG's per share value will continue to fall. People may instead want to consider investing in Berkshire Hathaway, which has consistently shown stunning returns since Warren Buffett has been at the helm.
On March 8, we recommended readers buy Berkshire, as it appeared undervalued. The stock continues to outperform.
Disclosure: I/we have no positions in any stocks mentioned, and no plans to initiate any positions within the next 72 hours.
I wrote this article myself, and it expresses my own opinions. I am not receiving compensation for it (other than from Seeking Alpha). I have no business relationship with any company whose stock is mentioned in this article.