Yesterday in Zurich, Bombardier (TSE:BBD.B) (OTCQX:BDRAF) (OTCQX:BDRBF) and Swiss International Air Lines (Lufthansa Group (ETR:LHA) (OTCQX:DLAKY)) provided a briefing on the status of the C Series route-proving program.
Two important pictures were presented that demonstrate important progress for the C Series. Here's the first one: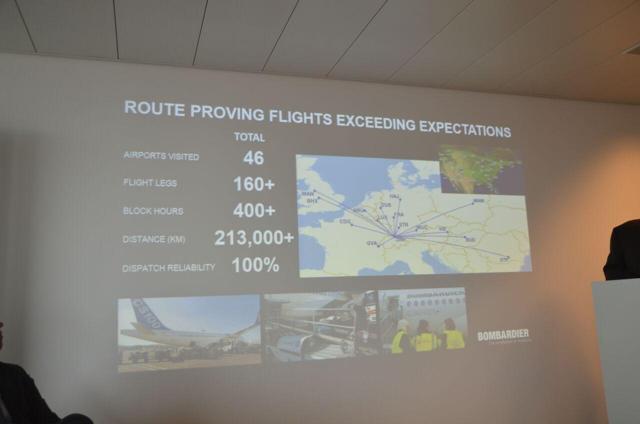 Although these flights were undertaken by Bombardier crew (with SWISS crew in attendance) and kept to four legs per day (compared to SWISS's plans for eight), the aircraft provided a 100% dispatch reliability. This matched Bombardier's own F&R tests from late last year. The aircraft is solid.
The next two pictures form part of the same chart. They are split for easier reading.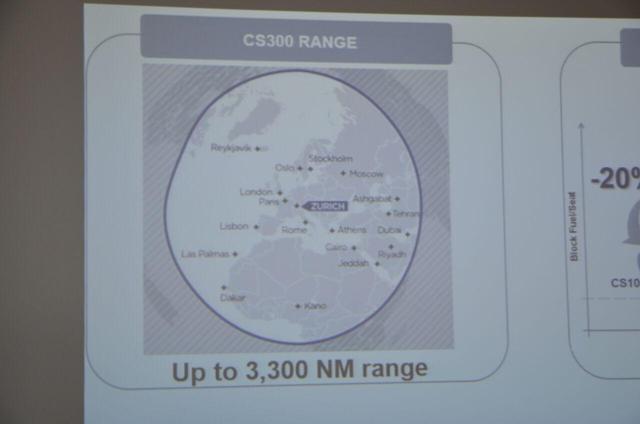 Click to enlarge
As this chart shows, the C Series has the range to accomplish an amazing number of city pairs from Zurich, which is the airline's home base. Why is this important? The CS100 offers the airline an excellent platform for route development. SWISS will be able to try lots of new markets at low risk. This is compelling.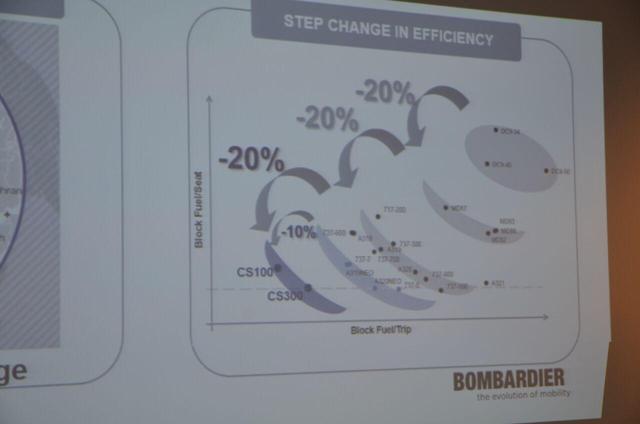 Click to enlarge
The second chart demonstrates why the CS100 is going to be so compelling as a tool for SWISS - its economics are still double digit better than re-engined competition. Oil is cheap now, but won't always be. Over a 20-year life span for an aircraft, the C Series offers better numbers. Bear in mind, the Pratt & Whitney (NYSE:UTX) GTF engine promises better fuel burn - it's at 16%, better than current generation engines now, and will be at 19% within the next two years.
These charts show why the negative news about Bombardier and its C Series is probably overblown. Sure, the program is over budget and delayed. Yes, these were big mistakes. But program delays are normal in commercial aerospace. Looking forward, we see a technically capable aircraft that is going to be disruptive. It has outsold the Airbus (OTCPK:EADSY) A319neo and the Boeing (NYSE:BA) 737 MAX-7, which are the primary competitors.
In conclusion, note that SWISS converted its second batch of CS100s to CS300s. And then it added 10 more CS300s. If the airline had any doubts, it would never have done this. Bombardier will get through its issues. Its new C Series is going to be a fine airplane.
Disclosure: I/we have no positions in any stocks mentioned, and no plans to initiate any positions within the next 72 hours.
I wrote this article myself, and it expresses my own opinions. I am not receiving compensation for it (other than from Seeking Alpha). I have no business relationship with any company whose stock is mentioned in this article.
Editor's Note: This article covers one or more stocks trading at less than $1 per share and/or with less than a $100 million market cap. Please be aware of the risks associated with these stocks.