Introduction
I have met Eldorado Gold's (NYSE:EGO) CEO Paul Wright several times, and even though he was one of the most overpaid CEOs in the industry, he definitely did a good job in building the company out to an "alternative" mid-tier gold producer. Alternative, because the company was focusing on mining destinations that didn't appeal to a lot of other companies (Greece, China, ...). The company has now released its results for the financial-year 2015, and in this article, I will explain why you shouldn't be too worried about Eldorado's bottom line that was showing a net loss of $1.54B.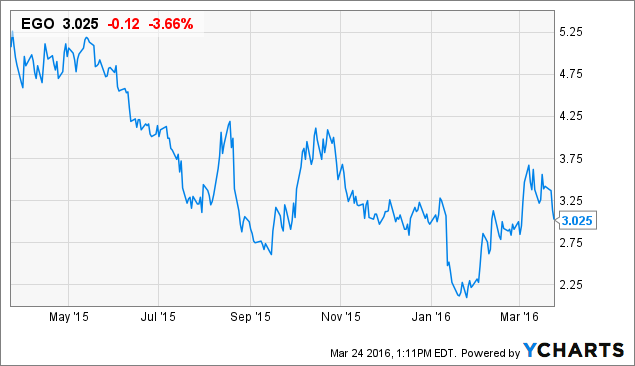 EGO data by YCharts
2015 wasn't as bad as it seems
Production wise, 2015 was a good year for Eldorado Gold as the company produced almost 725,000 ounces of gold, which is substantially higher than the midpoint of its original production guidance, which was 640,000-700,000 ounces. That's an excellent performance, but the total revenue of $824M from its gold sales was a little bit disappointing considering the company was able to sell its gold at an average price of $1,168 per ounce.
The explanation is pretty simple. Despite having produced 723,000 ounces, only 705,000 ounces were sold, so the company was holding approximately 18,000 additional ounces of gold on its balance sheet as inventory. Should Eldorado have been able to sell all of the gold it has produced, its revenue would have been approximately $20M higher. The consolidated revenue in FY 2015 was $863M (which is higher than the revenue generated from selling the gold, as Eldorado also sells some other commodities that are recovered as a by-product from its mines).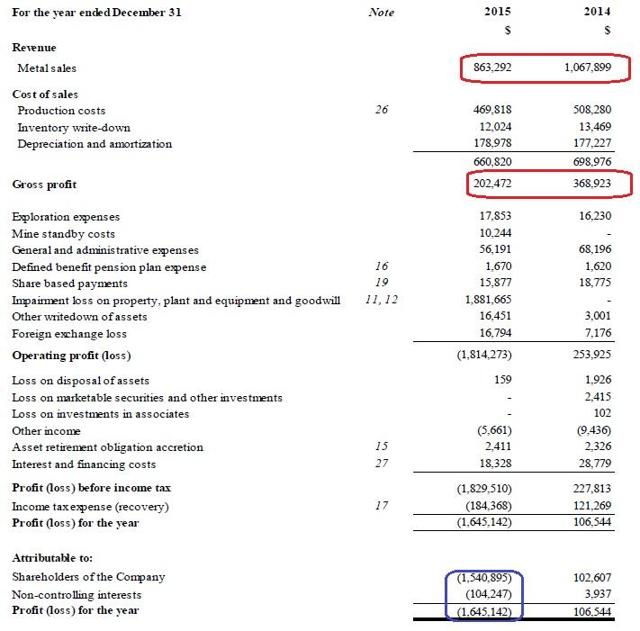 Click to enlarge
Source: Press release
The revenue was obviously lower than in 2014 (due to the lower gold price), but fortunately the company's production costs were also decreasing (mainly due to the stronger US dollar which reduces the EUR- and TRY-denominated expenses when expressed in USD). This didn't mean Eldorado Gold was profitable, as the company decided to record a $1.88B impairment charge as it reduced the fair value of its mining assets and goodwill. The net loss attributable to the company's shareholders was $1.54B or $2.15 per share.
Alarming, but not disastrous. The reason why the company reported a net loss was the huge impairment charge. That's a tough pill to swallow, but that's just an accounting charge and shouldn't have an impact on the company's ability to generate a positive operating cash flow.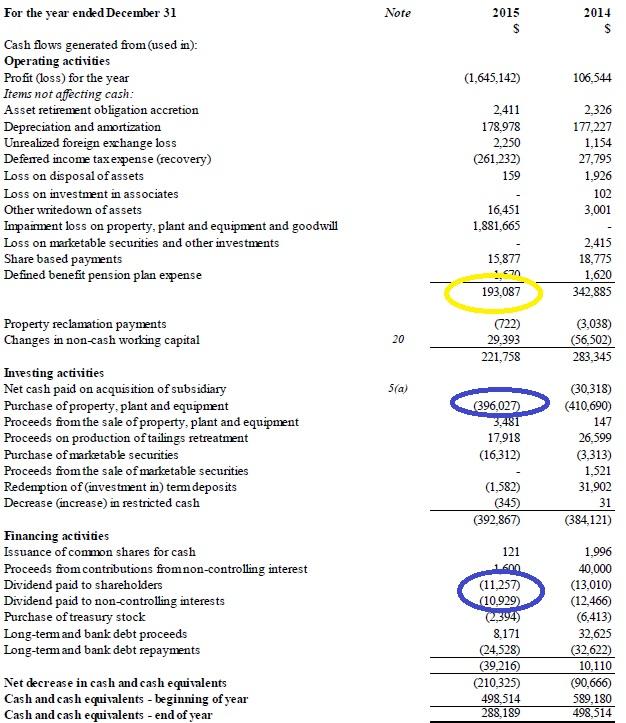 Source: Press release
Indeed, Eldorado's operating cash flow (before changes in the company's working capital position) was $193M, and keep in mind this would probably have been closer to $210-215M if it was able to sell all of the gold it has produced during 2015. Yes, Eldorado had to tap into its existing cash resources as even though $193M in operating cash flow is a good result, it wasn't sufficient to cover the $396M in capital expenditures.
2016 will be a year with a low sustaining capex
The main question is, what was the capex spent on, and what would be an appropriate level to keep the existing operations going, without having to invest in new properties?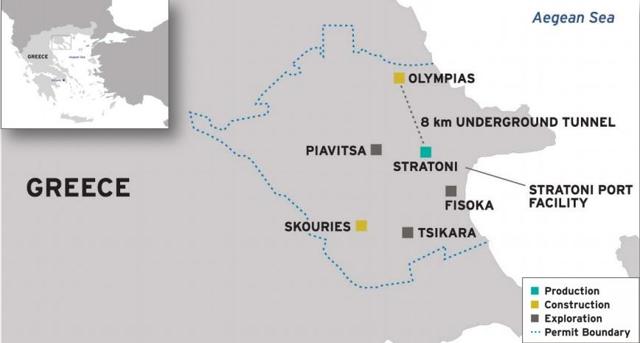 Click to enlarge
Source: Company presentation
For 2016, the answer to that question is pretty simple as Eldorado usually does a good job in breaking down the capital expenditures in different parts. The total capex for 2016 is expected to be $295M with an additional $25M to be spent on exploration. So, the total bill would be $320M (based on the official guidance), and there's no way Eldorado's operating cash flow will be able to fund these expenses (unless gold goes to $1,500 and above). However, of the $295M in capital expenditures, just $105M is considered to be sustaining capex. This means that, based on an operating cash flow of $193M, Eldorado Gold would be able to generate a positive free cash flow of almost $80M (which includes the exploration expenditures). And that's a much better result than what you'd be expecting!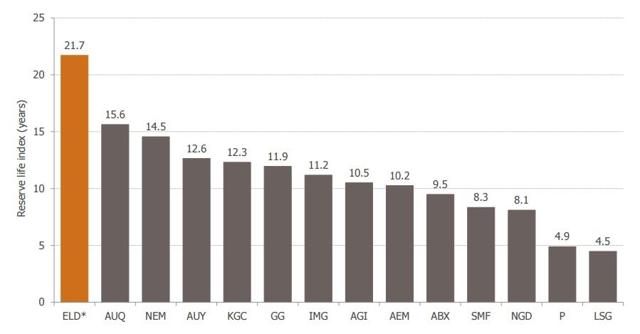 Click to enlarge
Source: Company presentation
Yes, the net debt position will increase due to the growth capex, but it will be spent wisely. Olympias should be in production this year whilst the Eastern Dragon project will also provide a meaningful contribution to the company's production profile. Add the fact the current gold price is higher than the average price in 2015 (every $50/oz change increases the cash flow by $30-35M) and the fact the operating cash flow was negatively impacted by the lower amount of gold sold, and Eldorado definitely isn't in a bad shape.
Investment Thesis
I also fully agree with the decision to suspend the dividend as this wasn't creating any value for the shareholders. Even though the dividend was mainly symbolic, it was costing the company almost $15M per year and that $15M should be spent on the projects rather than keeping the shareholders happy.
This year's total production rate should be approximately 600,000 ounces of gold at an AISC of approximately $960/oz. The production rate will be lower and the production cost higher, but all eyes should be on 2017 when both the Eastern Dragon project and Olympias Phase II will produce an additional 140,000 ounces of gold at an ultra-low cash cost ($400/oz in Greece and less than $250/oz in China).
Disclosure: I/we have no positions in any stocks mentioned, and no plans to initiate any positions within the next 72 hours.
I wrote this article myself, and it expresses my own opinions. I am not receiving compensation for it (other than from Seeking Alpha). I have no business relationship with any company whose stock is mentioned in this article.