A lot of investors have mixed feelings about share repurchases. They're lumped in as "capital returned to shareholder," which is true, but the value received isn't always as direct or apparent as cash dividends. When a company pays $1 worth of dividends per share, it's $1 of dividends. Yet the benefit (or disadvantage, depending on how you look at it) of $1 worth of share repurchases depends on the underlying share price at the time of purchase. It's not the same for every security or period.
Take a company like McDonald's (NYSE:MCD), which is borrowing funds to buy back shares at 20+ times earnings. Then compare this to a business like Traveler's (NYSE:TRV) which has used mostly "organic" funds to buy out partners under 10 times earnings. There's a big difference there. The effectiveness of a $1 worth of share repurchases varies dramatically in these instances.
Today I'd like to apply that sort of theme to Discover (NYSE:DFS), the $20 billion banking and payment services company based in Illinois. Although the company has only been operating on its own since 2007, the capital allocation program has already begun to formulate.
Discover initiated a $0.06 quarterly dividend back in 2007, but that was quickly slashed to just $0.02 per share once the recession hit and frozen thereafter. By 2011 the $0.06 mark was restored, and since then the common payout has been growing nicely: $0.50 in total for 2012, $0.74 for 2013, $0.92 in 2014 and $1.08 last year. Still, the current payout now only represents about a fifth of trailing profits.
This has allowed Discover to begin a substantial share repurchase program as well. From 2012 through 2015 the company was earning $2 to $2.5 billion annually. Dividend payments made up $200 million to $500 million of that total. Meanwhile, share repurchases have been on the magnitude of $1.2 billion to $1.7 billion - easily tripling the cash allocated for dividend payments. It's clear where the focus has been as of late.
And it's worked. At the end of 2010 Discover had 530 million common shares outstanding or thereabouts. By the end of 2015 this number had been reduced to about 430 million - a decline of nearly 20% in five years. This was driven to a large degree by the idea that a good amount of those share repurchases were done under 10 times earnings. For ongoing shareholders, the benefit of buying out partners at say 8 times earnings as compared to 20 times should be apparent.
Moving forward we can think about a similar situation. If you were to look up the intermediate-term growth estimates for Discover, you might see something in the 4% to 8% range. Let's scale it back a bit and see what a "no growth" situation might look like.
Last year the company earned $2.3 billion and we'll presume that continues for the next decade. It's not exactly a "worst case" situation, but it's not altogether encouraging either. The current dividend payment sits at $0.28 per quarter, or $1.12 on an annual basis. Based on 430 million shares outstanding, this equates to a total dividend expenditure of about $482 million, call it an even $500 million.
Realistically you'd expect this to continue increasing through the years, but we'll stay cautious. Finally, over the last four years Discover has averaged just under $1.5 billion in annual share repurchases. We'll use $1.3 billion to leave some flexibility. Here's what that could look like: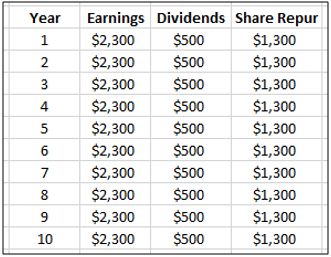 All of the above numbers are in millions. As you can see this would indicate zero total company growth over the next 10 years - earnings stay the same, the total amount of dividends stagnant and the total capital allocated toward shareholders is also the same. If you owned the entire business it'd be like collecting the same payout year-after-year. On a company wide basis, this probably doesn't appear particularly attractive.
Yet consider what this could mean on a per share level: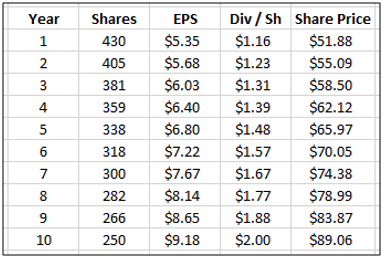 This table is immensely instructive in my view. I didn't alter any of the company-wide metrics: same total earnings, same total dividends and the same amount going toward share repurchases. Yet take a look at what this could mean for a part owner.
I used a constant earnings multiple throughout - effectively on par with the trailing mark. So the value of the business is not changed from the beginning to the end of the period. What changes is the amount of shares outstanding and thus the value that a single share provides. This type of math works for any share repurchase program, but it is especially pronounced when you have a large portion of buybacks taking place at a below average valuation.
The key here is that you have an earnings multiple under 10 (equating to a 10%+ earnings yield) to go along with the idea that roughly 60% of those funds are diverted toward repurchases. In the scenario above the share count is decreasing by about 5.8% per annum. The business may not be growing, but this type of share count reduction would certainly propel per share growth.
Earnings-per-share, dividends per share and the share price would all be increasing by over 6% annually in this situation. In total you might expect to collect $15.50 or in dividend payments to go along with a future expected share price of about $89. Your total anticipated value would be about $105. Based on today's share price under $50, that would more than double your capital; providing a 7.7% annualized return.
Of course some of you might indicate that it's not "fair" to use a constant earnings multiple of just under 10 throughout. That's fine, and it's a good judgment to make on your own. However, it's important to underscore that this may not have as large of an effect as you might imagine. If instead shares traded at say 14 times earnings, the number of shares retired would decline but your total annualized gain would increase to about 9.5%.
Or on the other side with a constant multiple of say 6, your ending share price would be less, but so too would the number of shares outstanding - leading to annualized gains around 7%.
This is the sort of thing that can be easily looked over when you're thinking about the business. It's easy to talk about Visa (NYSE:V) or MasterCard (NYSE:MA) being much better growth stories. And it's true. Yet that's only one part of the story. As demonstrated above, the low valuation aids significantly in developing an investment thesis. Even without business growth Discover shareholders could easily see mid-to-high single digit investment results.
Disclosure: I am/we are long MCD.
I wrote this article myself, and it expresses my own opinions. I am not receiving compensation for it (other than from Seeking Alpha). I have no business relationship with any company whose stock is mentioned in this article.