Experienced price drawdown risks vs. forecast gains
Figure 1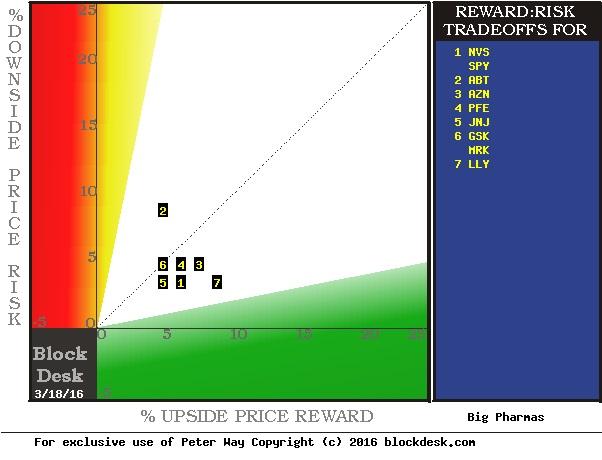 (used with permission)
This map pits actual worst-case price drawdown experiences (the vertical red scale) with current market-making hedge-derived upside price forecasts (the green scale at bottom). None of these stocks is a table-pounder here given such prior forecasts with similar upside-to-downside balances. But differences in prospects between some offer an opportunity for portfolio fine tuning.
To refresh the memory of names and symbols, Figure 2 makes those connections, along with several aspects of each stock's marketability. SPDR S&P 500 Index ETF (NYSEARCA:SPY) is included as a broad-market reference.
Figure 2

Click to enlarge
With hundreds of $billions invested, these buy&hold core positions for institutional portfolios are battleships not easily turned around. But their average price ranges of 36% are double that of the market index, and nine times their well-above market average yields of 4+%.
So every year there are opportunities for the astute and adroit investors paying attention to gain meaningful advantage from prevalent noise in the market. And their absolute size makes it easy for the small investor to do trades, as well as for big-money players to get multi-million-dollar block trade tickets "filled".
Right now Figure 1 suggests lightening up in Abbott Laboratories (NYSE:ABT) at [2] and beefing up holdings in Eli Lilly (NYSE:LLY) at [7] might offer such an advantage. But there may be additional considerations which might influence investors with differing specific preferences.
Figure 3 examines some of those, derived from actual market outcomes following prior buy signals like those seen now, in the past 5 years.
Figure 3

Click to enlarge
Stocks that might be just great for some risk-avoiding (and return-avoiding) mutual funds, ones more interested in collecting "management" fees from their holders, than helping them grow their capital, may not be just the objective you have in mind.
The first blue summary row of Figure 3 tells us that well-informed market professionals in the Market-Making [MM] community only see a need to protect against single-digit percentage price rises in these stocks (if required to be short). Column (5) is the place to look for that dimension, it measures how much higher the tops of the forecast ranges (2) are above current market quotes (4).
Apparently the MMs don't see Obamacare as a marvelous opportunity for these stocks.
Contrast that outlook with the 2500+ other similarly-derived forecasts from our population of widely-held, actively traded stocks and ETFs, and it becomes apparent that these securities are not a great place for capital gain wealth-builders. The 20 best-ranked members of that population provide nearly twice as much prospect for profit, at a risk cost of only -2% more price drawdown (column 6) than do the Pharmas.
On top of this, the credibility of the current +5.6% upside price gain potential being seen in (5) for the pharma set is supported quite inadequately by the actual net achievements of these 8 stocks. They average only +2% gains (9) following prior forecasts like today's. That is because price gains were produced in only 72% of these stocks' actual experiences (8). More than a quarter of the average 190 forecast experiences (12) in each stock were losses.
Our overall population does worse on that score, so these are still quality stocks, but good selections have Win Odds over 80 out of 100. Even SPY is competitive on that score.
Now a holder of these issues could improve their lot a bit by trading an ABT +4.4% upside for an LLY +8%, reducing their -8.3% drawdown exposure in ABT to only -3.5% in LLY. But compared to even larger, more assured prospects from the alternative choice population at large, such moves may be reminiscent of deck-chair rearrangement descriptions.
Perhaps a broader look at alternatives in a healthcare-related set of stocks might be more encouraging for wealth-builders. Figure 4 provides an engaging contrast to Figure 1.
Figure 4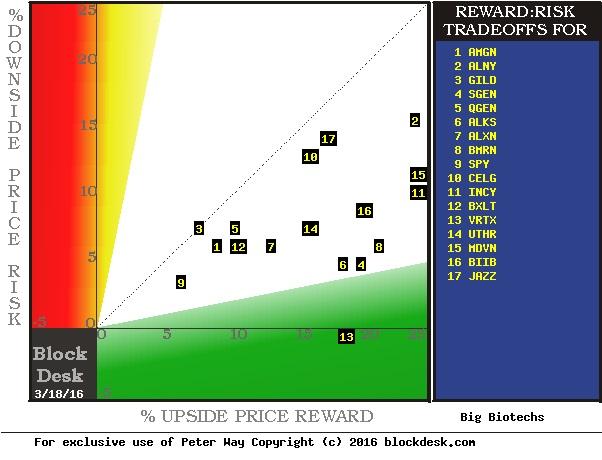 (used with permission)
But the specifics present here are best dealt with in a separate, following article, where we will provide the same kind of in-depth analysis for these several big biotech stocks.
Conclusion
Investors satisfied with returns from dividend yields averaging +4% (and some reaching over +6%) may want to resist the temptation of much larger capital gains from stock devils that must involve morality-eroding risks. We all have standards.
For the weaker, or the many investors more driven by fixed-date financial objectives, we encourage your exploration of prospects in other parts of the healthcare industry as suggested above.
Disclosure: I/we have no positions in any stocks mentioned, and no plans to initiate any positions within the next 72 hours.
I wrote this article myself, and it expresses my own opinions. I am not receiving compensation for it (other than from Seeking Alpha). I have no business relationship with any company whose stock is mentioned in this article.