As many of you know, I have been following Western Asset Mortgage (NYSE:WMC) for some time, and recently downgraded the stock. The name has been trading with extreme volatility of late. That said, I felt pretty strongly that the company's dividend was in some jeopardy; sure enough, back in December, as I feared, management announced a dividend cut.
For the last few months the stock has been getting crushed. What's going on here? When the dividend was cut to $0.58 per share for Q4 2015, I had said that this was far less than was expected. What I have been most concerned with is a falling book value and poor economic returns, as well as continued failure to cover the dividend.
Much of the pain the name has felt has been shared sector-wide. No company has been immune, and this creates opportunity in select names.
While WMC is known for its dividend fluctuating up and down, the long-term trend has clearly been negative. Some will argue, of course, that this is an income name, and investors need to ride it out. There is some truth to this if you can stomach the "on paper" capital losses — but these hurt, and drive many shareholders to sell.
I'm personally (on paper) underwater on all mREIT holdings aside from Annaly (NYSE:NLY), in which I have a low average base and have collected a lot in dividends. The pain can be brutal. But you never overexpose yourself to a sector, or any one holding. Stay diversified.
All that said, we need to stay on top of these names month to month. When I covered the company's Q4, I issued a dire warning:
The company did not cover its recently slashed dividend -- not even close…I am forced to downgrade the name to one to actively avoid. I think there is real concern of another [dividend] cut.
Well, my friends, the axe has fallen. Once again the dividend has been cut, and cut heavily. The company cut its dividend 22% to $0.45 per share. The dividend is payable on April 26, 2016, to common shareholders of record as of April 4, 2016, with an ex-dividend date of March 31, 2016.
On top of that, the company's book value has fallen sharply once again. In fact, it is down 5% to $11.42, as of February 29th, from $12.21 at the end of Q4. Wow. I am a bit surprised at the huge impact to book in two months, but I am even more surprised at the cut. Why? Because the cut was less than I expected.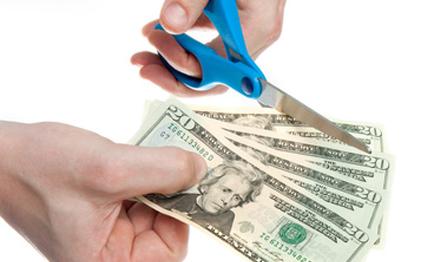 Source: Thinkstock.com.
I thought the dividend would be cut down to $0.40, to be honest, because WMC has underperformed, and its Q4 was definitely worse than the sector as a whole. The company reported a huge GAAP net loss of $20.1 million, or $0.49 per share, far greater than the $1.9 million loss in Q3 and the loss of $0.05 per share in Q2 2015.
Of course, this is a GAAP measure, and doesn't really give us an indication of dividend coverage. As such, I like to look at core income: Western Asset Mortgage saw core earnings plus drop income of $16.6 million, or $0.39 per share in Q4. This is down substantially from the $22.4 million, or $0.54 per share in Q3.
This why I think a cut to $0.45 is too small. Recall that the company paid a dividend of $0.58 in Q4, so these earnings are a $0.19 shortfall. Of course in Q3 it paid $0.60, and in Q2, it paid $0.64. With the new cut, Q4's earnings of $0.39 still fail to make the grade. One good piece of news is that in the three years the company has been in operation, it has paid total dividends of $12.68 per share in a combination of cash and stock. On top of that, the stock has had a mild reaction since we all knew the dividend would be cut.
So what to do now? An 18% yield is nice; should you get in now? I don't think so, because I would want to see some stability and improvement in performance before doing anything. Where to look? The key metrics.
The key metrics are what matters. The key metrics have shown an improvement. Briefly recall I felt that the constant prepayment rate would stop rising and ease into the end of the year. In Q3 the constant prepayment rate rose to 10.1% from 9.8% in Q2 from 7.6% in Q1. Now I will say this is lower than many of the competitors I have covered, and in Q4 it improved to 8.6% — that is a positive. However, both the weighted average yield on WMC's portfolio and the cost of funds rose. The yield was 4.42%. This is up 39 basis points from the 4.03% in Q3 2015. Western Asset Mortgage's effective cost of funds rose dramatically from Q3 and came in at 2.24%, up 66 basis points from 1.58% in Q3.
Despite the lower constant prepayment rate, which helped yields, the rise in cost of funds almost entirely offset this positive. The annualized net interest spread on its portfolio was 2.49%, including Agency and Non-Agency MBS, other securities and Whole Loans, interest from Interest-Only securities accounted for as derivatives, and taking into account the cost of the interest rate swaps. This was up just 4 basis points from 2.45% last quarter. This is the lowest spread I have seen out of the company in recent memory, and is a strong reason why earnings were so poor, and may continue to be.
Bottom line? I am not recommending a buy here. We need to see dividend coverage and improving key metrics. The fourth quarter was terrible, despite the positives in some of the key metrics. We all knew the cut was coming and frankly I do not think it was enough. The declining book value pressures the share price. Even the new dividend was not covered by Q4 core earnings, and the core earnings continue to fall. This is a tough operating climate, but this company is not delivering. Until the company can show me something use caution.
Christopher F. Davis has been a leading contributor with Seeking Alpha since early 2012. If you like his material and want to see more, scroll to the top of the article and hit "follow." He also writes a lot of "breaking" articles, which are time-sensitive, actionable investing ideas. If you would like to be among the first to be updated, be sure to check the box for "Real-time alerts on this author" under "Follow."
Disclosure: I am/we are long NLY, WMC.
I wrote this article myself, and it expresses my own opinions. I am not receiving compensation for it (other than from Seeking Alpha). I have no business relationship with any company whose stock is mentioned in this article.