Yesterday morning I listened to a couple of well-respected Wall Street market strategists on CNBC discuss their cautiously optimistic outlooks for the S&P 500 (NYSEARCA:SPY) in 2016. Both conceded, just days before it ends, that the first quarter of this year doesn't look very good. I call a consensus forecast for an 8.7% annualized decline in profits very bad. This did not deter either from forecasting a low-to-mid single-digit return for the stock market this year on the basis that the ongoing corporate earnings recession was ending, and that growth would return in the second half of the year.
I continued to watch the segment in hopes of hearing either strategist explain how he arrived at his S&P 500 target, and what the catalysts were going to be for earnings growth. Of course, I heard no explanation at all. Yet this is the consensus view today, and it is completely unsubstantiated. In fact, it is being refuted by the incoming data, day after day.
Perhaps these strategists are getting their cue from the Federal Reserve. I've lost count of how many times Fed Board members have suggested to the press that an interest-rate increase is right around the corner, because "everything is awesome" in the US economy. James Bullard suggested as recently as yesterday that an April rate hike could happen. Let me be the first to inform this voting member of the Fed that there will be no rate hike in April. There is also nothing to substantiate that the rate of economic growth in the US is awesome or accelerating, which would suggest that a rate hike is possible. Instead, the rate of growth is decelerating as corporate revenues and earnings are declining. Still, the Fed and the consensus on Wall Street continue to suggest that the sun will come up tomorrow, and countertrend rallies like the one we have witnessed over the past six weeks only serve to embolden them.
In the latest FactSet summary of S&P 500 earnings, analysts are forecasting a decline of -8.7% and -2.4% for the first and second quarters, followed by growth of 3.9% and 9.0% in the third and fourth quarters. In terms of revenues, the forecasted declines are -1.1% and -0.9% in the first and second quarters, followed by growth of 1.8% and 4.1% in the third and fourth quarters. For all of 2016, the forecast is for earnings growth of 2.4% and revenue growth of 1.4%. This is so pretty you can put a bow on it.
The most laughable aspect of this earnings forecast is that as the first quarter estimate was reduced from a modest gain at the beginning of the year to a decline of 8.7% today, there was a relatively minor downward adjustment to the estimates for the third and fourth quarters. There was no adjustment made to profit margins, which the consensus assumes will rise to a new high of 10.7% in the third quarter. It is preposterous to assume that the macroeconomic headwinds that led to the reduction in estimates for the first quarter will magically vanish in a few months, leaving estimates for the third and fourth quarters unaltered. Yet no one questions this nonsense, even though it serves as the bedrock for most bullish market outlooks.
We see the same type of absurdities in estimates for economic growth, which is a key driver of corporate revenue growth. Our estimate for US economic growth at the beginning of this year was 1%, and it was based on an analysis of the incoming data, and the long-term trends in the data at the time. The consensus view was closer to 2.5%, which was in line with the Fed's forecast. As can be seen below, the Atlanta Fed's GDPNow forecasting model is expecting just 1.4% for the first quarter, having recently been reduced from 1.9% after a disappointing durable goods report this week. I suspect that the final number for Q1 will fall much closer in line with our estimate than the ones provided by the Fed or the consensus.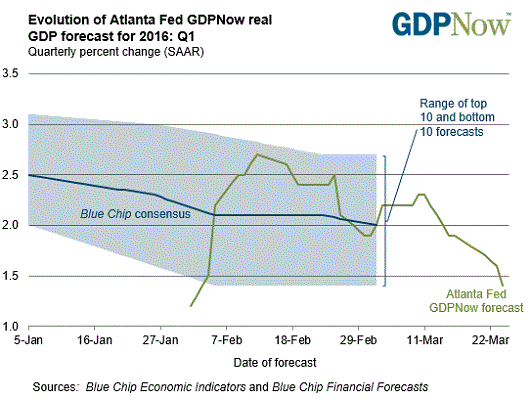 Why are forecasts from Wall Street analysts consistently so absurd? Because they pick a number and then work backwards to justify it, and it doesn't matter how ridiculous the estimates have to be to justify the number. The consensus says that the S&P 500 will earn $124.30 on a forward 12-month basis. Why? This is the only way to justify a price target for the S&P 500 index that results in a positive return in 2016. If investors were told that the return would be a negative one, it would be very bad for business.
The Fed's economic forecasts are similar to Wall Street's earnings estimates, except that the Fed is trying to justify its use of extreme monetary policy measures rather than a price target on the S&P 500 index. It is rarely ever pointed out that these forecasts and estimates are never met.
Here is the reality that Wall Street and the Fed refuse to acknowledge. The S&P 500 is trading at 16.4 times the consensus earnings estimate of $124.30 for the next 12-months. That is well above the average of 14.4 times over the past five years, during which earnings and revenues were still growing and monetary policy was continuing to ease. There is no way to justify this multiple today, especially not when earnings and revenues are declining and monetary policy is tightening. This excessive valuation for the index is not the result of the deterioration in the energy sector, as 8 out 10 sectors in the S&P 500 are trading at multiples above their five-year average.
Exacerbating the valuation issue is the fact that this multiple of 16.4 times is based on an earnings estimate that is completely absurd. I can say with certainty that S&P 500 companies will not earn $124.30 over the next 12 months. This figure has been grossly overestimated every quarter on a consistent basis going back several years. If I am correct, then the forward multiple is much higher than 16.4 times. Furthermore, the forecasts for economic growth on which these estimates must be predicated to some degree are also hard to substantiate.
It is very unlikely that the US economy will grow at a rate in excess of 2%, as forecasted by the Fed and Wall Street consensus. Instead, we see the real rate of growth closer to 1%, with the potential for a quarter of contraction during the year. The rate of growth in retail sales and overall consumer spending continues to slow on a year-over-year basis, and there has been no meaningful upturn in real average hourly earnings to reverse this steady downtrend. Real average weekly earnings rose a paltry 0.6% last month. Business inventories continue to rise month after month as sales have slowed, leading to the highest inventory-to-sales ratio, currently at 1.40, since the Great Recession. This also augurs for slower rates of growth moving forward. Without faster rates of economic growth, the current forecasts for S&P 500 revenue growth are unrealistic.
Why then does the consensus on Wall Street stick by these absurd estimates until the real numbers run them over like a freight train, as they have in the first quarter? I think it is nothing more than an endless buy-and-hold sales pitch for the investment community at large. If you want the real pitch, then you have to be someone or something special, like a $20 billion hedge fund that generates a huge amount of revenue for the research provider. You have to be on the "Focus Five" list at Citigroup, or any of the other top client lists at firms like Goldman Sachs and Morgan Stanley.
Disclosure: I/we have no positions in any stocks mentioned, and no plans to initiate any positions within the next 72 hours.
I wrote this article myself, and it expresses my own opinions. I am not receiving compensation for it (other than from Seeking Alpha). I have no business relationship with any company whose stock is mentioned in this article.
Additional disclosure: Lawrence Fuller is the Managing Director of Fuller Asset Management, a Registered Investment Adviser. This post is for informational purposes only. There are risks involved with investing including loss of principal. Lawrence Fuller makes no explicit or implicit guarantee with respect to performance or the outcome of any investment or projections made by him or Fuller Asset Management. There is no guarantee that the goals of the strategies discussed by will be met. Information or opinions expressed may change without notice, and should not be considered recommendations to buy or sell any particular security.