By Contributing Analyst Alex Graham
Advance Auto Parts, Inc. (NYSE:AAP) is a provider of automotive aftermarket parts that serves professional installers and people looking to do it themselves. AAP has a P/E ratio of 24.78, a trailing twelve month EPS of 6.4, and has sales of 9.7 billion. AAP has 5,261 stores and 111 distribution branches. They rely mainly on brick and mortar locations but also have e-commerce mediums. The stock was trading at 159.34 (3/14). AAP released Q4 earnings on 2/11/16.
Falling Off
AAP took a hit in Q3 of 2015 when it missed the EPS consensus of USD 2.09 by USD -0.14. This happened just 6 days after the stock hit its highest ever recorded price of $201 USD. The surprising thing about this drop was that it was forecasted, but EPS turned out to be worse than expected. This was a one quarter phenomenon, in Q4 AAP beat the consensus of USD 1.20 by USD 0.02. The overall view for Q1 of 2016 is positive, with an EPS forecast of USD 2.65. Their EPS growth is 14%, which is very strong. The stock still reflects being driven down by the missed EPS forecast.
Everyone likes lower gas prices and low gas prices result in an increase of consumer spending. Consumption of gas increases drastically in the spring months. Driving more will result in more cars needing parts, which is great for AAP. The low stock price coupled with the low price of gas create an opportunity for investment before the spring/ summer months where automobile travel increases.
Cause for Drop Off
The sales also came in low, at $2.3 billion. This was below the estimates of $2.33 billion. This forced the company to close 30 stores in the later part of 2015. Sales for the Q3 and Q4 earnings reports came in at very poor numbers. Q3 came in at -1.1 and Q4 at -2.5, these are expected to increase to low digits. Another factor to the price drop is that the company announced the retirement of CEO Darren Jackson, and the announcement of interim CEO George Sherman.
The reason for the low sales number is that AAP has many integration costs with Carquest. AAP bought Carquest in 2014. They closed 12 Carquest locations, and 98 were consolidated since the deal.
Promising Margins
A plus for the company is that the management team is effective and continues to produce returns on investment. AAP has ROE of 21.14%, this figures depict how well the management is able to produce returns. Another promising area for AAP is their profit margins. AAP's profit margin of 5%, which is strong compared to its peers in the industry, shows that the company is growing at a stable rate. With a P/E ratio of 24.69x, which is above the industry average of 17.0x, there is strong growth potential. These strong traits coupled with the current prices of gas make me think that a growth spurt is nearing. These margins should only increase as the company heads back into the green. The 52 week low actually occurred on the Q4 earnings report (2/11/16) and has been rising since. The stock has climbed over 20 points.
Competitive Analysis
When comparing Advance Auto Parts to their peers, we can see that AAP has a couple factors that make them more promising. AAP has a strong revenue cap, sustainable margins, and a favorable P/E. AAP has sustainable margins, as mentioned before, whilst the margins of its peers are very volatile. The great P/S that we have today coupled with these other technical factors which distinguish them from their peers show that AAP has upside potential.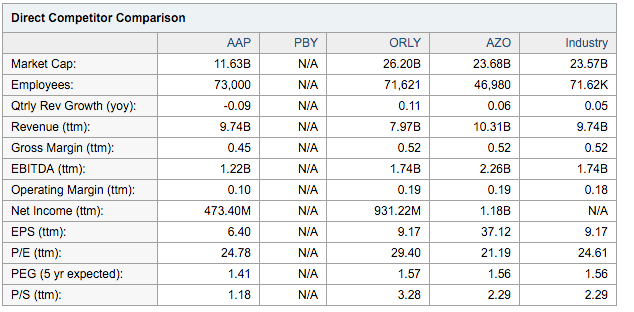 Fixing Infrastructure
One problem that I mentioned earlier was integration. For 2016 AAP has been trying to mitigate the issues that integration causes. The management in their Q4 conference call mentions that they have put some new ideas in place to lessen these effects. They also go onto mention that in the future they will be focusing on the Carquest market conversion program and will raise comps to "mid-single digits". They also have in place a system to align their supply chain store systems. This will help the flow of product in and out of their logistic centers to the stores. This is just one thing that was mentioned in the call that shows the company's devotion to store improvement. The company says that we should see more improvements in product availability in stores soon.
Technical Analysis
AAP has been trading higher from its lows of 131.59/share back in February. It has made a nice recovery since then and we believe that this momentum will continue going forward. To the downside we see the 140-145/share level acting as significant support especially during the recent market volatility. To the upside, we see a strong probability of a break through the 170/share level of resistance. Its latest earnings report was very strong, and this momentum has proven to be just the beginning of its current uptrend.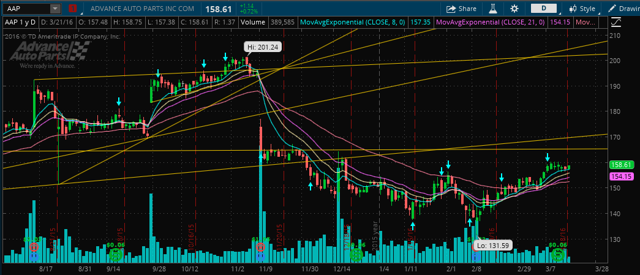 Click to enlarge
Summary
Integration of a subsidiary led to a drop in net profit which adversely affected AAP's Q3 earnings. This led to a drop in share price. The current share price coupled with technical factors show a ripe time invest. Another promising factor is the low price of gas, which will lead to increased road travel and more business for AAP. The company is improving many in store systems, which demonstrates the company is reinvesting. The low sales of the company over the last two quarters appear to represent a company on the downhill slide but the company plans to fix the problems associated with integration. These are expected to increase into the low to mid range positive numbers in the coming quarter. The stock price has increased over 20 points since the last earnings report and it seems that it will continue to climb.
Disclosure: I/we have no positions in any stocks mentioned, but may initiate a long position in AAP over the next 72 hours.
I wrote this article myself, and it expresses my own opinions. I am not receiving compensation for it (other than from Seeking Alpha). I have no business relationship with any company whose stock is mentioned in this article.