Kara Switsher of re/code reported yesterday that Microsoft (NASDAQ:MSFT) might back or contribute substantially to a buyout of Yahoo (NASDAQ:YHOO). Microsoft's involvement with a buyout makes perfect sense. The subsequent restructuring and ouster of Marissa Mayer would pave the way for a restoration of the exclusive use of Microsoft's Bing search engine in Yahoo's search. Increasing search share for Bing in its battle with Alphabet's Google (NASDAQ:GOOG) (NASDAQ:GOOGL) could well be worth the billions Microsoft might pay.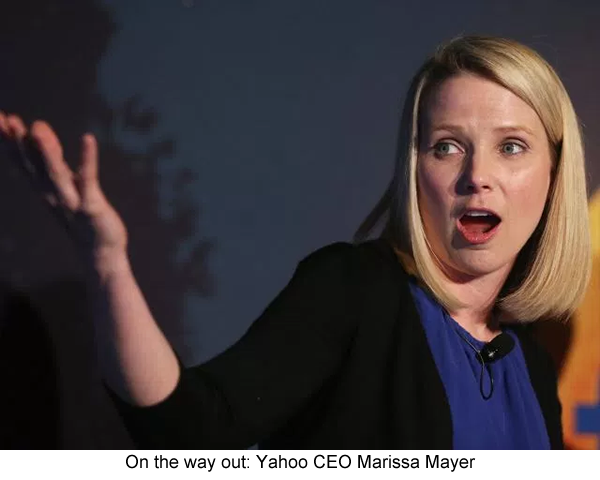 Source: re/code
A Tough Negotiator
Prior to Mayer joining Yahoo as the CEO in 2012, Yahoo had reached an agreement with Microsoft in 2009 to use Bing. Bing would be used exclusively for "algorithmic and paid search services" accessed on its and partner web sites by personal computers. The agreement would last for 10 years. Effectively, Yahoo had retired from the search business.
Mayer was apparently not a big fan of Yahoo's decision on search. Certainly it seemed to many at the time of the Microsoft agreement that Yahoo was hollowing itself out. Swisher observed in 2014 that Mayer "was making a big push to return the company to the search business." In attempting to return the company to the search business, Yahoo would now be competing with two much stronger companies, Microsoft and Google.
Yahoo also would be competing with its erstwhile search partner. To avoid a direct violation of its contract with Microsoft, Yahoo would pursue search in key areas where Microsoft was not promised exclusivity: mobile search (through apps) and "contextual search."
Contextual search, which Mayer averred to be very excited by, is based on observations of actions that smartphones can make of the user, including search history, internet site visitation history, app usage, especially for social media, and physical location. It amounts to massive spying on the user, which recent privacy concerns have cast in a less flattering light. Nevertheless, it continues to be regarded as an "opportunity" by marketing and advertising concerns.
The growth of mobile and its ability to provide an abundance of contextual user information seemed to offer a way around the agreement with Microsoft. But there was a more direct route that Mayer pursued, which was to renegotiate the agreement with Microsoft. The renegotiated agreement was disclosed in April 2015 in an SEC filing.
Mayer must be a very tough negotiator. The agreement was revised so that Microsoft no longer had exclusive rights to personal computer search for Yahoo and partner sites. Microsoft's share was reduced to 51%. Microsoft would receive no revenue for searches that didn't use Bing, except for a small server maintenance fee. In addition, Yahoo's share of search revenue for Bing searches rose from 88% to 93%.
The Strategy Backfires
Yahoo's recent earnings report for 2015 Q4 and the full year reveals how badly the strategy to circumvent Microsoft backfired. While revenue for the year rose modestly y/y by 7.5% to $4.968 billion, traffic acquisition costs ballooned from $217.5 million in 2015 to $877.5 million 2015.
Yahoo posted an operating loss for the year of $4.748 billion, mostly due to a goodwill impairment charge of $4.460 billion. Even without the impairment charge, Yahoo would have posted a $288 million operating loss mostly due to the higher traffic acquisition costs.
As of the end of the year, Yahoo's board announced that it was looking for buyers of its core (non-Alibaba (NYSE:BABA)) assets. Yahoo's current market cap of $33 billion is just slightly greater than its end of 2015 valuation of Alibaba of $31.2 billion. This valuation is probably too pessimistic, and institutional investors, sensing a bargain, now hold 78% of the company.
Yahoo's year-end financial reports demonstrate very clearly that Yahoo is worth more than the market allows. In 2014, before the new agreement with Microsoft took effect, Yahoo posted an operating profit of $142.9 million. The path to restoring profitability is fairly straightforward. Dump Mayer. Dump the attempts to develop an independent search capability. Return to using Microsoft Bing. Integrate future mobile and contextual search efforts within the larger Microsoft cloud services strategy.
Investor Takeaway
Rarely in the acquisition of troubled companies such as Yahoo is an opportunity presented such as what currently faces Microsoft. Microsoft can be the salvation of Yahoo. Indeed, it's the only company that can. Any other acquirer just gets an empty shell when it comes to search. Microsoft would get an empty shell as well, but it's a shell it can profitably fill.
Regardless of whether Microsoft acquires Yahoo outright, or merely participates in a syndicate that acquires Yahoo, it can be assured that the role of Microsoft in Yahoo search will be restored, and with it a reasonable expectation of profitability going forward. Microsoft would acquire a still valuable brand and important web destination.
Synergy is an overused word, but there are certainly opportunities for synergies beyond search. Yahoo can provide an outlet as well as serve as a customer for Microsoft's cloud services. Microsoft acquires in Yahoo a web media outlet that can provide an ample advertising platform for Microsoft products and services.
I consider Microsoft's participation in a Yahoo buyout highly likely. Probably that buyout will come at a premium above the current share price, making Yahoo a buy. I continue to rate Microsoft a hold.
Disclosure: I/we have no positions in any stocks mentioned, and no plans to initiate any positions within the next 72 hours.
I wrote this article myself, and it expresses my own opinions. I am not receiving compensation for it (other than from Seeking Alpha). I have no business relationship with any company whose stock is mentioned in this article.