In my February article on Telefonica (NYSE:TEF), I had suggested the company was a good long-term bet with a high dividend payout. I had warned that this bullish outlook was dependent upon regulatory approval of various matters. Recent events have highlighted this caveat. The company has been much improved recently by reorganizations, which my article detailed.
However, investment in telcos is often worthwhile based on dividend payouts. I have written recently on this with regard to Philippine Long Distance Telephone Company (PHI) with a dividend payout of 5.82% and Russia's Mobile TeleSystems (NYSE:MBT) with a dividend payout of 11.7%
Recent research by the London Business School highlighted the fact that if one looked at the real annual return from U.S. shares since 1900, two-thirds of the accrued figure were represented by reinvested dividends.
Telefonica has, as I say, been hit by a perfect storm of negative macro factors. These include the strong dollar, negativity about emerging markets, political woes in Europe, and the economic meltdown in South America.
The share price, after a relatively stable 2014, as per the graph below for the past year, reflects this reality. The company has a forward P/E of 15.90.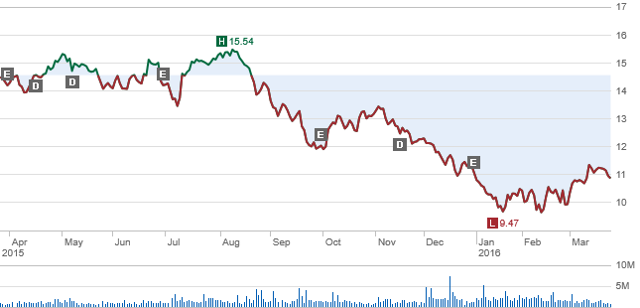 Telefonica and the EU
At the heart of Telefonica's final reorganization plan is its attempt to sell its O2 business in the U.K. to Hong Kong-based Hutchison Whampoa (OTCPK:HUWHY). Hutchison's Three U.K. is the country's fourth biggest telecom operator, while O2 is the second largest. The EU is concerned that having only three operators in the country would lead to price gouging. This allegedly happened recently when a similar restriction in the number of telecom operators took place in Austria. The U.K. government had wanted to take over the investigation, but the EU refused.
The new company under Hutchison would have 33 million customers and control of the country's most extensive 4G network.
There are other companies involved in the complex negotiations. These include Sky (OTCQX:SKYAY), Virgin Media, TalkTalk (OTC:TKTCY), Vodafone (NASDAQ:VOD), and Iliad (OTCPK:ILIAY).
Hutchison has reportedly suggested selling off 30% of its mobile spectrum in the U.K. as part of the deal. This has the other companies mentioned circling with interest. It also has proposed keeping the operations of O2 and Three U.K. separate, though it is considered this is unlikely to appease competition regulators.
Hutchison's agreed price with Telefonica for the O2 assets was £9.25 billion, with a possible £1 billion add-on to follow. It has raised £3.1 billion through getting various investors on-board, including some sovereign wealth funds. For the balance, Hutchison will use a £6 billion bank facility.
Hutchison Group Managing Director Canning Fok referred to "a vote of confidence in Europe's plans for a single market in digital communications, leading to increased investment in the telecoms sector." However, the timing of this might not be perfect. Opinion polls show that the "unthinkable" might happen and the U.K. could vote to leave the EU. At the same time, terrorism and the migrant crisis are casting fresh doubts over the whole EU open market concept.
There is a complex web of European telecom consolidation and it is not assured whether this will result favorably for Telefonica or not. Most recently, the CEO of Telecom Italia (NYSE:TI) resigned. The company has been trying to sell its Brazilian unit but with no known bidders reported. Indeed, the consolidation under way in Europe has its counterpart in South America. For instance, Telefonica is interested in the Latin American pay-TV services of AT&T (NYSE:T).
French operator Vivendi (OTCPK:VIVHY) has built up a 24.9% stake in Telecom Italia and also has been trying to buy some of Telefonica's media interests as part of a new concentration on Southern Europe.
Q4 2015 Results
While all this is dragging on, Telefonica has to wait to see if it will get its £9.25 billion for paying dividends and reducing debt. Net financial debt at the end of 2015 stood at 49.9 million euros, giving a debt ratio of 2.38.
Results for 2015 detailed here led to a decline in the share price as net income was affected by one-offs and provisions, but actually there was much to be impressed by in the figures. It seems surprising that the market took a dim view of the one-offs. These had been fairly well signaled in advance by the company. The voluntary employment suspension plan, which I had detailed in my previous article, alone amounted to 2.9 billion euros. This can be seen as part of the intended transformation of the company from a staid government-controlled body to a vibrant international telecoms business. This has led to a focus on growth and quality revenues based on fiber, smartphones, LTE technology and pay TV.
Some highlights are:
Net profit: +30% to 5.787 million euros.
Consolidated revenues: +8.7%
Organic revenues: +4%
Operational cash flow: +1.9%
OIBDA (Operating Income Before Depreciation and Amortization): +3.6%
EBITDA (Earnings Before Interest Tax Depreciation and Amortization) organic growth: +4%
Mobile Data Revenues: +16.9%
For year 2016, the company forecast revenue growth of 4% and a dividend was declared of 0.75 euros per share, dependent upon the O2 disposal. It forecast that OIBDA would stabilize at current levels and that capex would amount to 17% of sales.
Somewhat overlooked I feel was Telefonica's impressive performance in Latin America. Organic revenue in Brazil grew by 5% despite the economic meltdown there. The contract customers figure graph below tells its own story.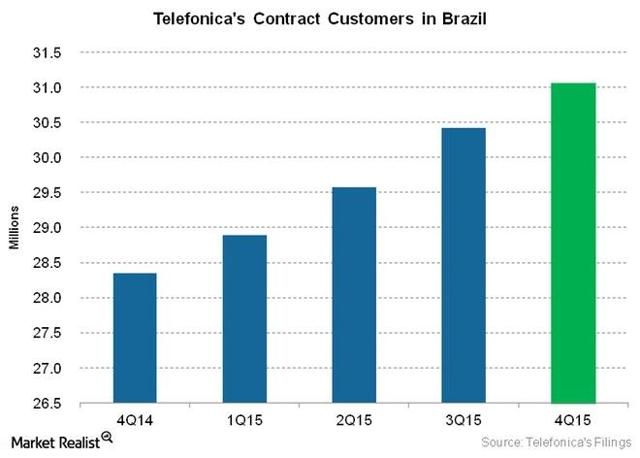 In the rest of Latin America, what the company calls "Hispanoamerica," organic revenues grew 10.1%.
Telefonica is the largest provider of telecom services to the Spanish-speaking world. In 2016, currency fluctuations from the region (especially Brazil and Venezuela) could be negative. Still, the company is tremendously well-positioned to reap benefits when Latin American economies improve. Brazil represents 31% of EBITDA, which some will see as a positive, others as a negative. It is already seeing the benefits of its Latin America strategy in Mexico, for example.
Conclusion
Telefonica, along with MBT and PLDT, represent good value for investors looking for dividend payouts and a position in emerging markets. Many analysts see emerging markets as a good place to be in the next couple of years. However, emerging markets and stocks that pay high dividends carry risks, as I have outlined above. These companies are not going to go under and I regard such companies as a good play but only for the investor with a long-term viewpoint.
Telefonica in particular has good long-term potential, but one should not ignore the short-term problems. In particular, there could be an adverse reaction to the share price if political considerations affect its ability to raise cash through asset sales, and if the situation in Brazil deteriorates.
Disclosure: I am/we are long TEF.
I wrote this article myself, and it expresses my own opinions. I am not receiving compensation for it (other than from Seeking Alpha). I have no business relationship with any company whose stock is mentioned in this article.