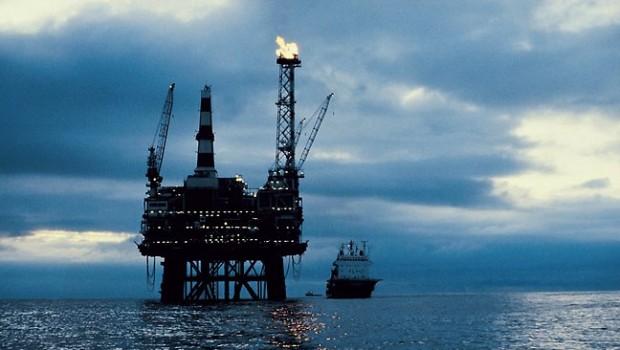 The rout in oil prices has claimed several victims. Through mid-December there were 41 oil and gas bankruptcies. In some instances, the death knell for drillers is not complete until bankers pull the plug. That process might have started after bankers cut W&T Offshore's (NYSE:WTI) revolver from $350 million to $150 million:
W&T Offshore, Inc. announced today that its borrowing base under its revolving bank credit facility has been reduced to $150 million from $350 million, effective March 23, 2016. In February 2016, the Company drew $340 million on its revolving bank credit facility and now has borrowings of $191 million in excess of the redetermined borrowing base. Excess borrowings are required to be repaid in three equal monthly installments. W&T currently has a cash balance of $431 million.
W&T closed down less than one percent to $2.41 on Thursday. However, the revolver cut was announced after hours. I expect the stock to crater on Monday.
The Situation
W&T is an independent oil and natural gas producer in the Gulf of Mexico. Seventy percent of the company's 2015 revenue of $507 million was derived from oil, and another 24% from natural gas. In 2015, its average realized crude oil sales price was $45, down 51% from the $91 achieved a year earlier; its realized natural gas price was off 39%.
The decline in prices has exacerbated the company's earnings and cash flow. In 2015, revenue was off 46% and EBITDA fell 58%. Over the past three years, the company generated cumulative cash flow from operations of $1.2 billion. W&T repaid $1.4 billion in debt over that time frame, but borrowed an additional $1.6 billion to help fund itself. In effect, the company continued to use other people's money to fund itself, never squirreling away cash or paring down debt.
W&T's Paltry Liquidity Has Caught Up With It
For the past two years, the company's liquidity has been paltry. Its cash increased from $24 million in 2014 to $85 million in 2015 - paltry for a company of its size. Net working capital was -$114 million in 2014 and improved to -$58 million in 2015.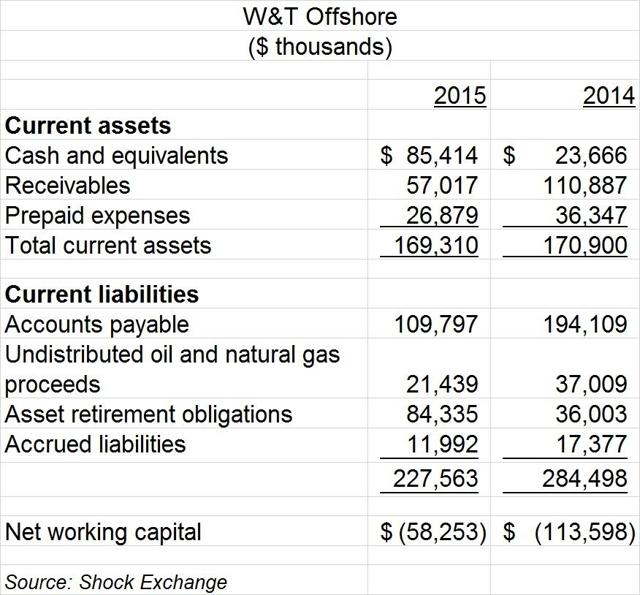 Click to enlarge
At year-end, the company had long-term debt of $1.2 billion and no short-term debt. In February, W&T drew down $340 million on its revolving credit facility. Also at February, the company's cash balance was $431 million, likely driven by the inflow from new borrowings. Lenders typically look to liquid assets to repay their short-term debt. A large draw down on the revolver draws red flags because it could indicate the company is having cash flow problems. Lenders are looking to get out before what limited assets it has are eroded due declining cash flow.
Unless the company can raise long-term equity capital or engage in asset sales to shore up its liquidity, W&T might fold within the next 12 months. The company has $990 million of oil and gas properties and PP&E. How much those assets are really worth remains to seen; it might be difficult to sell them when oil prices are in the doldrums and buyers know the company is desperate to sell.
In my opinion, highly-indebted energy-related names are a moral hazard for the financial markets and the economy. Energy names have raised over $9 billion in Q1 2016. In many instances, the equity was used to repay revolvers. For several energy companies, the difference between staying afloat could be determined by [i] which banks they are indebted to and [ii] if those banks have the marketing and research clout to convince the equity markets of their long-term viability.
With about $3 trillion in oil and gas debt in the market place, revolver cuts could define the financial markets for 2016. In the meantime, avoid WTI. Even when its cash flow was more robust, the company relied on "other people's money" to stay afloat. Now that outside capital appears to have dried up, WTI's days could be numbered.
Disclosure: I/we have no positions in any stocks mentioned, and no plans to initiate any positions within the next 72 hours.
I wrote this article myself, and it expresses my own opinions. I am not receiving compensation for it. I have no business relationship with any company whose stock is mentioned in this article.