AMD (NASDAQ: AMD) made headlines earlier this week when a speculative report broke out, reportedly from Bloomberg, suggesting that Intel (NASDAQ: INTC) is in talks with AMD to license the latter's graphics technology. Shortly after, the vice president of AMD's Radeon Technologies group confirmed in an interview that the report perfectly lines up with the company's vision and that it's indeed open to such a licensing deal.
Fellow SA contributor Mark Hibben quickly downplayed the report in his recent article and arrived at the conclusion that the prospective deal "(won't) change AMD's financial trajectory." But there is far more to the deal than what Mark covered in his post. Let's take a closer look at both sides the upsides and caveats of this potential deal to have a better understanding of how it could impact AMD's business going forth.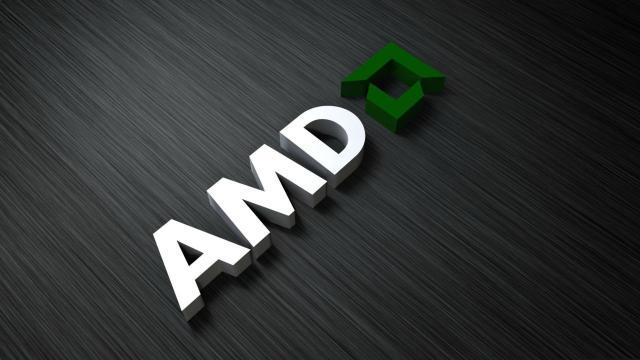 Upsides
First and foremost, AMD currently generates the bulk of its revenues from selling GPUs and APUs to enterprise clients and end consumers. This kind of a business operation almost always involves inventory and manufacturing risk that hurts a concerned company's financials in the form of write downs or revenue decline, whenever there's an unexpected drop in hardware sales. But AMD's potential licensing deal with Intel would isolate the former from these risks to an extent. The licensing fee, if the deal is similar to the one between Intel and Nvidia, would most likely involve a fixed annual payment for a number of years regardless of the sales volume. This predictable cash flow would stabilize AMD's income, make it financially leaner and also somewhat de-risk its business model.
The second thing worth noting is that AMD won't have to boost its R&D budget or capital expenditures for this prospective deal to go through. The chipmaker already has the IP and it is ready for licensing. Any additional licensing revenue it generates out of the already existing graphics technology would only increase its return on original investments that were made in the prior years to develop the IP. In theory, the chipmaker can start generating these risk-free returns almost immediately. If you're a struggling company, and you're getting free cash in exchange for your expertise, wouldn't you take it?
Intel paid $1.5 billion to Nvidia over a period of six years for licensing its IP. This averages out to an annual payment of $250 million. Assuming that AMD gets a similar deal from Intel, with a similar annual payment structure, an incremental cash inflow of this magnitude could turn AMD's financials around for good. The license fee won't represent much when compared to AMD's revenues but it will have a material impact on its bottom line, as highlighted in the chart below. Since the deal would most likely be a multi-year agreement, the financial benefits would be long lasting.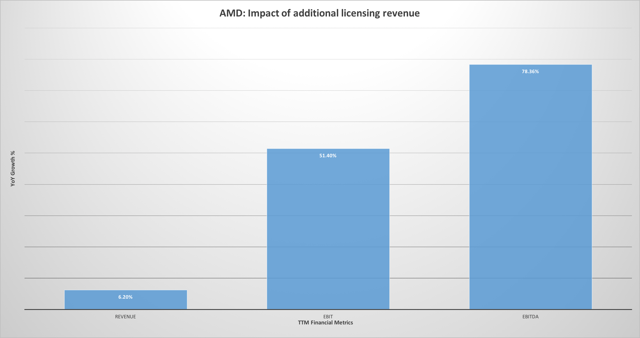 Click to enlarge
(Source: Company Financials, Compiled by author)
This is an extension of the previous point. AMD can use this cash to ramp its operations, pare down some of its long-term debt burden of about $2 billion, boost its R&D spending to release competitive architectures or even increase its spending to release chips based on competitive nodes. If this cash goes back into business to make its products more competitive, it might just trigger a virtuous cycle that results in higher sales going forward. The cash from the licensing deal might also come in handy to fund AMD's ambitious goal of cracking the server segment with its upcoming ARM-based chips.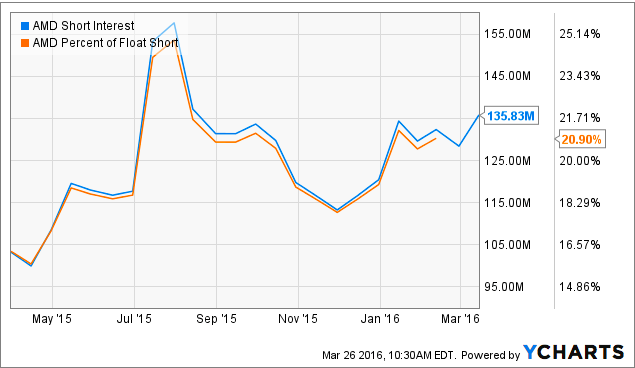 (Source: Ycharts)
And lastly, speaking strictly from the perspective of shareholders, the stock has been in a distressed zone lately. Short interest in the company has risen sharply over the past few months. About 135.8 million shares were short as on March 15th which represents a sizable 21% of AMD's entire float. This leads me to believe that any positive announcement coming from AMD, like confirming the licensing deal with Intel, could potentially trigger a short squeeze and result in a rally in its shares.
Risks
So far, we've only discussed the upsides of this deal. Now let's take a look at the challenges that the deal could face going forward.
One of the biggest concerns I have about these "talks" is that Intel could be using its discussions with AMD as a bargaining chip against Nvidia. The Intel-Nvidia licensing deal expires in 2017 and there's a solid chance that Intel could be in talks with AMD only to pressure Nvidia into giving it a discount. If that's the case, Intel may never go forth with AMD once Nvidia sweetens the license renewal terms.
It's a well known fact that AMD is short-handed on resources. If the deal with Intel is more than just licensing, something on the lines of joint development of graphics technology cores to suit Intel's needs, it could further constrain AMD's available resources for other projects. Committing significant manpower and finances to an ambitious project, if at all there is one, could result in delay or impact the timeliness of AMD's upcoming GPU/APU launches.
There also are concerns that giving away tech to Intel would end up making AMD's APUs less attractive. This bold statement assumes that equipping AMD IP in Intel chips would all of a sudden make the latter's offerings more powerful in terms of graphical processing capabilities. But this isn't necessarily true. The prowess of iGPUs depends on a number of factors - such as chip architectures, clock speed, number of transistors allocated to the unit. I don't think merely switching to AMD's IP would make a drastic difference to make its entire line of APUs irrelevant. After all, if AMD's IP was truly so good, AMD would've had a majority share in the discrete GPU segment.
Some reports suggest that this move would allow Intel to compete with AMD in the gaming console segment. But until Intel comes up with a custom SoC powerhouse, I don't think that its a credible possibility. As I just said, merely deploying AMD's IP won't make Intel chips drastically different.
Putting it all together
Granted that here are some real challenges that could throw a wrench in this prospective licensing deal. But if the deal goes through, it would be healthy business diversification on AMD's part using its core strengths. AMD will be monetizing the expertise and proprietary technology that it already has without requiring any significant capex spending. It would be a big positive for AMD.
Disclosure: I/we have no positions in any stocks mentioned, and no plans to initiate any positions within the next 72 hours.
I wrote this article myself, and it expresses my own opinions. I am not receiving compensation for it (other than from Seeking Alpha). I have no business relationship with any company whose stock is mentioned in this article.