Bank of America (NYSE: BAC) shares have come a good distance from their mid-February trough, along with the broader market and oil prices. While I continue to favor Bank of America shares for the long-term, holders should prepare to bear another oil price swoon near-term. However, if BAC shares are impacted, it would mark another buying opportunity to participate in the appreciation I see for the financial sector and this stock ahead.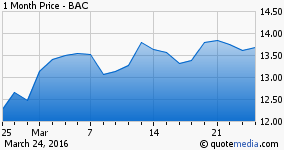 1-Month Chart of BAC at Seeking Alpha
Bank of America shares are up 23% since their trough marked on February 11. Still, long-term holders know all too well that the gain simply represents a partial recovery of losses year-to-date, with BAC having started the year at just under $17 a share (it closed at $13.68 March 24). I continue to see the factors that had turned against the stock at the start of the year turning in its favor, especially regarding Fed monetary policy and U.S. economic growth. However, I suspect something is changing for the worse near-term, and I think investors should be prepared for it.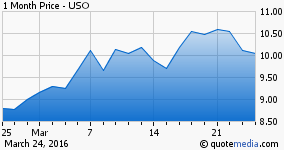 1-Month Chart of USO at Seeking Alpha
Oil prices have not coincidentally recovered along with BAC since mid-February. The United States Oil ETF (NYSE: USO) is up 26% since its February 11 close, as both oil and stocks, including BAC, have benefited from the dispelling of negative interest rate speculation and improved U.S. economic indications. But the oil price chart above shows some recent resistance, which I expect to intensify over the near-term.
The latest terrorism in Europe is reviving concern across the region. Importantly for investors, I expect these issues in Europe to weigh against economic expectations for the region. In the recent past, the euro-zone economy has shown signs of solidifying and the European Central Bank (ECB) has been very accommodative toward that end. However, there are tangible pressures to an economy derived from terrorism and terrorism concern. Costs arise for governments and for businesses as they increase spending for security, and revenues and receipts are pressured at the same time, as tourism and consumer foot traffic and spending habits are affected. Anticipation of this for Europe should increasingly weigh on economic expectations for the region now.
As a result of the revised downward expectations for the European economy that I'm expecting, I also expect energy demand forecasts to likewise come down. Europe is one of the most important regional economies of the world, and so as economic expectations decline for it, energy demand calculations require revision and the markets will adjust for that. Given the already precarious imbalance of energy supply and demand, sensitive oil prices should again move lower. I see little getting in the way of a significant decline for oil given that the Saudi Oil Minister effectively removed the OPEC put when he dispelled speculation about oil production cuts ever happening.
The tie between energy and banking has been sown this year. There is concern that if energy prices stay low for longer or move even lower, then energy sector companies are increasingly at risk of insolvency. That means the loans extended to them by banks are at risk of default. Depending on how you look at it, Bank of America's direct lending risk to the energy sector is low relative to its large bank peers. According to this Goldman Sachs compiled data reported by CNBC, while Bank of America had extended the greatest dollar value of loans to the energy sector as of Q4 2015 at $21.3 billion, in percentage terms it's hardly relevant. It appears JPM is at lowest risk and best guarded against the energy sector, but BAC is not by any means in danger of serious disruption to its business operations, as its valuation might imply. Though, there is question regarding the importance of energy sector regions of the economy, like in Houston.
| | | |
| --- | --- | --- |
| Big Bank | % of Loans to Energy | % of Reserves to Energy Loans |
| Bank of America | 2.4% | 2.3% |
| Morgan Stanley (NYSE: MS) | 5.0% | 3.0% |
| Citigroup (NYSE: C) | 3.3% | 3.0% |
| J.P. Morgan Chase (NYSE: JPM) | 1.6% | 4.0% |
For this reason, banks are pressured when energy declines. However, I view any such near-term pressure as temporary and as an opportunity for long-term investors to buy BAC at a better cost basis for future gains. The stock's deep discount to tangible book value and its discount to relative peers, shown in past reports of mine and others, remain intact today. Importantly, the Fed trajectory toward higher interest rates and therefore expanding profit margins for Bank of America also remain intact. And, as of today, the American economy continues to look bright, with better growth expected in the first quarter than the just revised higher fourth quarter of 2015. So, I want my followers to be aware that near-term weakness is again possible, but that I continue to view any weakness as a buying opportunity for long-term investors. I follow BAC closely and invite relative interests to follow my column here at Seeking Alpha.
Disclosure: I/we have no positions in any stocks mentioned, but may initiate a long position in BAC over the next 72 hours.
I wrote this article myself, and it expresses my own opinions. I am not receiving compensation for it (other than from Seeking Alpha). I have no business relationship with any company whose stock is mentioned in this article.
Additional disclosure: My recent long position in BAC was through options which I intend to rollover to a new expiration date in the near future.