Gold prices have recently retreated to $1,218 per ounce, lowest in nearly a month, on the back of strengthening dollar. That's hurt Newmont Mining (NYSE:NEM). One of the world's largest gold producers has seen its shares drop more than 10% this week to just under $25 at the close on Wednesday. The Greenwood Village, Colorado based company has underperformed as compared to its peers who have dropped by 7.6% in the same period, as measured by Market Vectors Gold Miners ETF (NYSEARCA:GDX). But the weakness could be an opportunity to load up on this great gold stock.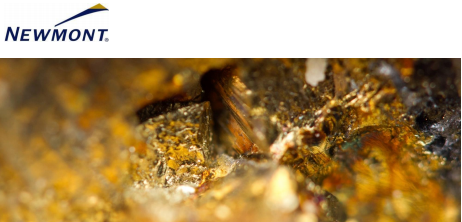 Despite the recent drop, gold prices have gained roughly 20% this year. Gold fell to multi-year lows in December when the Federal Reserve, showing confidence in the US economy, increased interest rates by 25 basis points and predicted four upward shifts for 2016. Typically, higher rates and strong dollar weakens gold's prospects which comes with a holding cost and gives zero yield. But mounting concerns regarding global economic growth dimmed the chances of four hikes, which pushed the yellow metal higher. Finally, last week, The Fed confirmed that it is targeting just two increases this year.
But the markets are still nervous about the future of interest rates which could climb sooner than expected, particularly since Patrick Harker, Philadelphia Fed President, has suggested increasing rates as early as next month. Also, there is no consensus among policymakers regarding the number of rate hikes. Although nine of 17 Fed officials are backing two rate hikes this year, in a recently held meeting, seven recommended between three to four hikes for 2016. The debate around the number of rate hikes could persist through this year, and will likely continue to impact gold prices (not significantly though), one way or the other.
Fortunately, Newmont Mining is a low-cost producer that can generate strong returns in a $1,100 to $1,200 gold price window. Newmont Mining has taken a number of measures to cut down its all-in sustaining cost for gold. The AISC has been consistently declining from $1,177 per ounce in 2012 to $898 per ounce last year, which was well below the average realized gold price of $1,141 per ounce for 2015. The company is focusing on developing just the low-cost projects, such as Merian in South America and Long Canyon in North America, which will further strengthen its cost structure and ensure that it keeps AISC under $1,000 mark in the foreseeable future. Newmont Mining will likely continue generating strong free cash flows in a tough pricing environment.
For sustainable recovery, we need to see improvement in gold's supply and demand fundamentals. On the supply side, the world's major miners will see production drop by around 8% between 2015 and 2018, according to Goldcorp (NYSE:GG), which should have a positive impact on prices. Barrick Gold (NYSE:ABX), for instance, the world's largest gold producer expects output to drop by 20% from last year to a midpoint of 4.85 million ounces by 2018. The demand for physical gold from China and India, two of its leading buyers, hasn't been particularly strong this year. But things could change in the long-run, particularly in China as the country transforms into a consumer-led economy.
Essentially, although the short term outlook for gold remains uncertain, the long term picture is looking better. The commodity's price could continue to climb over the long term, which will lift Newmont Mining's earnings and cash flows.
According to the company's estimates, every $100 gain in gold prices will lift its free cash flows by $350 million. By that measure, if gold continues to hover around the current levels, then the company's free cash flows should receive a roughly $175 million boost this year.
On top of this, Newmont Mining has also assumed oil price scenario of $65 per barrel for 2016, which is significantly higher than the current level of around $40 per barrel. And I believe it is unlikely for oil to average even $60 this year, thanks to rising production from Iran, a major storage overhang and sluggish global economic growth. For Newmont Mining, oil is one of the major input costs. It estimates that every $10 reduction in oil price scenario will increase its free cash flows by around $40 million.
I believe Newmont Mining appears to be in a great position to see its free cash flows climb by more than $200 million in 2016 on the back of commodity price improvements.
On top of this, Newmont Mining, unlike most of its peers, is actually expecting increase in attributable gold production over the next couple of years.
According to the mid-point of the company's guidance, its output is projected to climb from 5 million ounces last year to 5.05 million in 2016 and 5.45 million ounces in 2017. That's in stark contrast to the general decline in production expected from nearly every major gold producer, as mentioned earlier.
Conclusion
Although gold prices have risen this year, the short term outlook continues to look uncertain. But Newmont Mining is a low-cost producer that can withstand the tough pricing environment. The long term outlook, however, is looking better. If gold prices remain around $1,200 this year and oil fails to rebound meaningfully, then Newmont Mining's free cash flows will likely receive a big boost of more than $200 million. Meanwhile, the company, unlike other major old miners, is expecting higher production over the next two years, which should also positively impact cash flows.
Therefore, I believe Newmont Mining can grow free cash flows faster than its peers. That's going to lift Newmont Mining stock since the free cash flow will be used to boost shareholder value. The excess cash will be deployed to improve the company's financial health by reducing debt, strengthening the gold reserve base through continued exploration work and acquisitions and on funding the five major growth projects.
Newmont Mining's shares are priced 21 times 2017 earnings estimates, according to mean estimates from Thomson Reuters, making them cheaper than most of its peers, including Barrick Gold (27.6x), Goldcorp (55x) and Randgold Resources (NASDAQ:GOLD) (28.1x).
Disclosure: I/we have no positions in any stocks mentioned, and no plans to initiate any positions within the next 72 hours.
I wrote this article myself, and it expresses my own opinions. I am not receiving compensation for it (other than from Seeking Alpha). I have no business relationship with any company whose stock is mentioned in this article.