One of the most interesting things that seems to be going on in the energy market at the moment is the merger debacle involving Williams Companies (NYSE:WMB), the owner of approximately 60% of Williams Partners (NYSE:WPZ), and Energy Transfer Equity (NYSE:ETE) through an entity called Energy Transfer Corp. Despite placing an extremely high value on Williams Companies relative to the company's current share price, Mr. Market seems to think a deal will go under. In what follows, I will discuss all that is going on and give my own input into the situation.
A primer on financial engineering
The reason I fell in love with finance is that there are nearly an infinite number of ways to accomplish the same task. For somebody who doesn't like routine, finance is a natural calling because of this and ETE and Williams are out to prove just how complex a deal can become. Because many of you have likely gone over the details before, I'm not going through every aspect of the deal (which is 769 pages in the most recent amended registration statement). Rather, I hope to just touch on the basics before getting into the analysis. To get a glimpse of the proposed corporate structure, please look at the image below.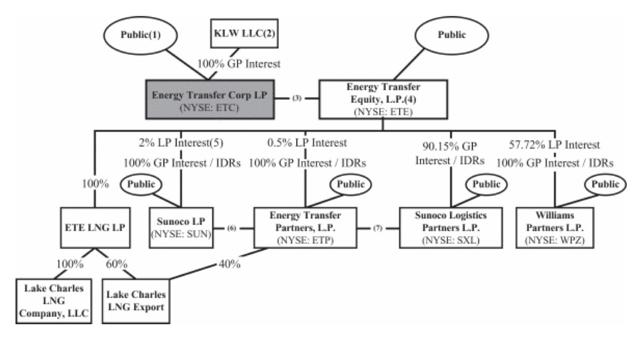 Click to enlarge
In a nutshell, if a deal takes place, ETC (a.k.a. Energy Transfer Corp.) will be receiving $6.05 billion in cash from its parent, ETE, and allocating that, combined with stock in ETC, toward acquiring Williams. At the time the deal was approved, the stock and cash component, when added to the debt the business would assume from Williams, valued the enterprise at $37.7 billion. After completing the merger, ETC would then grant its ownership of Williams over to ETE in exchange for Class E shares in ETE.
For investors who are wondering what the deal is worth, the answer is that it depends. At the time of the signing, management at ETE gave shareholders in Williams a choice between $43.50 per share in cash, or an all stock deal whereby 1.8716 shares of ETC would be given for each share of Williams, or a mixed deal involving $8 per share in cash and 1.5274 shares of ETC stock for each share of the acquiree. Investors would also receive a special dividend of $0.10 per unit just prior to the closing of the deal. Given the fact that shares of Williams are going for a paltry $15.35 apiece as of the time of this writing, some of you may think it's a home run (and it may be). However, ETE has stated that it will not pay out more the $6.05 billion in cash, so any oversubscription on the cash end of the deal will require proration, with the remaining amount of the purchase being in the form of stock.
ETE may pull out and that's okay
As of right now, the intricacies of the ETE-Williams merger means that it's pretty hard to figure out exactly how things will go down. This, though, may not matter for investors in either company because it's possible ETE may try to back out. You see, in its agreement with Williams, ETE stated that Williams will pay it up to $1.48 billion (though it could be as low as $50 million depending on the circumstances and ETE had to pay a termination fee of over $400 million to Williams for it to cancel a termination between it and Williams Partners) if a deal falls through but it did not leave itself a door out.
There is, from all that I could see, no provision for ETE to exit the deal unless Williams sees a breach of contract or unless some other action by Williams makes a deal impossible. What this means is that, if ETE were to try and back out, a court could force it to go through with the transaction in just about any circumstance. Recognizing the hard energy environment that has been slamming companies in this space for nearly two years now, rumors abound that ETE may try to cancel the deal by offering up to $2 billion in cash to Williams to get the company to accept an exit by the firm.
Overall, if I were a shareholder, this is the kind of move I would like to see. With a market cap of $11.51 billion right now, a $2 billion cash payment would be a boon for investors but why does ETE want out? It all really comes down to their math for the enterprise. When they announced plans last year to purchase the business, they estimated that synergies would save the combined entity $400 million and would generate EBITDA (Earnings Before Interest and Taxes, Less Depreciation and Amortization) of $2 billion per year by 2020. Now, because of how the market has changed and because the perceived growth prospects for pipelines and the like now look dimmer, they have revised that number down to $170 million per year. If energy prices manage to follow the futures curve that ETE plotted out instead of staying where they are though, that number would be $590 million per year.
This is a tremendous decline in shareholder value and would likely make the transaction too risky by the time you add in interest on the debt they will be issuing. On the other hand, however, this is great news for shareholders of Williams today because, besides the prospect of being paid to let ETE walk away (assuming that turns out to be true), the underlying business behind Williams is actually quite strong. Beyond any doubt, the business is being hurt by the downturn in energy prices but, despite this, cash flow has been strong. During 2015, which saw the lowest oil prices in quite a few years (since the last financial crisis), management reported operating cash flow of $2.68 billion. At Williams' current market price, this suggests a price/operating cash flow ratio of just 4.29. Meanwhile, the non-GAAP distributable cash flow number for the year was $2.75 billion.
Takeaway
Certainly, as the market for oil takes a beating, Williams will likely be harmed to some extent across some of its business operations. However, ETE is making the mistake of thinking that the future will look very similar to the present (called projection bias). In all honesty, I believe this short-term thinking on the company's part is not healthy because, although it's likely a deal will hit the company for a year or two, it's highly probable that, absent some mistakes or fraud, Williams will eventually see its profitability climb higher.
It may not be as high as management hoped it would be and the leverage position of the combined company could cause some headaches for a bit, but with strong cash flow even during tough times, the company's management team may regret backing out. For individual shareholders of Williams, on the other hand, any such move in that direction may be a blessing in disguise because of the value created each year by the company.
Disclosure: I/we have no positions in any stocks mentioned, but may initiate a long position in WMB over the next 72 hours.
I wrote this article myself, and it expresses my own opinions. I am not receiving compensation for it (other than from Seeking Alpha). I have no business relationship with any company whose stock is mentioned in this article.