Oil companies are hardly at the top of investors' shopping lists today. But that could nonetheless be a big opportunity for (income) investors that like to think out of the box and swim against the current. Oil companies have been terrible investments in the last two years, there is no other way to put it, but valuations are starting to look really appealing now.
Ever since crude oil prices fell from more than $100/barrel in 2014 to less than $30/barrel in the first quarter of 2016, oil and natural gas companies have been big losers. ExxonMobil (NYSE:XOM), Chevron Corp. (NYSE:CVX), ConocoPhillips (NYSE:COP), and BP (NYSE:BP) are down significantly from their highs.
The WTI crude oil price chart says it all.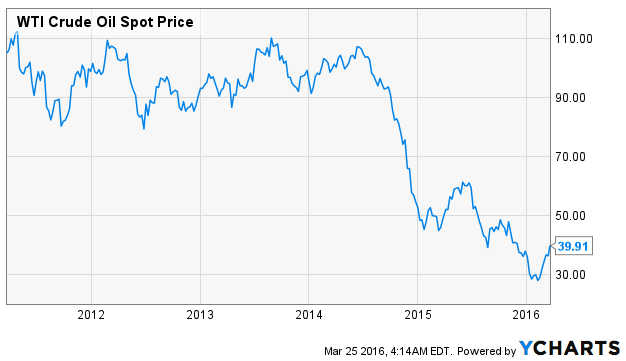 Supply concerns, which have weighed on valuations in 2015 and in 2016, have eased, but they remain a major risk factor for energy companies moving forward. The reason for that is that energy companies are still drilling for oil and natural gas in order to cover their costs, and that will likely lead to growing production volumes in the first half of 2016. In the fourth quarter of 2015 most oil and natural gas companies continued to grow their productions Y/Y, and it will likely take a couple of more quarters until investors really see productions to drop. And as long as production volumes keep growing, crude oil prices have limited upside.
BP Prepared For A Longer Cyclical Downturn
BP's fourth quarter results were not great, to put it mildly. Upstream realizations fell off a cliff, expectedly so, but BP's downstream segment offset some of the earnings decline in the upstream business. That being said, BP is quite prepared to deal with lower prices if they stay low for a longer time. Importantly, BP has managed previous market downturns, and it will survive this one, too.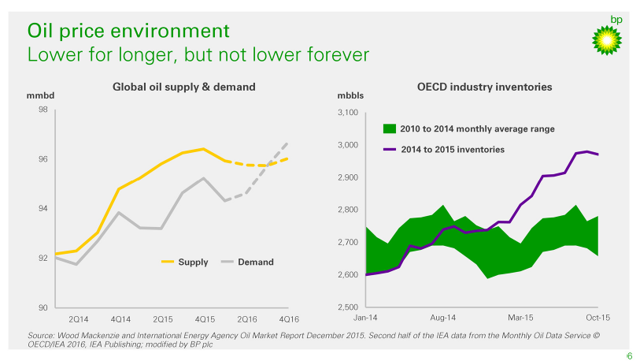 Click to enlarge
Managing Costs And Capital Budgets
BP is doing what it can to stem the decline in upstream realizations by cutting costs and adjusting its investment spending.
BP's operating expenses and investment spending have declined at a good clip in 2014 and 2015, and the company is on track to reduce costs even more in 2016. Contrary to U.S. shale companies that doubled down on the energy boom at the wrong time, big oil companies like BP always have the option of divesting production assets in order to prop up their balance sheet and secure shareholder dividends.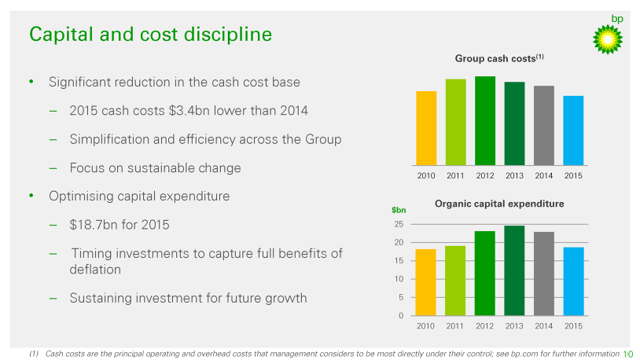 Click to enlarge
An Attractive Buy At $30
BP has lost about a quarter of its value, or ~24 percent, in the last year, and is therefore in good company with other big U.S. oil and natural gas companies. As a matter of fact, BP has outperformed pure-play shale companies by a wide margin.
IMO, buying BP around $30 may not be the worst idea. The stock is no longer overbought/oversold, changes hands for ~11x 2016e earnings, ~0.96x accounting book value, and yields ~8 percent.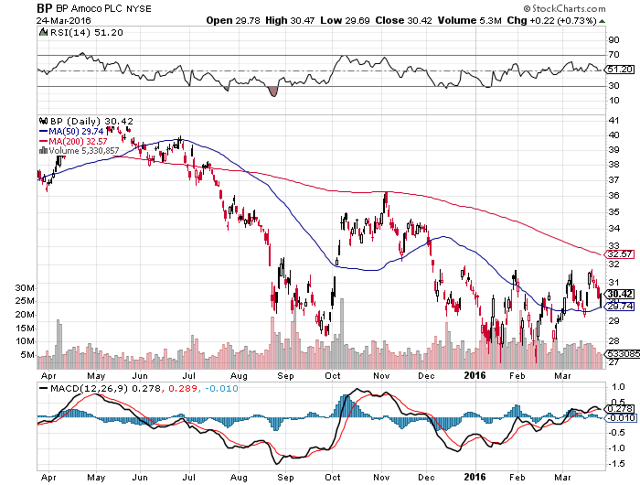 Click to enlarge
Your Takeaway
BP will make it through this downturn, just like it made it through other corrections in the past. Oil prices are very low right now, but they won't remain at $30-$40/barrel forever, and BP is a big enough company to deal with lower prices. BP has already cut its cost base and capital budgets which will serve the company well when oil prices recover. Asset sales could further stabilize BP's balance sheet and protect shareholder dividends. As far as I am concerned, buying BP at ~$30 and keeping it for a 5-year + period is a potentially lucrative deal. Buy for income and capital appreciation.
Disclosure: I am/we are long BP, XOM.
I wrote this article myself, and it expresses my own opinions. I am not receiving compensation for it (other than from Seeking Alpha). I have no business relationship with any company whose stock is mentioned in this article.