On March 16 Emerson Electric (NYSE:EMR) filed an 8-K and closed at $51.45 with 3 million shares trading hands. On March 17 the stock price closed at $54.74 on four times the volume. The run-up in price was largely covered up by the large gain for oil and the weakening dollar after the Federal Reserve announced they wouldn't raise interest rates just yet. A reader by the name of Lakeaffect pointed out the 8-K that was filed as another reason for the jump, and I'm glad he did.
Emerson Electric is a company I covered in an article back in January which is when I also started my position. For a good introduction to the company please reference that article or the most recent delivered to us by Cash Centered Creep that you can find right here. Having grown up just six miles from their headquarters I enjoy owning and covering this company.
Emerson is a well diversified company that does a good amount of business with the oil and gas industry and their share price suffered during 2015 dropping nearly 23%. Our current year has been much more encouraging and a recent spike in the share price can be attributed to the previously mentioned 8-K as well as the rise in oil prices. A primary concern the markets had was the orders eroding causing net sales to drop by nearly a billion dollars YoY. In the screenshot taken from that filing we can see the bleeding has slowed to a trickle and could even be showing signs of clotting.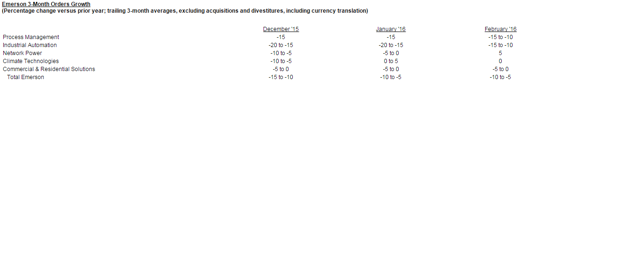 Click to enlarge
Every segment of their business is showing signs of relative strength and investors reacted accordingly. Process management is their largest segment in terms of sales and by showing a reversal in order declines the overall company seems to have turned a corner. Investors are also aware of the pending spin-off of their Network Power segment which showed a five percent growth in orders in February.
The spin-off has been criticized by investors as unnecessary and poorly timed. The announcement came in June of 2015 as that segment was being crushed by challenging markets worldwide and wasn't well received. After seeing sales plummet year over year investors were hoping for an outright sale of the segment rather than being shouldered with shares in an underperforming business. With the spin-off expected to occur in September 2016 and a 5% growth in sales for February investors are likely more optimistic that the segment can be a success.
The Network Power segment provides products and services to customers in the data center and telecommunications industry. For those of you who follow those industries whether actively or through investments in companies such as AT&T (NYSE:T) or Verizon (NYSE:VZ) you understand the robust growth it has undergone. The growth in data consumption as more things become connected to the internet has been big business and Emerson is hoping to capitalize on that. Transparency Market Research expects data center equipment sales to reach over $70 billion by 2020, nearly 13% CAGR.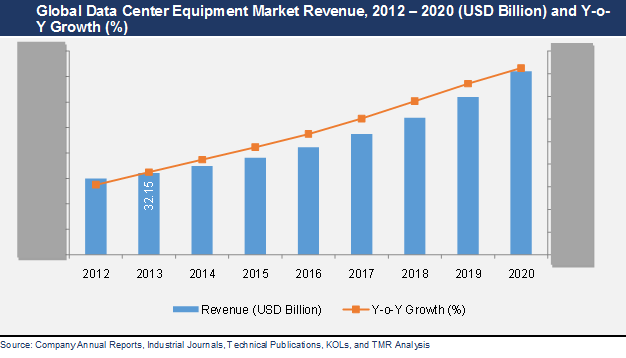 Whether or not the Network Power business can succeed on its own is still unknown. What is known is that the segment the business operates in is growing and should continue to grow at double digit rates for several years to come. While an outright sale of the segment would provide instant value for current shareholders in the form of cash I'm invested in Emerson for the long-haul and am willing to take a chance on the spin-off and will remain invested.
As a current shareholder and proud product of St. Louis I am happy to see the company show signs of turning a corner. The share price appreciation has been nice as well and of course 59 years of dividend increases is always comforting. I am optimistic about the spin-off and look forward to more guidance from the management on what exactly current shareholders will be handed. At the end of the day, my initial reasons to invest in Emerson are still there and the company remains viable. Right now the valuation seems to be fair so I think I'll wait to add to my holding when the yield reaches above 4%, should that even occur. I had entertained the idea of selling and moving the money elsewhere but I think the company has higher to go and my initial cost provides a great yield. I appreciate you reading and look forward to the discussion in the comments.
Disclosure: I am/we are long EMR, T.
I wrote this article myself, and it expresses my own opinions. I am not receiving compensation for it (other than from Seeking Alpha). I have no business relationship with any company whose stock is mentioned in this article.