Introduction
In the mining sector, usually grade is king and in that case Kirkland Lake Gold (OTCPK:KGILF) could very well be the 'king of kings' as its underground gold mine is processing ore with an average grade of approximately half an ounce of gold per tonne of rock. This indeed results in excellent economics, and I will explain and analyze Kirkland Lake's financial situation in this article.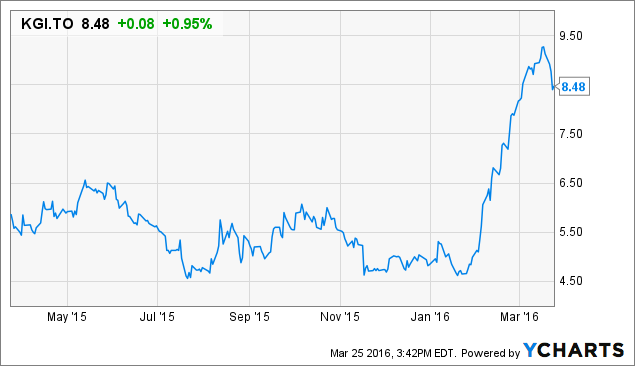 KGI data by YCharts
Despite having a market capitalization of almost $700M, Kirkland Lake doesn't have a decent listing in the USA. I'd strongly recommend to trade in the company's shares using the Kirkland's main listing on the Toronto Stock Exchange. The ticker symbol is KGI, and the average daily volume is almost 1.4 million shares.
Stub year 2015 consisted of just 3 quarters
The financial year 2015 was a 'stub year', as Kirkland Lake's previous financial year ended in April 2015 and the company wanted to make sure its financial years were corresponding with the calendar years from 2016 on. That's why it created a stub year which contains the financial and production results of just 8 months.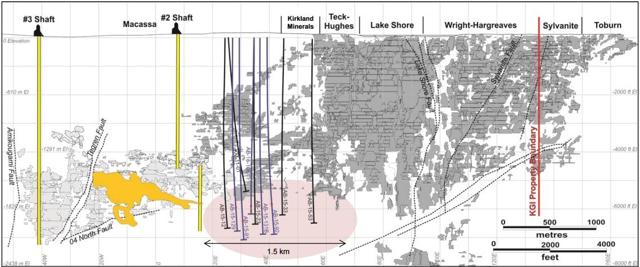 Click to enlarge
Source: company presentation
The final quarter of 2015 was actually pretty good with a total production rate of 27,600 ounces of gold. That's less than the super-result of the second quarter wherein almost 38,000 ounces of gold were produced, but this output reduction was widely expected by the market as this quarter contained just 2 months instead of three.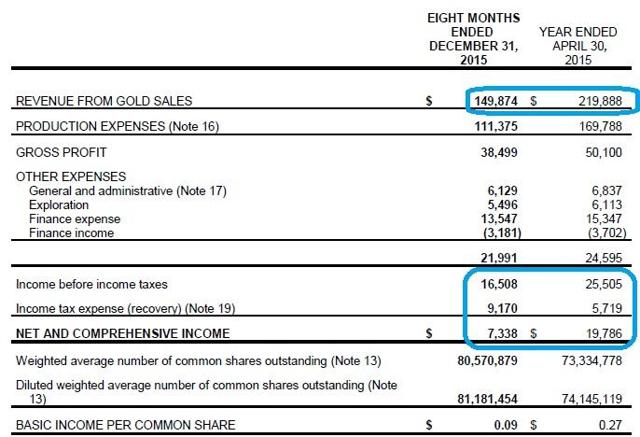 Click to enlarge
Source: financial statements
The total revenue in the eight months was C$150M ($112M) and that's of course much lower than the result of the financial year that ended in April 2015, as that was a 'full' financial year. It's however very encouraging to see the gross profit was higher on a relative basis, as Kirkland generated C$38.5M ($29M) in gross profit in SY 2015, which would be almost C$60M ($45M) on a 12 month basis and this compares quite favorable with the FY 2015 gross profit of C$50.1M. ($37.5M)
Unfortunately the total tax bill was higher on a relative basis. Whereas the average tax rate in FY 2015 was approximately 20%, this increased to approximately 55% in stub year 2015, and this reduced the net income to C$7.3M ($5.5M) or US$0.07 per share. Okay, nice, but I was expecting more from Kirkland Lake, and I was very eager to have a look at the cash flow statements as well.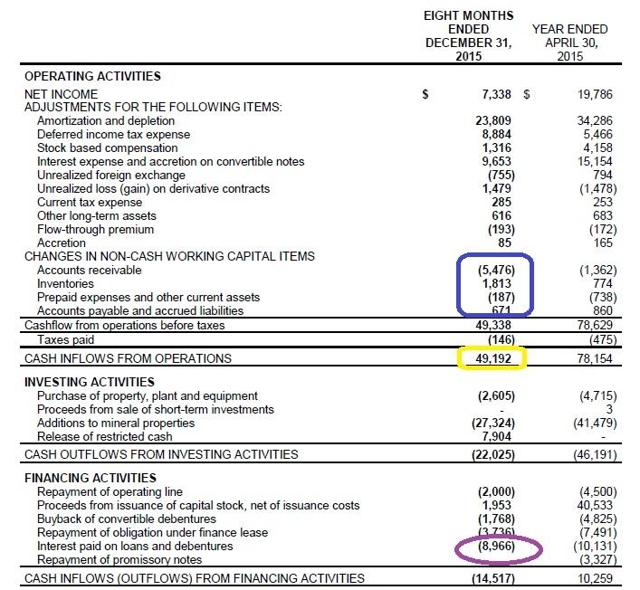 Click to enlarge
Source: financial statements
Kirkland Lake generated a positive operating cash flow of C$49M ($37M), but this did include a negative change in the company's working capital position. But if you'd exclude these WC changes, the free cash flow would have been approximately C$22M ($17M) in the last 8 months of 2015. Is that a good result? Yes, it is. But then I glanced over the financing activities and I realized the company reported its interest expenses as a financing activity rather than an operating activity. That's perfectly acceptable, but it does mean the adjusted free cash flow wasn't C$22M but just C$13M ($10M) and that's not really exciting.
Surprisingly, no guidance has been given
Kirkland Lake Gold hasn't given any guidance for 2016 yet (which will be a normal year with 4 normal quarters and 12 months of production) and that's a little bit surprising. Sure, I do understand the company is still working on its program for 2016 and the incorporation of St Andrew Goldfields into the Kirkland Lake structure will also take some time and the focus points of both operations will have to be re-prioritized.
'The current schedule we have is to release guidance to the market mid-April and of course that would be after the closing of our Q1 and typically we put out to weeks after the closing, our production numbers.'
It won't be easy to estimate the 2016 numbers as the main unknown is the contribution from St Andrew's operations. Until now, it's still unknown what kind of synergy benefits Kirkland Lake is expecting for this year, and how it thinks it might improve St Andrew's operating performance and efficiency. I think the real additional value will have to be found in these 'unknowns', so I'm looking forward to see the official guidance which should be released within the next few weeks.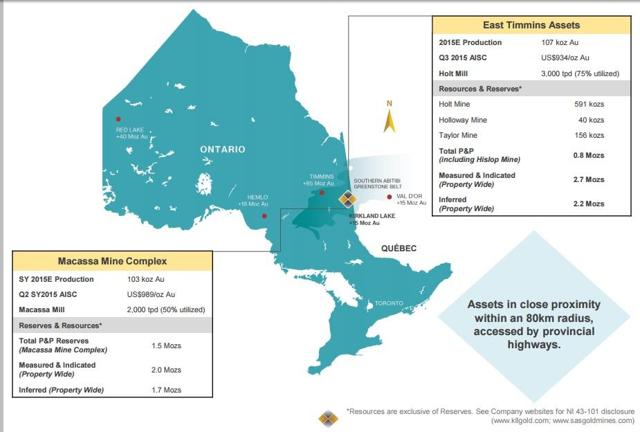 Click to enlarge
Source: company presentation
That being said, I'm not really happy with an adjusted free cash flow of just US$10M in the last 8 months of 2015. Of course, the higher gold price will increase the free cash flow quite substantially (I'd say the current gold price would allow the company to double the adjusted free cash flow) and the St Andrews operations should also add a double-digit amount of free cash flow to the total package.
Investment thesis
That being said, I'm not sure I'd be willing to pay $700M for a company with an adjusted free cash flow of $30-35M. For a very strong blue chip company à la Johnson & Johnson (NYSE:JNJ) or Procter & Gamble (NYSE:PG) I would be willing to accept a 5% free cash flow yield. Kirkland Lake is trading at a premium due to its strong balance sheet (the net debt should be gone by the end of this quarter) and the high-grade nature of its mines, but the company most definitely isn't cheap, especially as the gold price is still quite volatile.
I don't have a position in Kirkland Lake gold and have no intention to initiate one anytime soon. It's great to see the company is still free cash flow positive but I'd prefer the P/FCF to come down before getting in.
Disclosure: I/we have no positions in any stocks mentioned, and no plans to initiate any positions within the next 72 hours.
I wrote this article myself, and it expresses my own opinions. I am not receiving compensation for it (other than from Seeking Alpha). I have no business relationship with any company whose stock is mentioned in this article.
Editor's Note: This article discusses one or more securities that do not trade on a major U.S. exchange. Please be aware of the risks associated with these stocks.