Jana Partners established an 8% position (5.9 million shares) in Team Health (NYSE:TMH) with an average cost per share of $39.10 per share worth $231 million. In the 13D filing, Jana cited company "missteps" and explained how the company would benefit from "the addition of new directors with the necessary expertise" on the board.
Typically, Jana uses a fundamental value approach to their investment process in hopes of identifying one or more catalysts to unlock shareholder value. If the firm deems it necessary, they will act as the instrument to create catalysts that unlock shareholder value. Team Health's shares are down 24% over the past 12 months and trade at $40.80 per share (near 52-week lows). Let's see what Jana Partners sees in the company.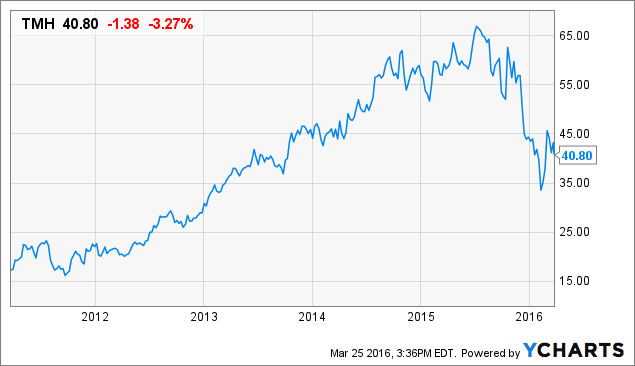 Behind the scenes
The interesting thing about this situation is the failed merger attempt of Amsurg in trying to acquire Team Health in October 2015 at $71.47 (in cash and stock). Today, shares trade at $40.80. The opportunist in me can't help but think that Jana jumped on board (no pun intended) to try and revisit the Amsurg acquisition and attempt to get a deal done. The "missteps" that Jana refers to are probably in regards to a recent IPC Healthcare acquisition at, what appears to be, an expensive price. Also, missteps could include management's failure to get a deal done for shareholders at much higher prices.
Jana Partners stated in the 13D filing that:
"…they believe the Shares are undervalued and represent an attractive investment opportunity. JANA believes that the Issuer has made missteps in critical areas including capital allocation, strategy and governance, and that the Issuer's board of directors would benefit from the addition of new directors with the necessary expertise, experience and focus on shareholder value to help evaluate opportunities for future shareholder value creation."
Jana has nominated three directors to serve on the board: 1) Edwin Crawford ( the previous CEO of MedPartners and sold TeamHealth in 1999), 2) Nancy Schlichting (on the board of Walgreens), and 3)Scott Ostfeld (Jana). With a team like that joining the board, it's difficult not to see the writing on the wall.
Is it too late to buy shares?
Shareholders are clearly frustrated with the company with shares plummeting 56% since the highs in mid-2015. However, Jana brings better board oversight and leadership which should be a welcome sign for investors. Given the recent growth in the business, the long-term appreciation potential looks intriguing. Although the company generates excess FCF, shares still trade at a P/FCF of 30.09 and Team Health's balance sheet is less than stellar. The valuation and debt load make me a little weary of dipping a toe in the water at current levels.
With that said, it's hard to argue Jana's success in the past, and I would not at all be surprised by them turning things around in the business. My guess is Team Health will be sold in relatively short order to a company that can actually integrate the business. The new board members will position Team Health to do just that.
Notable Shareholders:
Jana Partners | Lee Ainslie | Alan Fournier
Please share your thoughts in the comments section below as I learn just as much from you as you do from me. It can be a timely endeavor, but I answer all of your comments and questions myself. Your patience and understanding are greatly appreciated. I will get to your remarks as soon as possible. :)
Disclosure: I/we have no positions in any stocks mentioned, and no plans to initiate any positions within the next 72 hours.
I wrote this article myself, and it expresses my own opinions. I am not receiving compensation for it (other than from Seeking Alpha). I have no business relationship with any company whose stock is mentioned in this article.