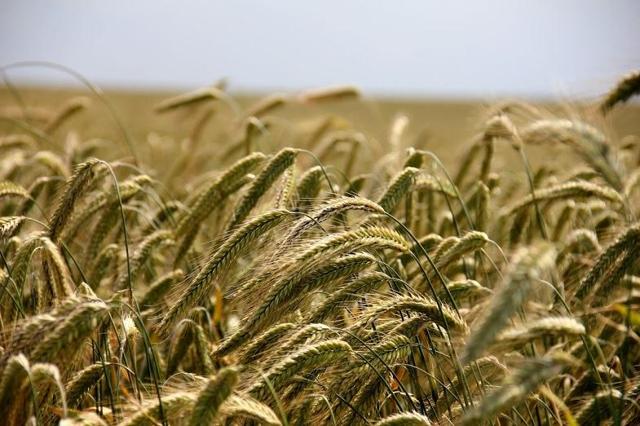 I recently discussed the importance of the U.S. dollar (NYSE: UUP) weakness for the upside in Potash Corp. (NYSE: POT) shares and it looks like this relation was confirmed on practice. Potash Corp. shares found themselves under increased pressure as U.S. dollar rebounded from lows and confirmed that it was trading in a range rather than starting a new downside trend.
There are factors besides U.S. dollar which could move Potash Corp. shares up or down in coming months. The most important of these factors is the outcome (or lack thereof) of the potash price negotiations with China.
It is already the end of March, and we heard nothing about the price that China will pay for potash imports. Last year, the Belarussian Potash Company was the first one to secure the deal with Chinese customers in the second half of March.
India previously delayed negotiations until June due to the impact of droughts. It looks like China continues waiting for even better prices, which is, of course, bearish for Potash Corp. All latest market developments, including the four-week production stoppage at Potash Corp.'s Allan and Lanigan mines and K+S indications of continuing weakness of potash market signal that the bottom has not been reached yet. Additional downside in potash markets may force Potash Corp. management to reassess the dividend once again.

Potash Corp.'s 2016 guidance assumed potash sales volumes of 8.3 million - 9.1 million tons. This guidance was based on Potash Corp.'s view that the global market needs 59 million - 62 million tons of potash. It is increasingly evident that global shipments may fall below Potash Corp.'s estimates. In this light, I believe that the company's 2016 potash sales will likely be close to the lower end of its guidance or even below it.
As most readers know, Potash Corp.'s dividend payout ratio is 100% this year even after the dividend cut. This leaves no room for error and the dividend is highly dependent on market conditions as the company has no cash cushion. In my view, if the company's potash sales found themselves on the way to 8.3 million tons the dividend could be cut once again.
Potash Corp.'s CEO Jochen Tilk has recently shared his views on the industry during the BMO Global Metals & Mining Conference. He expects that potash demand will continue to grow at 2.5% annually. He also expects that demand will grow to 70 million tons in 2020.
| | | | | |
| --- | --- | --- | --- | --- |
| 2016 | 2017 | 2018 | 2019 | 2020 |
| 59 | 60.48 | 61.99 | 63.54 | 65.12 |
| 60 | 61.50 | 63.04 | 64.61 | 66.23 |
| 61 | 62.53 | 64.09 | 65.69 | 67.33 |
| 62 | 63.55 | 65.14 | 66.77 | 68.44 |
My math tells me that if you start with 62 million tons at a 2.5% annual growth rate in 2016, you will reach 70 million tons in 5 periods or in 2021. In my view, simply transposing previous trends into the future and picking the higher end of the demand guidance at times when the company cuts production could be misleading and leads to excessive optimism.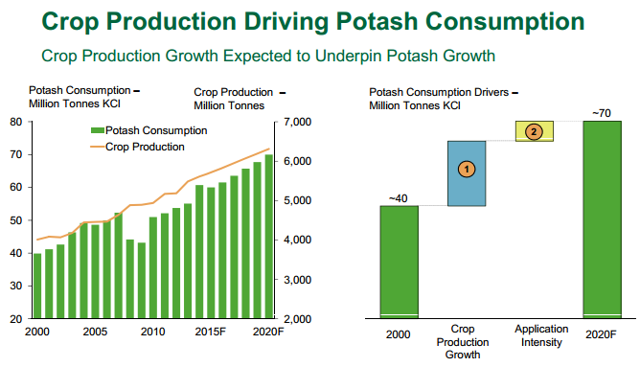 The last time I saw chart like that was when I looked at Rio Tinto's (NYSE: RIO) iron ore demand predictions. Most of you already know how the story ended - China failed to consume iron ore at ever increasing pace, producers invested in too many mines and iron ore prices fell through the floor.
I am not saying that potash's fate will be similar as potash market and iron ore market are very different markets. However, I don't like predictions that imply a steady growth rate. All in all, I am skeptical of the 70 million tons demand projection in 2020.
The good news is that the company does not need a substantial increase in demand to support the current dividend yield. Stable prices are more important. During the abovementioned conference, Jochen Tilk stated that the company firmly believed that in 2017 a $1 dividend would not be a problem and would be sustainable.
Things get easier for Potash Corp. in 2017 as capital expense requirements decrease. Perhaps, this statement indicates that the company may be willing to bridge the gap between 2016 cash flow and the dividend if cash flows do not fully cover the dividend, which is a good news for income-oriented investors.
I'd argue that there's a lot of uncertainty for Potash Corp. in the near term. I expect that we will continue to see volatility similar to recent moves in the company's shares. Currently, Potash Corp. shares look more suitable for multi-year (or even multi-decade) bets rather than for one-two year adventures. I remain neutral on Potash Corp. and look forward to hearing the results of negotiations with China.
Disclosure: I/we have no positions in any stocks mentioned, and no plans to initiate any positions within the next 72 hours.
I wrote this article myself, and it expresses my own opinions. I am not receiving compensation for it (other than from Seeking Alpha). I have no business relationship with any company whose stock is mentioned in this article.