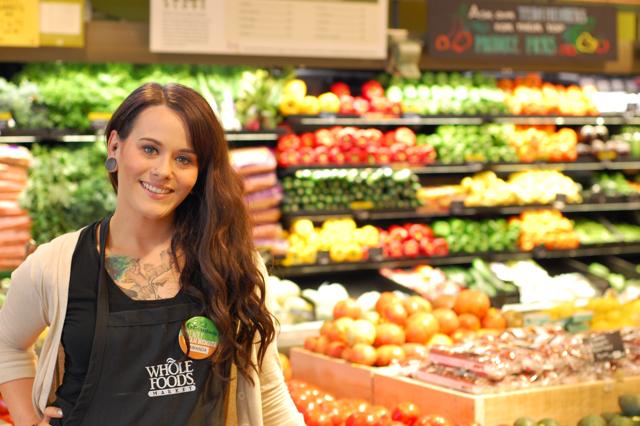 If there is one stock out there which could benefit from the rising wealth of the millennial generation, it is Whole Foods (NASDAQ:WFM). We think the supermarket chain really connects well with the millennial generation (as well as the baby boomers) and has a bright future ahead as consumer habits shift and spending power passes down to the next generation.
Millennials to become the biggest spenders.
It has been reported that by 2017 millennials will have more buying power than any other generation, overtaking the baby boomers. So clearly, for a company to succeed in the long-term it needs to win this demographic today in our opinion.
365 by Whole Foods is the key in our eyes. Its slogan is "Make healthy living easy. Every day. For everybody." The company believes it is time for a whole new grocery shopping experience, which is good for your body, budget, lifestyle, and the planet. The key here is the word experience. Forbes reported last year how millennials value experiences over owning things. By turning a trip to a grocery store into an experience we feel they can win over this demographic. Sure, Kroger (NYSE:KR) and others provide great organic products and compete incredibly well. But it's the experience that counts for us. That is where Whole Foods excels. The traditional grocery stores/supermarket setup is incredibly bland. Its very functional, but few people get excited about visiting it. But Whole Foods offers consumers something different in a lot of its stores, especially its new 365 by Whole Foods brand. This could soon include everything from vegan restaurants, barbers, tattoo parlours, or bike shops.
Community is key.
Its "Friends of 365" strategy really puts a lot of focus on the community and engagement. This works incredibly well for Lululemon (NASDAQ:LULU) and we see it doing the same for Whole Foods. By becoming a part of consumers lives, rather than a corporate identity, Whole Foods should be able to build lasting relationships which helps the company flourish for years to come.
Another thing we like, perhaps most, about the 356 brand is that it is Whole Foods on a budget. Whenever you see criticism about Whole Foods you will almost certainly see the term "whole paycheck" bandied around. Well that did used to be the case, but post-recession things had to change and they did. Now with 365 by Whole Foods, a further step to making organic food available to those on tighter budgets than others is being made. We also see it as a stepping stone to the regular stores for these consumers once they start earnings enough to do so.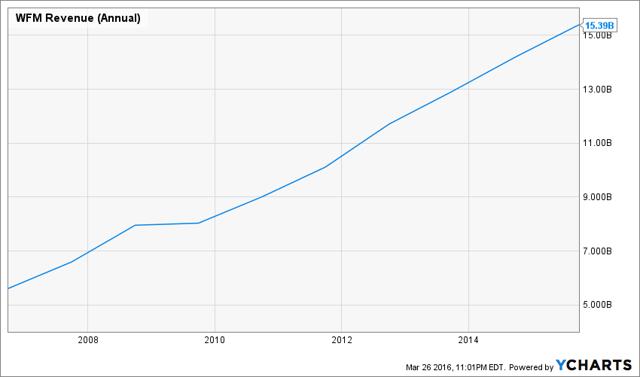 Sourced from Ycharts.com
Winning the millennial demographic should help Whole Foods continue to grow its revenue for many years to come. Although year over year growth is slowing a touch, this is to be expected due to the law of large numbers. But as Whole Foods is still a fledgling business we expect it to provide shareholders with greater returns than Kroger which last year managed to grow its revenue by just 1.26 percent year over year. This can be seen on the chart below.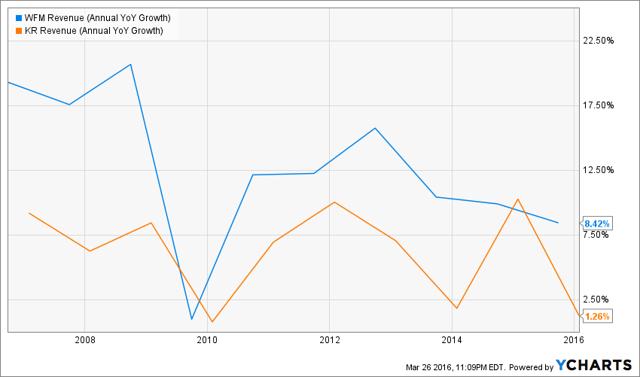 Sourced from Ycharts.com
Slower growing chickens is a positive move.
Whole Foods came under a bit of flack for its decision to shift eventually to slower growing chickens. Some market commentators believe that consumers will find prices are too high and shop elsewhere. We think it will be quite the opposite. Good quality produce that has been treated well is worth its weight in gold. We know we would rather pay a premium for slower growing chicken than a cheaper alternative which hasn't been grown in the same way, and we don't believe we are alone in this. We wouldn't be surprised to see other supermarket chains follow suit in the future.
So what does this all mean now?
We think that Whole Foods is good value at present and makes for a compelling investment. There is a lot of long-term growth ahead which makes it even more attractive as a buy and hold investment, too. We expect earnings to grow at around 7 percent per annum for the next five years and the share price in line with this.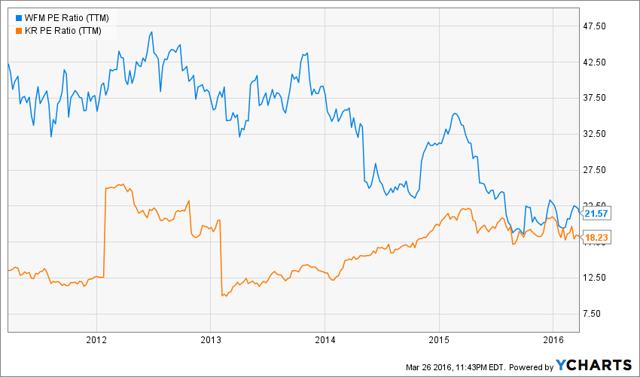 Looking at the shares on an earnings multiple, they have always been priced at a premium to Kroger. Whether the market is prepared to continue this trend is another matter. As you can see on the chart shown above they have converged in recent times. A good set of results good be the catalyst to making the market pay around 30x earnings for the shares in the future, but for now we feel it is safer to value them at around 22.5x earnings.
We think Whole Foods is a great investment today and expect to see the share price increase to around $36.00 this year. We expect long-term buy and hold investors should find themselves rewarded handsomely also. It really will pay to be patient with Whole Foods in our eyes.
Good luck with your investments.
Disclosure: I am/we are long WFM.
I wrote this article myself, and it expresses my own opinions. I am not receiving compensation for it (other than from Seeking Alpha). I have no business relationship with any company whose stock is mentioned in this article.