Introduction
In my last article, "Canadian Pacific Railway: Part 1 - Strong Upside Potential", I examined three market catalysts that would provide a long-term investor in Canadian Pacific Railway (NYSE:CP) with strong upside potential:
Recent $55 million asset sale
A growing wind energy market
Consistent cash flow through grain transportation
In addition, the bullish automobile market in North America will further catalyze CP's stock. Also, CP's past performance and current stock price provides a strong entry point for a long-term holder.
Quick Company Overview
The Canadian Pacific Railway Ltd. is engaged in rail transportation throughout Canada and the Northeast and Midwest regions of the United States (US). It provides freight transportation services, logistics solutions, and supply chain expertise. Currently, CP has a market cap of $25.5 billion, EPS of $8.4, and an annual dividend of $1.40 CAD.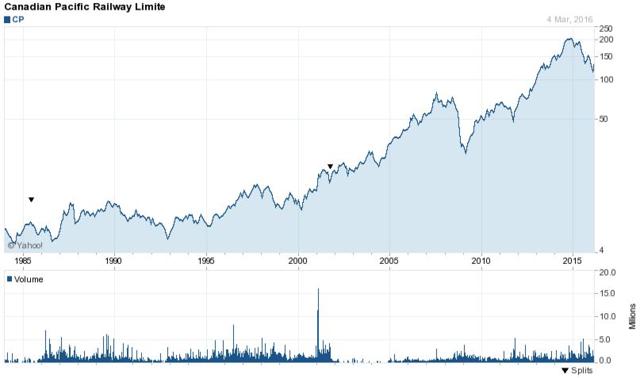 Click to enlarge
Bull Market Sector
The automobile industry in Canada is bullish. One of CP's key revenue streams is through the transportation of new and used automobiles. Thus, looking into the automobile sector and its transportation needs, CP has a comprehensive network of rails that provides vehicle manufacturers with transportation solutions. Examining the health of the automobile market in Canada, the sales of new automobiles has maintained an upward bullish trend. Having said that, an increased demand for vehicles directly correlates to the manufacturer's increased demand to transport vehicles from its manufacturing facility to car dealerships.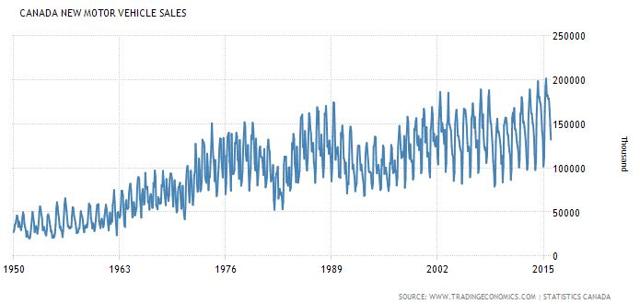 Click to enlarge
The year-over-year increased demand for new vehicles in Canada can be correlated to various factors that include population growth, low oil prices, low interest rates, increased employment, and the overall colder climate. At the present time, the low gas prices and interest rate environment in Canada provides an end user with a more desirable time to acquire a vehicle. In rationale, the end user's monthly expenses from fueling up and car payments is historically cheaper than in previous years. For example, if a vehicle is financed under the current low interest rates, the vehicle's monthly payments are less.
Toyota (NYSE:TM), Honda (NYSE:HMC), Ford (NYSE:F), Fiat Chrysler (NYSE:FCAU), and General Motors (NYSE:GM) all reported higher sales volumes in Canada in 2015.
| | |
| --- | --- |
| Toyota Canada | +4.5% from January 2015 |
| Honda Canada | +33% from January 2015 |
| Ford of Canada | +14% from January 2015 |
| Fiat Chrysler Canada | +1.1 from 2014 |
| General Motors Canada | +5.4% from 2015 |
The bull market in Vancouver and Toronto will offset decreased vehicle sales in Alberta and Saskatchewan. More specifically, new vehicle purchases can be correlated to employment rates. In rationale, people without jobs do not have the disposable income to acquire new vehicles. That being said, due to increased unemployment rates in Alberta and Saskatchewan from weak oil and gas prices, the region will see decreased demand for new vehicle acquisitions. On the contrary, in line with data from Statistics Canada, Vancouver and Toronto have been doubling the employment averages in Canada since 2010. Having said that, because of increased employment rates in Vancouver and Toronto, people have more disposable income to acquire new vehicles.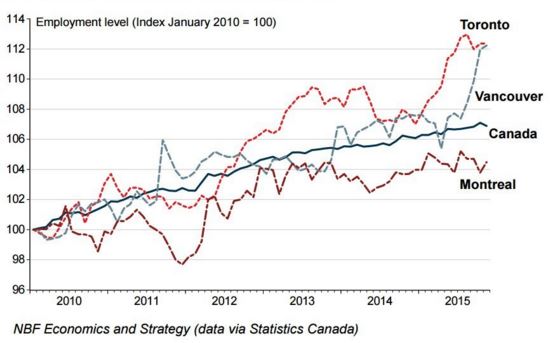 More specifically, unlike other regions in the world, yearly freezing temperatures in many Canadian provinces shortens the life span of a vehicle. For example, due to freezing temperatures, roads in Alberta are chemically treated with road salts to reduce the presence of ice. Typical road salts used in Alberta include sodium chloride, calcium chloride, potassium chloride, and magnesium chloride. Thus, these road salts are corrosive and therefore reduce the overall life span of a vehicle by eating away at the vehicle's paint and causing rusting problems on the frame and undercarriage. That being said, by default, many Canadians are forced to buy new vehicles more often than people living in regions where the roads are not chemically treated for ice.
Moving into the US, the current strong dollar will stimulate automobile sales in Canada. Precisely, because of the strong US dollar, residents in the US can come to Canada and purchase the same vehicle for cheaper.
Also, a boon to CP's vehicle transportation market, vehicle sales in the US remain bullish. Vehicle sales in the US have remained bullish since the December 2007 to June 2009 subprime mortgage crisis.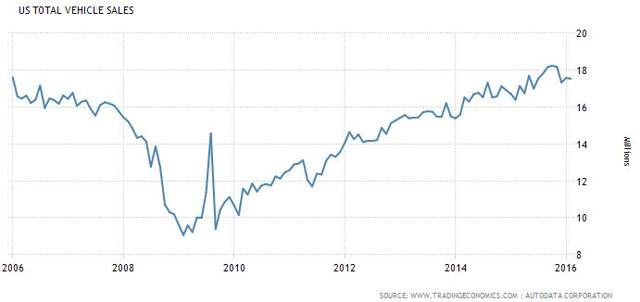 Click to enlarge
Between the December 2007 and June 2009 recession, US total vehicle sales plummeted. Total vehicle sales plummeted during that era because many American companies were unable to renew their vehicle fleets because of financial and economic constraints. Since 2009, many American companies have been able to recover from the downturn and have been able to renew their long overdue vehicle fleets, creating a bull market. Looking forward, as American enterprises continue to recover and grow from the 2009 recession, vehicle sales will remain bullish. Also, like in Canada, the low oil and interest rate environment in the US is helping catalyze the automobile market and its related transportation requirements.
The low unemployment rates in the US will keep new vehicle acquisitions bullish. Again, using the correlation between employment rates and new vehicle acquisitions, the US Bureau of Labor Statistics states that the unemployment rate in the US remains at its lowest since April 2008. Having said that, because of low unemployment rates in the US, people will have more disposable income to acquire new vehicles as a medium to get to work.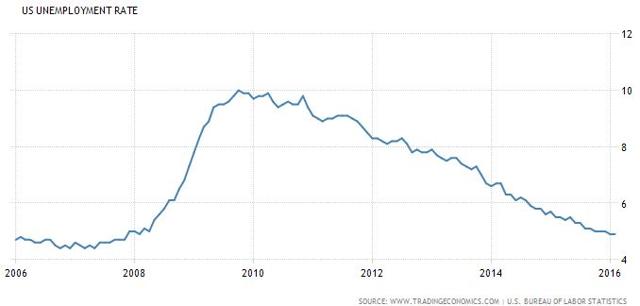 Click to enlarge
In further analysis of CP's automobile transportation market, the automobile market from a production standpoint remains bullish. Precisely, Magna International (NYSE:MGA) is an automotive part supplier for GM (GM), Fiat Chrysler (FCAU), BMW (BAMXY), Ford (F), and others. Thus, MGA provides these customers with chassis, seating, electronics, vision, interiors, and roofing systems for new vehicle production. In theory, a decrease in vehicle sales from any of MGA's customers will directly correlate to a reduction in MGA's revenue. For example, if Ford is selling less automobiles, it will be ordering less electronics from MGA. Thus, less electronics orders from Ford will decrease MGA's revenue. That being said, MGA's sales revenue from its last earnings call would have been up 6% from Q4 of 2014 if it wasn't for currency fluctuations between Canada and the US. In fact, other than currency fluctuations, MGA increased its 2016 revenue forecast to $34.6-36.3 billion USD from $31.3-32.6 billion USD. It also raised its dividends by 14% to 25 cents per share.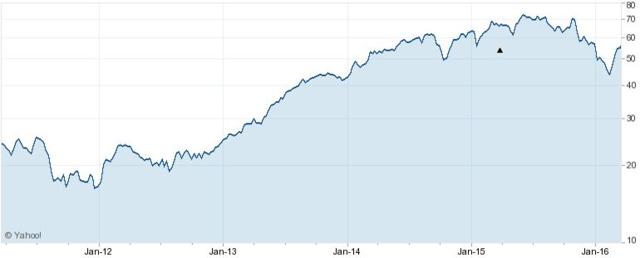 Click to enlarge
Historically, MGA's revenue and EPS have been on an upward trend since 2007, despite 2009.

Click to enlarge
Overall, on a production standpoint of the automobile market, MGA's revenue through GM, Fiat Chrysler, BMW, and Ford remains bullish.
Moreover, like MGA, Linamar (LNR:TSX) (OTCPK:LIMAF) is Canada's second largest manufacturing company of engineered products for vehicle manufacturers. On LNR's last earnings call on March 9, 2016, LNR delivered its fifth consecutive year of record results. Specifically, sales increased 24% from 2014 to reach $5.2 billion, operating earnings increased 33% from 2014, and net earnings increased 36%. Again, from a production standpoint of the automobile market, LNR's sales through vehicle manufacturers is bullish.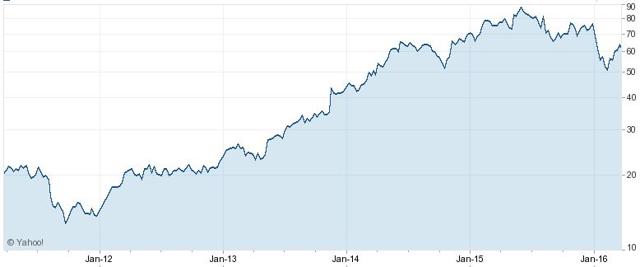 Click to enlarge
Historically, LNR's revenue and EPS have been growing year over year.

Click to enlarge
In short summary, from a production standpoint, MGA's and LNR's revenues and EPS point toward a strong automobile market for CP.
Historic yield
Since 2010, CP's stock has outperformed the S&P/TSX Composite Index. A $100 investment in CP would have grown to $290.25, while the latter would have returned $112.06.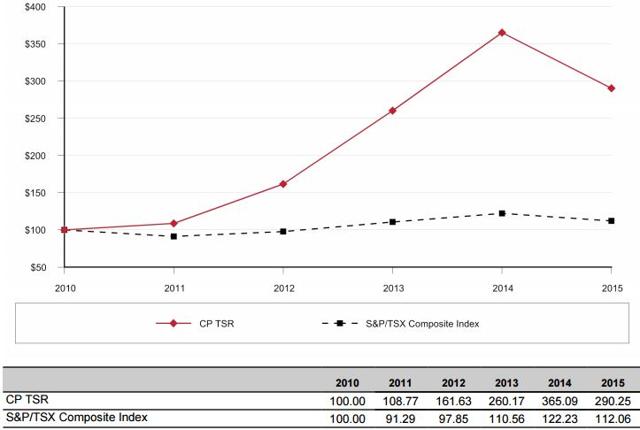 Click to enlarge
Since 2012, CP has yielded the second best investment return in the railroad sector.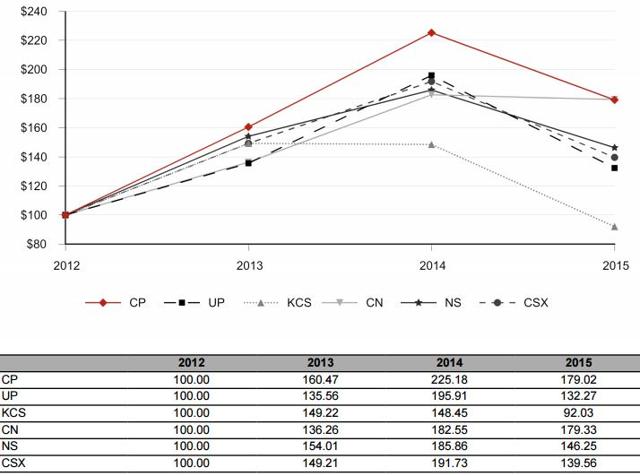 Click to enlarge
Entry Point Analysis
Using technical analysis, support can be found at $168.55 and resistance can be found at $196.55 for the CP stock. Thus, with a market close of $170.52 on March 23, 2016, CP's stock is priced above support.

From a value prospective, and using the market close of $170.52 on March 23, 2016, the Recognia Value Analyzer tool prices CP's stock at "Near Fair Value" with a 14% rate of return estimate.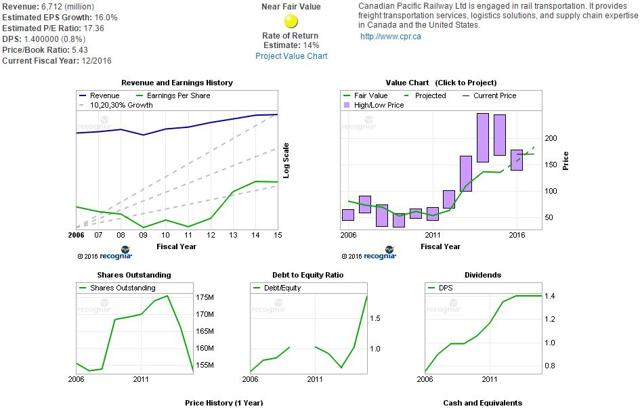 Click to enlarge
Lastly, looking at insider buying over the past year, officer(s) at CP have been buying low and selling high. On the contrary, in the past year, director(s) at CP have only bought low and not sold, a positive sign for a long-term investor.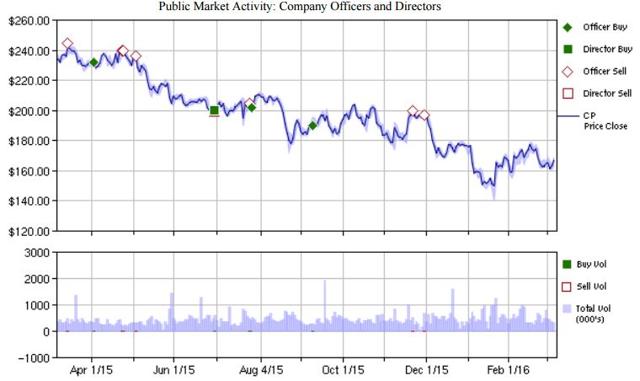 Click to enlarge
Conclusion
A long-term investor in CP should look out for increased automobile acquisitions in North America because it will reflect a portion of CP's quarterly revenue. Also, keeping in mind CP's strong historic performance, technical analysis shows that the current CP stock is priced marginally above support, signaling towards an entry point for a long-term holder. That being said, the current stock price is in a good position to yield strong returns that are well below resistance levels.
Disclosure: I am/we are long CP.
I wrote this article myself, and it expresses my own opinions. I am not receiving compensation for it (other than from Seeking Alpha). I have no business relationship with any company whose stock is mentioned in this article.