"When the facts change, I change my mind. What do you do, sir?" -Unknown
Despite the improved fundamental shift in the airline industry, Mr. Market still questions the industry's sustainability. For example, many of the big airlines are now generating free cash flow for the first time in their respective histories. Just take a look at United Continental (NYSE:UAL).
Even with the drop in oil and gas prices (a good thing for airlines), shares have dropped over 15% in the past 12-months and now trade at an acquirer's multiple of 5.04 and P/FCF of 6.80. The stock appears cheap based on numerous valuation metrics, and the changing industry fundamentals give long-term investors a strong reason to give United strong consideration.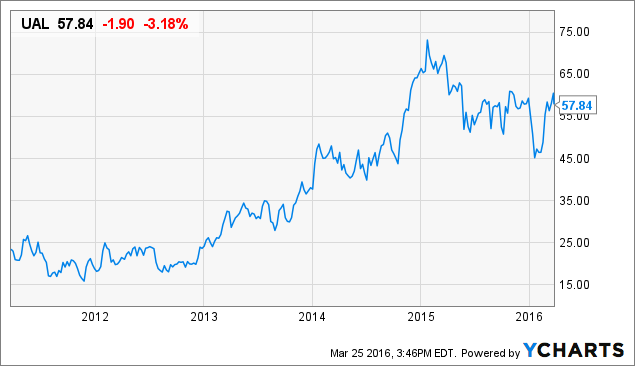 UAL data by YCharts
The market appears a bit rattled by CEO Oscar Munoz's, heart attack last October, just five weeks after taking the top position in the company. In January, he underwent a heart transplant surgery and appears to be doing well. Despite the uncertainty surrounding the CEO, the company continues to generate exceptional results, and I expect this to continue with oil and gas prices at such depressed levels.
Passenger revenue per average seat mile (PRASM) was down 65, mainly on the back of a strong U.S. dollar, competitor pricing, terrorist attacks in Paris, and drop in demand from foreign travelers. Worries about the Zika virus have also sparked fears, forcing management to forecast a 6-8% drop in the next quarter.
How safe is the business?
To understand the safety of the company, I like to use a few key metrics:
Piotroski F-Score (indicates the company's financial situation) - 7, indicates a very healthy institution.
Altman Z-Score (measures the likelihood of bankruptcy w/in 2 years) - 1.69, indicates the company may be in distress.
Beneish M-Score (indicated if company is an accounting manipulator) - -2.33, suggests the company is not an accounting manipulator.
As we can see above, other than the Altman Z-Score, these are great numbers and helps gives us further confidence in the business.
Let's take a look at the Acquires Multiple
When investing in any business it's important to visualize your potential return if you purchased the entire company. Right now, the company is cheap on a number of metrics, trading on a PE of 3, P/FCF of 10.25, and EV/EBIT of 6.88. And the huge cash pile is likely to be distributed to shareholders through buybacks or dividends.
The company currently has a market cap of $20.79 billion, and an enterprise value (EV) a bit higher at $27.18 billion. The reason the EV is so high is because the company has over $10 billion in long-term debt. As a potential acquirer, debt is an important part of the equation. Even the $5.19 billion in cash and cash equivalents was not enough to offset United's excess debt, which leaves us with a total EV of $27.18 billion.
The company's operating earnings, which are taken from the top of the income statement, are $5.49 billion. In other words, we're paying $20.85 billion for a company with an EV of $27.18 billion, and is returning operating earnings of $5.49 on that $27.18 billion. This gives investors an Acquirer's Multiple of 4.95, when we divide the EV ($27.18 billion) by the operating earnings ($5.49 billion).
Bottom Line
It will take time for the airline industry to fully regain investors' trust - so many investors have been burned in the past. However, I do expect the changing industry fundamentals to position the airlines very well over the years with better pricing power and tailwinds from lower fuel prices.
Because United generates so much free cash flow -- about $3.2 billion during 2015 -- the company is able to buy back quite a few of its own shares, and let's not forget the potential for future dividends. The share count has declined by about 3.5% in the last three years alone, and United continues to spend heavily on buybacks, initiating a $3 billion share repurchase program in mid-2015.
United is in a better position than it was a year ago, with top and bottom-line growing, and it's becoming a more stable, higher quality stock. The best part is Mr. Market doesn't believe it yet, and this gives us an edge since there is a divergence between perception and reality. United is once again on sale, and among its immediate peers, it's far and away one of the best values.
With United now marked down over 15% from the all-time high set in early 2015, this could be a good time for long-term investors to buy shares. The airline industry has changed - it's time for us to change our opinion.
Disclosure: I/we have no positions in any stocks mentioned, and no plans to initiate any positions within the next 72 hours.
I wrote this article myself, and it expresses my own opinions. I am not receiving compensation for it (other than from Seeking Alpha). I have no business relationship with any company whose stock is mentioned in this article.