When UBS initiated a 'sell' rating on Wells Fargo & Co. (NYSE:WFC) with a price target of $45 per share, it shocked the Wall Street which sold the stock on strong volumes. Wells Fargo ended the day roughly 2 percent lower at $48.90. So, we are now just $3.90 off if $45 is assumed to be the fair value of the stock. Personally, I don't think it makes much of a difference to a serious medium-term to long-term investor.
Founded in 1852, the San-Francisco-headquartered financial services behemoth topped the list of U.S. banks by market value at the end of 2015. The company reported a growth of 6 percent in balance sheet to $1.8 trillion and earned a record diluted EPS of $4.12 in 2015. Wells Fargo & Co. returned $12.6 billion to its shareholders via common stock dividends and additional net share repurchases. Led by an exceptional management, the stock is a magnificent buy even at the current level. If it falls from here, I don't think anyone should hesitate in going long or in adding more shares to the portfolio.
Some of the reasons that may have caused the fall in the multinational bank are the deferred interest rate hikes, exaggerated pessimism over the company's energy portfolio, and heightened concerns over the loan-book growth as the U.S. economy, particularly housing, remains shaky. Although not much can be done about a downturn in the broader global economy, going through the company's 10-k lends strong confidence that the deteriorating oil situation has been well priced into the stock, and applicable allowances have been earmarked for probable credit losses.
Oil Scare-Induced Dip Is An Opportunity
Wells Fargo has clarified that the total loans in the oil and gas portfolio are now less than 2 percent of the total loans outstanding. Slightly more than half of the total loans in the energy portfolio were to businesses in the E&P sector, which has taken a big hit with the crash in oil and gas prices. Although these loans are backed by oil and/or gas reserves, semi-annual redeterminations have seen oil and gas non-accrual loans increased from $76 million at Dec 31, 2014 to $844 million at December 31, 2015.
Total loans in the oil and gas portfolio were reduced by 6 percent in 2015, and approximately $1.2 billion were set aside for allowance for credit losses.
If oil prices were to remain near the lows for a longer-than-anticipated time frame, portfolio deterioration is unlikely to be a major dampener, although it will definitely weigh on the stock for a while. Why I believe so? Because portfolio deterioration which would have likely caused an increase in non-performing loans and resulted in higher allowances for credit losses, has been negated by strong credit improvement, particularly in the residential real-estate portfolios.
For the fiscal ended December 31, 2015, the company reported 13th straight quarter of declining non-performing assets (NPAs). The NPAs were down $2.7 billion from 2014 when the oil carnage started. As net charge-offs declined, non-accrual loans were down $1.5 billion from the prior year while foreclosed assets reduced by $1.2 billion from 2014, reflecting that a major chunk of the energy pain has been dealt with.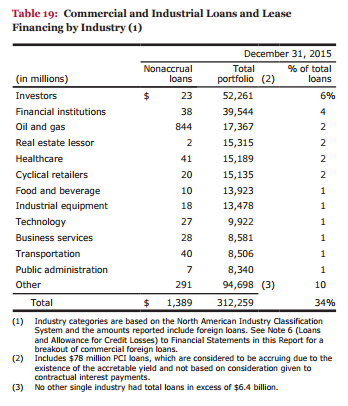 As can be seen from the infographic below, the Allowance for Credit Losses has been steadily declining since Dec 31, 2011 reflecting effective management and diminishing the likelihood that the loans may turn bad.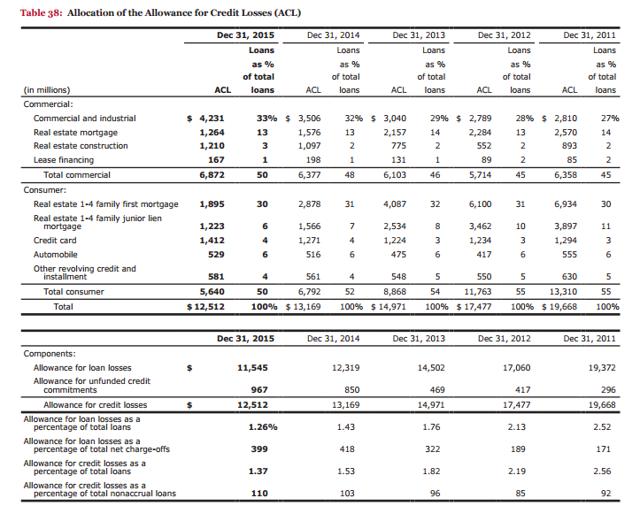 Consistency: The Numbers Say It All!
The company has seen the net income grow at a compounded rate of 13% per annum over the last five years. The dividends declared per common share have appreciated at a phenomenal rate of 49 percent compounded annually since 2010. The deposits have shown a consistent upward bias with an 8 percent compounded growth in 5 years.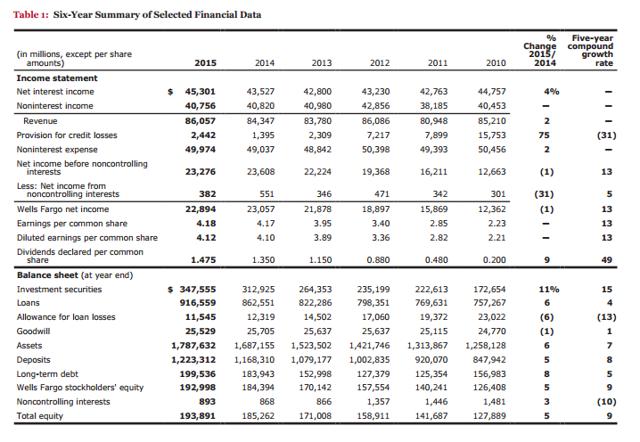 The management at WFC has been conservative in consumer-lending in 2015. As we can see, major concentration of consumer loans is in the 640-800+ FICO score region. The higher the FICO score, the lower is the (assumed) credit risk.
Almost all sections of consumers loans - real estate 1-4 family first mortgage, real estate 1-4 family junior-lien mortgage, credit cards, automobiles, and other revolving credit and installment - have shown a reduction when FICO scores have been below 640. This clearly points to the management's conservative approach.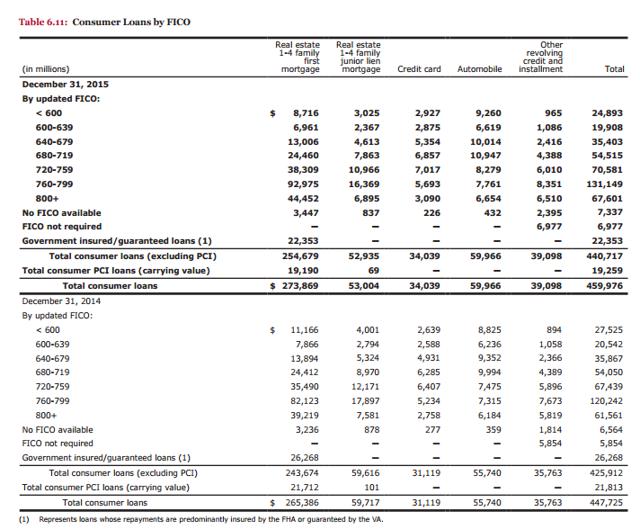 The Dip Could Just Be A Technical Reaction
According to the weekly WFC price chart taken from Tradingview.com, the stock is about to mature its classic bearish Head & Shoulders pattern, the downside target of which is close to $45 per share. The stock tried to retest the breached neckline this week but failed decisively. This may dent the buyers' optimism for the next couple of weeks, but does not alter the long-term potential in any way.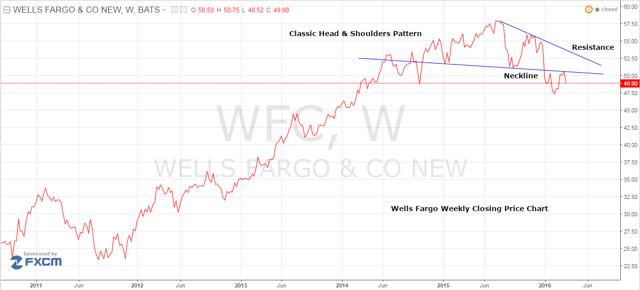 Conclusion
Every investor should hold a gem such as WFC in his/her portfolio for the long-term. These short-term underperformances are of immense value to serious investors as they get to own a magnificent company at attractive valuations.
The fears over the disappointing oil scenario are misplaced.
If the technical bearish over-reaction takes the stock lower, consider adding more to the portfolio. There is no strong fundamental basis as to why one should even think about selling this stock.
Disclosure: I/we have no positions in any stocks mentioned, and no plans to initiate any positions within the next 72 hours.
I wrote this article myself, and it expresses my own opinions. I am not receiving compensation for it (other than from Seeking Alpha). I have no business relationship with any company whose stock is mentioned in this article.
Additional disclosure: For better insights, I would recommend that investors go through Note 6:Loans and Allowance for Credit Losses in the Company's extremely well-written, comprehensive Annual Report.