Micron Technology (NASDAQ:MU), the volatile and always-difficult-to-trade memory maker, reports its fiscal Q2 '16, financial results after the bell on Wednesday, March 30, 2016.
Analyst consensus is expecting a loss of $0.08 in earnings per share (EPS) on a little over $3 billion in revenue, for expected year-over-decline in EPS of - well, a lot, given the compare is $0.81 from the Feb '15 quarter, and a decline in revenue of 27%.
Coming out of the December '15 report, which was fiscal Q1 '16, the expectations were for a loss of $0.05 per share in Q2 '16 and revenue estimated at $3.076 billion, so estimates have slid a little since the start of the year.
Consensus Street estimates for Q3 '16 as they stand today (per Thomson Reuters) look for a profit of $0.05 per share on $3.2 billion in revenue for a decline of 91% and 17% respectively. If the consensus revenue estimate holds up for Q3 '16, it will be the first sequential increase in revenue for MU since Nov '14.
Thus given the tough comparisons the last 5 - 6 quarters, I do think both MU's numbers and the stock could be reaching a nadir.
Here is how MU guided for DRAM/NAND bit growth, cost per bit and ASP's for fiscal Q2 '16:
| | |
| --- | --- |
| | Q2 Guidance |
| DRAM ASP's | -18% |
| DRAM bit growth | +5% |
| DRAM cost per bit | -7% |
| | |
| NAND ASP's | -7% |
| NAND bit growth | +4% |
| NAND cost per bit | -4% |
Source: fiscal Q1 '16 earnings release and conf. call notes
The fact that estimates have been relatively stable until recently means that analysts are likely updating their models.
Bigger picture view of MU: the one frustrating aspect to this stock is that you have to traditionally be a seller of MU when optimism and bullishness is at its highest, usually marked by sharp upward revisions to earnings estimates still occurring a year or 18 months into an upturn, and you have to be a buyer at times like early '16, when estimates have just gotten shelled and there is rarely a good word to be heard about the stock or the operating environment.
MU is going to close on their remaining stake in Inotera, which will be paid for by both debt issuance and equity issuance, which additional shares presumably are already in the analyst models for fiscal 2016.
The Elpida acquisition (Mobile DRAM) by MU - in my opinion - was a home run for Micron since MU has generated better cash-from operations and free-cash-flow since the acquisition, something that the DRAM giant has never been able to do consistently.
When we previewed MU's fiscal Q1 '16 earnings here, readers stop-limit was given at $13.50, which we utilized to sell the shares and step aside.
Technical analysis: With the stock trading in the $10.50 neighborhood today, the risk to those long the stock is to the early 2016 low at $9.30 - $9.45. A heavier volume trade below those levels and - once again - the stock likely has further base-building to do before it can generate a sustainable rally.
The 2011, 2012 lows for MU were down near $5 per share. The stock took two years to base in this range and then broke out to a high in the high $30's before rolling over.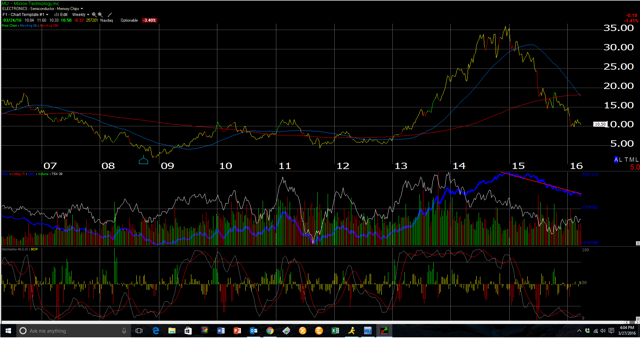 Click to enlarge
It would not be good to see MU close at new 2016 lows on heavy volume Thursday, March 31, '16.
Valuation: Because of the brutal nature of the DRAM/NAND cycle and the fact that Micron is a smaller, higher-cost manufacturer in a market where Samsung is the 800 lb. gorilla and can have its way with the sector, much like the Saudi's can play havoc with the Energy sector, EPS estimates can vary widely.
Just 6 quarters ago, MU's fiscal full-year 2016 EPS estimate was $4.23 per share. Today, that same full-year estimate for 2016 is $0.37.
The NAND and DRAM price swings are just that wild.
Trading at 30(x) 2016's EPS estimate of $0.37 but just 8(x) and 7(x) the 2017 and 2018 estimates, the Street is telling us that fiscal 2016 could be the trough year for MU.
Here is my take on the estimates: Given the Elpida and Inotera acquisitions, if MU can generate $1.50 - $2 in "core EPS" over a multi-year cycle, then at $10 - $11 per share where Micron is trading today, the stock is anywhere from 25% - 50% undervalued at a 10(x) multiple to those core earnings.
Even "old MU" (pre Elpida), MU generated $1.85 in EPS in fiscal 2010.
It is clear then that MU should be able to generate $1.50 - $2.00 in core earnings power, over a 12 - 18 month cycle.
The fact that MU is trading today at just 3(x) 4-quarter trailing cash-from operations is pretty amazing, and trading at a 3% free-cash-flow yield, and is still generating some free-cash-flow.
Conclusion: the best tell or the best action for Micron come next Thursday, March 31, is for management to guide cautiously for the rest of fiscal '16 and yet have the stock trade higher on good volume.
The semiconductor stocks in general are tough to trade, and within the group MU is tougher still, so if you are a little late on your purchase and a little early on your sale, that isn't a bad way to go either.
Either way I do think MU is closer to a bottom than a top in the DRAM/NAND cycle.
The fact that MU is still free-cash-flow positive at this point in the cycle, is a definite plus, and could indicate that MU is a better operator and a better capital allocator than the 1990's and 2000's proved.
Disclosure: I/we have no positions in any stocks mentioned, but may initiate a long position in MU over the next 72 hours.
I wrote this article myself, and it expresses my own opinions. I am not receiving compensation for it (other than from Seeking Alpha). I have no business relationship with any company whose stock is mentioned in this article.