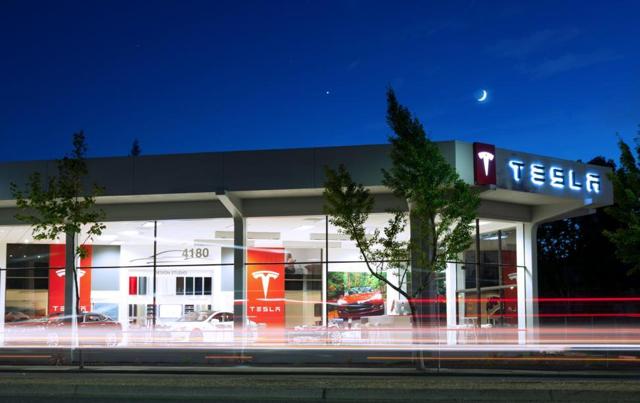 Click to enlarge
Upcoming Model 3 Event This Thursday Will Grab Headlines. However, Another Catalyst Is Poised to Generate Further Momentum in Stock
On Thursday, March 31st, Tesla (NASDAQGS: TSLA) will host a Model 3 event in Hawthorne, California, that will include prototypes of the new vehicle for attendees to test drive. This scheduled event has been highly anticipated and in October 2015 we said the following:
"The Model 3 launch event is expected at the end of Q1 2016 and we believe Tesla will display a high-quality, mass-market EV that will be available at a price of $30,000-$35,000. The introduction of this vehicle should put to rest many of the concerns surrounding Tesla's ability to extend beyond the luxury market and serve as a catalyst in which Tesla becomes a mass-market EV manufacturer. We believe investors that wait until the unveiling of the Model 3 to buy shares will have missed an attractive opportunity to accumulate shares in the low $200s and participate in the appreciation following any positive developments in early 2016."
The stock has surged 61.5% in recent weeks from a low of $141.05 per share on February 9th to the current price of $227.75 per share. We believe this advance is based on an expected overwhelmingly positive reaction during this week's Model 3 event and management's commitment to begin delivering the new mass market vehicle on schedule in late 2017. While the Tesla bears will argue that the prototypes will be test driven briefly in a controlled environment on Thursday and many of the new features in the Model 3 are not very innovative, we believe the Model 3 is an incredibly important product for Tesla and if management is able to contain production costs and delays and bring the vehicle to market at $35,000, the Model 3 will be a major success.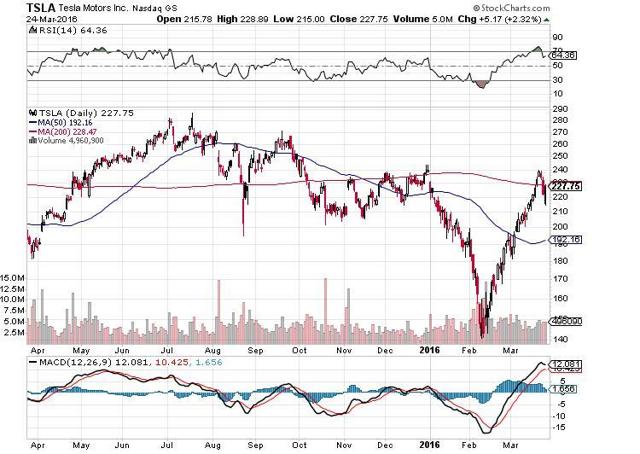 Click to enlarge
(Source: Stockcharts.com)
Our projections for Tesla through 2020 are based on robust sales growth of the Model 3 beginning in Q4 of 2017 as well as continued success in the company's existing lines. However, we believe Tesla investors should not get entirely caught up in the hype surrounding the Model 3 and the event itself. In our view, at a price in the high $220s/low $230s, much of the success of the new vehicle launch is factored into the current market valuation and an additional catalyst is needed to continue the momentum in the stock over the next 24 to 36 months.
Tesla's Retail Model Will Benefit From Fundamental Shift In Regulatory Environment Across Many U.S. States
We believe there is a more significant catalyst developing that the market has not yet fully reflected in Tesla's stock price. In our view, the fundamental shift in the regulatory environment for direct-to-consumer auto sales in the states is in the early stages and will gain momentum over the next two to three years. The long-term favorable impact this catalyst will have on Tesla's top-line growth rate cannot be understated. Just this week, Tesla received its first approval of a gallery in Connecticut. With the opening of the Greenwich, Connecticut, gallery, Tesla has taken the first steps to operating stores within the state. Current law in the state of Connecticut, like many other states, prevents auto manufacturers from selling directly to consumers and this gallery will be significantly limited in its activities. There will not be test drives, electrical charging stations and sales activities at the location. However, the approval for the gallery follows a prior rejection by the Planning and Zone Commission.
It appears as though state legislators are taking notice and seeing the vast economic development opportunities of allowing Tesla to eventually operate full-service stores. In our view, the possibility of multiple store locations in Connecticut is likely in the near future. The state legislature is expected to consider a bill that would allow electric vehicle manufacturers to sell directly to consumers. We believe this is a pattern that will be adopted by other states as they reform their state franchise laws at a measured pace despite fierce opposition by lobbyists from the National Automobile Dealers Association, GM (NYSE: GM) and Ford (NYSE: F).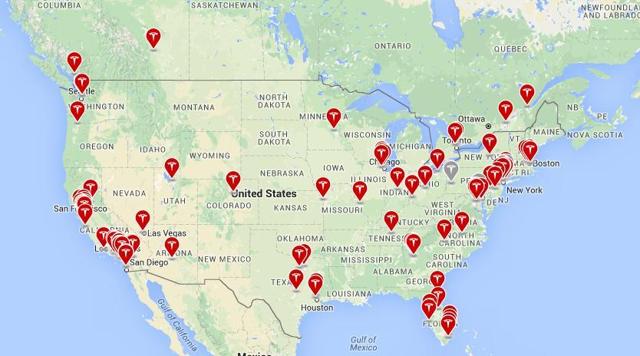 Click to enlarge
(Source: Tesla.com)
When the framework of many state automotive franchise laws was put in place nearly a century ago, legislators sought to protect dealerships who invested significantly in a local market to then face competition from a manufacturer and to protect smaller dealers from unfair competition from larger dealers. These laws served their purpose for a time as the industry matured. However, we believe it is now harming consumers and preventing buyers from efficiently purchasing a vehicle that meets their needs at the lowest price.
In our view, the National Automobile Dealers Association is seeking to protect the highly profitable dealership operations in these states against the interests of consumers who seek the widest choice of vehicles, including high performance electric vehicles. From GM and Ford's perspective, the recent actions by these competitors are merely a lobbying effort at the state level to slow down Tesla and prevent Tesla from gaining the scale necessary to compete with the larger auto manufacturers.
However, we believe the opposition's strategy is showing serious signs of weakness and ineffectiveness. In Indiana, state legislators received severe backlash from consumers over a proposed law that would have led to Tesla's dealer license to expire in 2018 and forced the company to either adopt the franchise model or cease selling cars in the state. GM is leveraging all of their influence within Indiana from their significant presence in plants throughout the state and is aggressively lobbying the legislature to prevent Tesla from implementing its direct retail model. In our view, they will come up short, not only in Indiana but other states as well.
We believe the lobbying has not had great success as the elected officials who pass legislation to protect GM's profits and market dominance and prevent their constituents from purchasing affordable, innovative and energy efficient vehicles would not survive an election cycle. We were therefore unsurprised that Indiana shelved the controversial legislation and will study the issue further.
Other states such as Michigan and Virginia also are debating and assessing the implications of changing the antiquated state auto franchise laws. The legislative battles at the state level will continue over the next few years but we believe Tesla will ultimately be on the winning side. Even the FTC agrees. We believe that states that are shifting their laws even slightly to allow for a limited number of Tesla outlets or galleries will realize the benefits of the new policy stance and become more open to competition and direct-to-consumer auto sales. Tesla, as the first auto manufacturer to adopt this retail model, will benefit enormously and will be in a position to generate out-sized top line growth in states that embrace open markets.
We Have A 12-Month Price Target For Tesla Of $265 Per Share - Valuation Is Pricey Yet Growth Projections May Be Conservative
Based on our one-year price target of $265 per share, we see upside of 16% over the next 12 months. We expect Tesla to report non-GAAP revenue of $8.69 billion in 2016 and deliver 85,000 vehicles for the year (within the company's guidance for 2016). With an enterprise value of $32 billion currently, the Price/2016 Projected Sales is not unreasonable at 3.7X. Furthermore, we believe our revenue growth rate for 2017 through 2020 is conservative. In particular, if the Model 3 achieves robust growth in 2018 and 2019, we could see Tesla significantly outperforming our top line projections of $13.25 billion and $15.92 billion, respectively.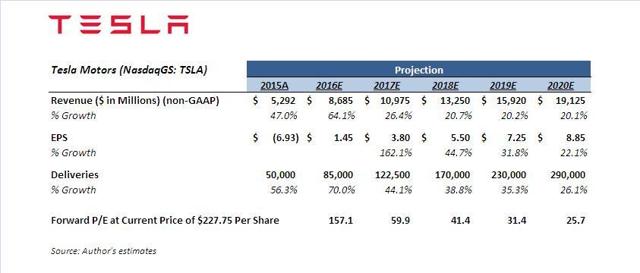 Click to enlarge
We believe that during this same time from (2018-2020) Tesla will begin realizing the substantial benefit of a regulatory tailwind as many of the states pass laws to allow the company to roll out its retail concept throughout the U.S. With that being said, we expect the forward P/E to steadily decline from a projected 157X in 2016 to 25.7X in 2020. While the stock is not cheap at today's price, the current market valuation suggests there is still plenty of upside if Tesla meets our reasonable growth projections and continues to successfully innovate with its new vehicles and direct-to-consumer retail model.
Disclosure: I/we have no positions in any stocks mentioned, and no plans to initiate any positions within the next 72 hours.
I wrote this article myself, and it expresses my own opinions. I am not receiving compensation for it (other than from Seeking Alpha). I have no business relationship with any company whose stock is mentioned in this article.