Please take note this is only one aspect in weighing the attractiveness or non-attractiveness of China Mobile (NYSE:CHL) as an investment and should not be used independent of other factors.
China Mobile is the largest wireless network operator in the world with over 800 million subscribers and is the leading mobile operator in China with an approximately 60% market share.
Short-Term Driver: 4G
China Mobile is currently the 4G market leader in China, with a market share exceeding 80% as at August 2015.
China Mobile's total mobile subscriber base grew by 2.4% to 826 million subscribers in 2015. China Mobile started the year with 90 million 4G subscribers and ended with a massive 312 million, representing an increase of over 200%. Despite this, there's still ample room to grow as the company's 4G subscribers represent just 38% of its total subscriber base. China Mobile intends to increase its 4G subscriber base to 500 million by 2016.
Data services is the key revenue driver. 4G customers consume around double, and in some cases, triple the monthly amount of data of non-4G users. Much of this increase is driven by video streaming. Consequently, 4G users generate 1.5 times the Average Revenue Per User (ARPU) of regular telecom customers.
China Mobile's ARPU has been under pressure due to declining voice revenues which have not been sufficiently offset by increasing data revenues.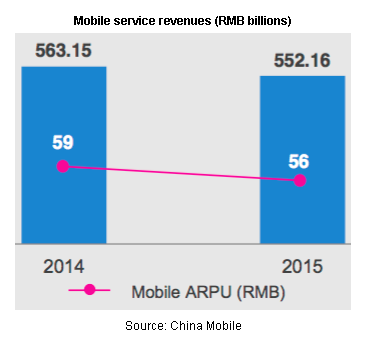 Source: China Mobile
Part of the reason for this is that mobile data rates are far lower in China than in developed countries such as the U.S. and the United Kingdom and the Chinese market is dominated by prepaid subscribers, which means they pay-as-they-go. This is unlike post-paid markets like Singapore, where subscribers are locked into fixed bundles of voice, SMS and data. Consequently, revenue pressures resulting from declining voice revenue are more pronounced for Chinese carriers.
ARPU also has been impacted by the Chinese government's "speed upgrade and tariff reduction" strategy which is likely to continue putting downward pressure on China Mobile's ARPU. China Mobile said it will reduce mobile data rates by 35% by 2015.
However, China as a nation is experiencing strong data ARPU growth, driven by consumers' increasing appetite for mobile internet services.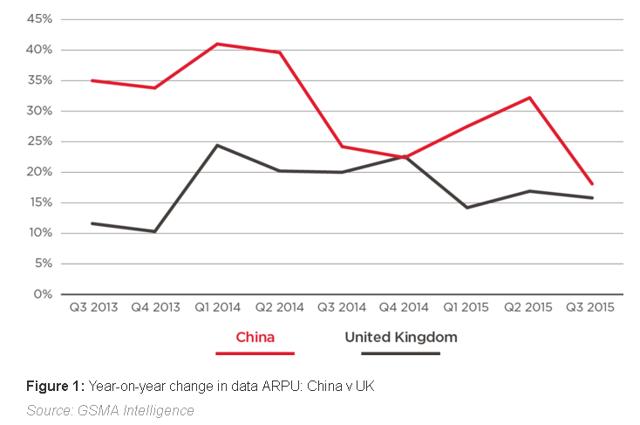 Click to enlarge
Source: GSMA Intelligence
The transition from voice to data is taking place worldwide, and developed countries tend to be ahead their developing counterparts. However, in China, it is happening at an accelerated rate. China's data ARPU increased 32.2% y-o-y in Q2 2015 while voice ARPU declined 19.2% over the same period. This compares with the UK which saw a 16.9% increase in data ARPU and an 8.2% decline in voice ARPU in the UK. China's blended ARPU increased 1.4% in Q3 2015 (UK registered a 2.2% increase).
A study conducted by the Siam Commercial Bank Economic Intelligence Center found that 4G holds potential to significantly boost operator ARPU and net profits.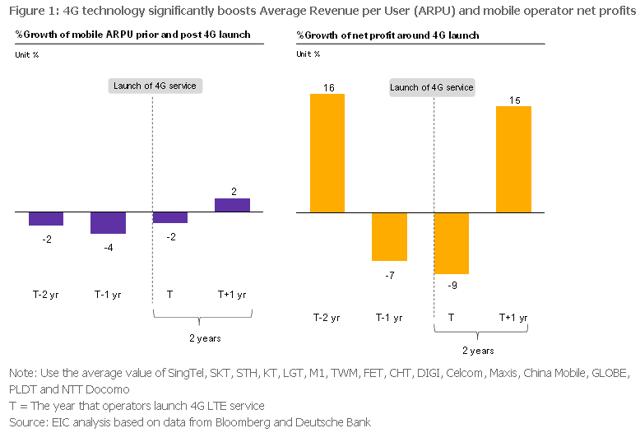 Click to enlarge
Source: The Siam Commercial Bank Economic Intelligence Center
Thus, an increasing proportion of 4G subscribers, coupled with a broader trend of higher data traffic usage, should be growth drivers for China Mobile's revenues going forward.
However, this is unlikely to be a very long-term growth driver. Case in point: South Korea's leading mobile operator, which commands an almost 50% market share in Korea's mobile market, witnessed rapid ARPU growth since the introduction of 4G in 2011. 4G subscribers currently account for about 61% of the company's mobile subscriber base. However, in 2015 (about four years since 4G launch), ARPU growth has somewhat stagnated.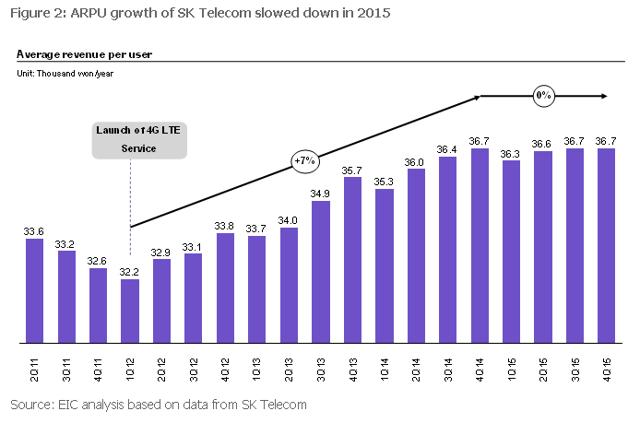 Click to enlarge
Source: The Siam Commercial Bank Economic Intelligence Center
Long-Term Growth Driver: China's "Internet Plus" initiative
There has been much discussion about consumer IoT, from connected cars, smart appliances, smart home, alarm monitoring, etc. However, as of now, IoT for business applications such as remote monitoring for industrial machines, freight tracking, etc., are likely to be the major revenue drivers for mobile operators.
The Chinese government's "Internet Plus" and "Made in China 2025" initiatives work toward developing industrial IoT in China. The action plan will integrate mobile Internet, cloud computing, big data and the Internet of Things into traditional industries. China's initiative is akin to Germany's "Industrie 4.0" which aims to harness new technologies such as industrial IoT to revitalize Germany's manufacturing sector. China Mobile, along with the other two Chinese telcos - China Telecom (NYSE:CHA) and China Unicom (NYSE:CHU) - are expected to play a large role in China's industrial evolution.
However, basic connectivity along with devices are viewed as commodities and therefore connectivity makes up just a fraction of the overall value of IoT. Moreover, for smartphones, mobile network operator (MNO) Average Revenue Per Unit (ARPU) is between $60 and $80. For IoT devices, on the other hand, the ARPU is typically between 80 cents and $10.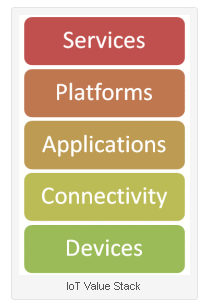 Source: Frank Rayal
To maximize the value of their investment, MNOs will have to move up the value chain and China Mobile has been actively working towards this end.
China Mobile set up a dedicated unit, "China Mobile Internet of Things Co. Ltd.," which focused on developing applications for the urban management, smart transportation and industrial control markets. And through this unit, the company has amassed a portfolio of such applications, including the China Mobile Information Platform (to enable better patient emergency treatment), a noise monitoring system (which is now part of the standard tools used by Xiamen government to monitor construction sites), a smart oilfield system (deployed in Karamay oilfield in Xinjiang, Daqing oilfield in Heilongjiang, and Shengli oilfield in Shandong) and the National Education Resource Public Service Platform (served more than 900 schools nationwide, benefiting five million teachers and students).
Conclusion:
In previous years, falling voice revenue has not been sufficiently offset by increasing data revenue. However, with increasing 4G adoption, China has recently been experiencing strong data ARPU growth. Going forward, this broader industry trend should help boost China Mobile's revenues. China Mobile's 4G subscriber base is just 38% of its overall subscriber base and there's further room for growth and this too should positively impact its top line as well. However, this is unlikely to be a significant long-term growth driver.
Similar to Germany's "Industrie 4.0" initiative, the Chinese government's "Internet Plus" initiative aims to combine internet technologies with traditional industries, which presents a long-term growth opportunity for all three of China's telecom companies, especially China Mobile, the leading mobile operator. The connecting of Chinese businesses should generate increase data demand as every connected device would require network capacity, which in turn should drive revenue for China Mobile in the long term. However, with basic connectivity just a fraction of the IoT value stack, China Mobile has taken measures to move up the value chain and not simply settle for the generic ambition of increasing connectivity revenue. If successfully implemented, it should positively impact the company's bottom line in the long term, ceteris paribus.
Disclosure: I/we have no positions in any stocks mentioned, and no plans to initiate any positions within the next 72 hours.
I wrote this article myself, and it expresses my own opinions. I am not receiving compensation for it (other than from Seeking Alpha). I have no business relationship with any company whose stock is mentioned in this article.