Recon Capital NASDAQ 100 Covered Call ETF (NASDAQ:QYLD) is a covered call ETF from Recon Capital which tracks the CBOE NASDAQ 100 BuyWrite Index.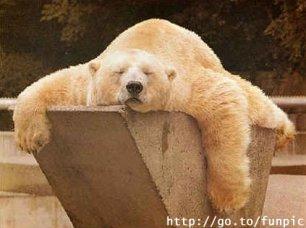 For those who are unfamiliar with the term "covered call," it is an options strategy synonymous with buy-writing. When an investor buy-writes a security he buys the security while simultaneously selling a call option on the same position. For selling this call option he is instantly given a cash payment called the "premium," but incurs the obligation to sell his stock (at a set price) to the option buyer whenever the buyer wants it. This obligation exists for the duration of the contract. Option contracts can have durations of weeks, months and even years.
The call option writer benefits when the price of his stock stays flat because if the price increases the options buyer will exercise the contract, forcing him to sell his stock at a price lower than the market price. However, If the price declines or stays flat the option buyer will probably not exercise his right to buy the stock and the option writer is cushioned from potential losses by the cash premium he received to engage in the contract.
For many, the process of selling options can be complex and intimidating, a misclick or an improperly selected option price could cost dearly. In addition, managing multiple contracts in a diversified portfolio is not a passive investment. The process of re-purchasing stocks that were called and reinvesting/extracting the premiums can be stressful. Buy-write ETFs like QYLD simplify this process for the retail investor by doing all the work for you and giving you your cash premiums in the form of a monthly dividend. ETFs like this one are a welcome addition to the retail investors toolbox.
Price: 22.12
Yield: 8.55% (Distributed Monthly)
Expense Ratio: 0.60%
Net Asset Value: 22.28
Premium to NAV: 0.13
Assets under management: $40.11M
QYLD Major Holdings. These are some of the NASDAQ 100 stocks from the CBOE BuyWrite index. The investors should ask themselves if they are willing to sell call options on these positions.
QYLD Major Holdings.
| | | | | |
| --- | --- | --- | --- | --- |
| Apple (NASDAQ:AAPL) | Microsoft (NASDAQ:MSFT) | Amazon (NASDAQ:AMZN) | Facebook (NASDAQ:FB) | Google (NASDAQ:GOOG) |
| 11.80 | 8.53 | 5.26 | 5.14 | 5.10 |
Other large holdings include: Intel (NASDAQ:INTC), Comcast (NASDAQ:CMCSA), Cisco Systems (NASDAQ:CSCO), Gilead (NASDAQ:GILD).
QYLD has an overwhelming focus on internet/computer technology. This is not necessarily a problem because these companies are safe blue chip stocks that tend to move with the market or outperform it. The market capitalization of the holdings favors size as 58.19% are listed as giant and 29.40% are large. Stocks like Facebook also have large growth potential and may outperform in the future.
Here is a chart showing the growth of QYLD's top holding: AAPL vs. the DJX and the NDX.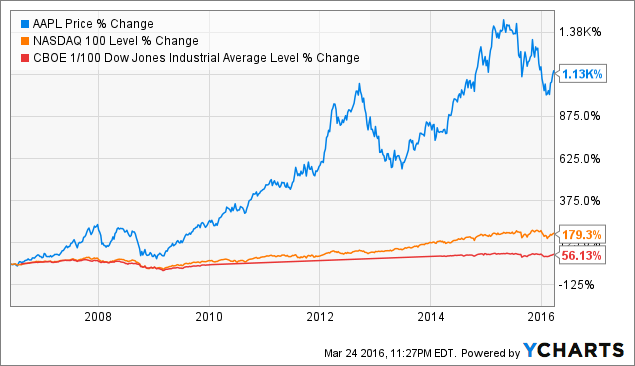 The companies in this index have performed well in the past. However, an investor using the covered call strategy is not necessarily looking for growth. Stability is preferred. Most of the companies included in QYLD are blue chips and thus very stable, but we still must raise the question of whether or not these stocks are good positions to utilize the buy-write strategy on. To answer this question we must look at the performance of QYLD in general and compare it to similar ETFs.
The Payout
Shares of QYLD are currently worth $22.12 per share and they yield $1.89 annually. This payout is distributed monthly at anywhere from $0.16 to $0.22 per month. Based on the 8 declared dividends this fund has produced, we see a mean of 0.20302 and a standard deviation of 0.02231.
There is no significant upward or downward trend in the payouts, they appear to be stable as this "dividend history" chart further illustrates: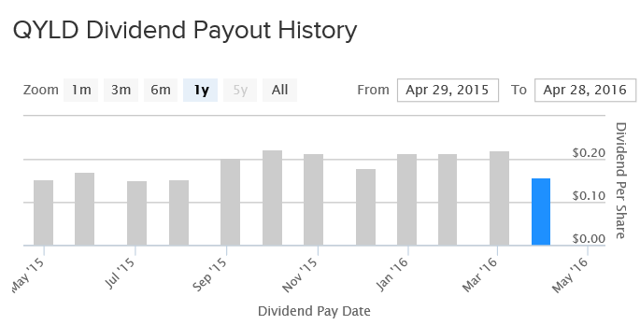 Click to enlarge
I think we can all agree that QYLD's dividend is attractive. Next we must ask is whether or not it is safe. Because the yield comes from options premiums instead of actual company distributions, its safety does not depend on the earnings of the companies included in the index or even what happens to the economy as a whole. As long as there are people willing to buy call options on the companies listed in the index, QYLD will be collecting premiums and paying out its respectable yield, making the payout extremely safe.
QYLD vs. The Actual NASDAQ 100
So QYLD tracks strong companies and pays a safe and reliable dividend, what is the downside? The following graph represents the recent performance of QYLD compared to the NASDAQ 100 in the last 2 years.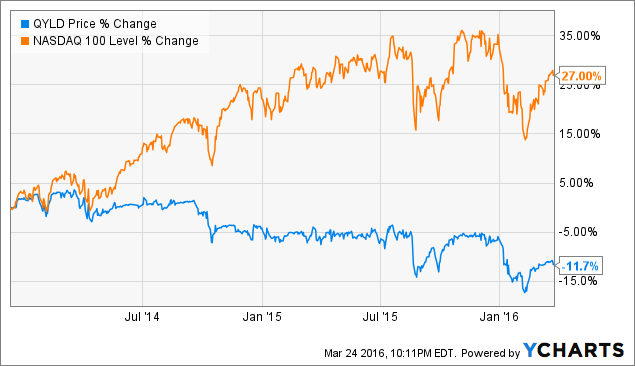 Note: This graph does not account for dividend payments, if it did QYLD would fare much better (and yield positive returns). However, the above graph does show that this ETF's respectable yield comes at a price - losing 11.7% in a bull market while the NDX gained 27%.
In my opinion, the conservative use of a buy-writing strategy should not result in capital losses over the long term. The investors deciding between employing this strategy themselves or buying an ETF should note that selling options can be done at different risk levels.
The conservative option writer can sell options that have a low probability of being called because they have an "in the money" price that is far above the current price of the stock. This investor collects a commensurately lower premium to compensate for his reduced risk of actual delivery. On the other hand, an aggressive options writer can sell calls that have a higher likelihood of being called and collect larger premiums for his larger risk of actual delivery.
It seems to me that QYLD is using a higher risk strategy, prioritizing huge yields over capital appreciation.
Other Buy-Write ETFs And Their Performance (HSPX, PBP)
This is a comparison between Horizons S&P 500 Covered Call ETF (NYSEARCA:HSPX) and the S&P 500. HSPX is an ETF which tracks the S&P 500 Stock Covered Call Index. This fund has a much lower 2.66% yield but lets investors benefit from some of the capital appreciation in the S&P 500.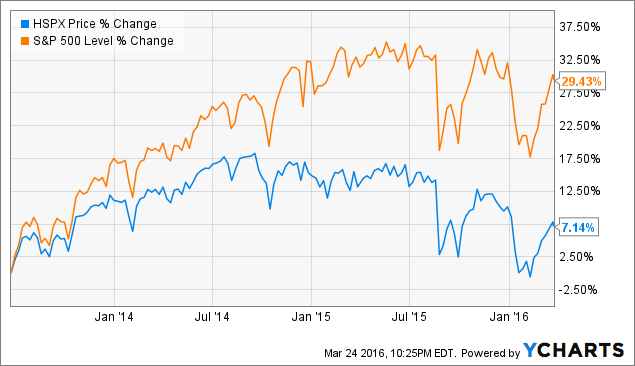 PowerShares S&P 500 BuyWrite Portfolio (NYSEARCA:PBP) is another buy-write ETF which yields 4.4% and tracks the CBOE BuyWrite Index on the S&P 500. Because PBP has been around for such a long time we can see its performance extrapolated over a longer term than the other ETFs.
Note the stability of the fund and the cushioning it provides during market dips.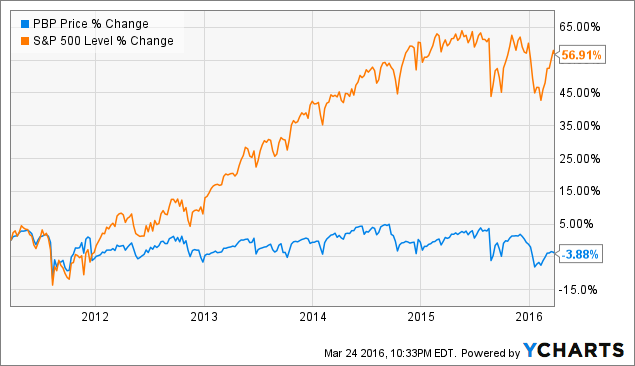 Choosing which buy-write ETF to invest in is a matter of an individual investor's risk tolerance and his preference for either capital appreciation or income. These charts show that you cannot have both. Income investors would probably be more inclined to QYLD while investors who are more interested in capital appreciation would have a better time with HSPX or PBP.
Buy-Write ETFs In A Bear Market
In terms of capital appreciation it is clear that most buy-write ETFs will underperform in a bull market. However, this is not what investors buy them for. Buy-writing tends to be most profitable in a bear market or a flat market where fewer options are called and the option seller is free to pocket the premiums while never actually having to sell his stock. As signs of a stock market correction and even recession become more and more convincing, a high yielding buy-write ETF like QYLD should be a good way for investors to limit losses and make safe income as the market goes south.
Conclusion
QYLD offers reliable high income to investors who are OK with missing out on the upsides of a bull market and seek to limit losses in a bear market. The 0.60% expense ratio is reasonable for the value and diversification this ETF provides, but I would advise retail investors who are interested in the buy-write strategy to learn how to do it themselves for greater flexibility and control over their hard-earned money.
Disclosure: I/we have no positions in any stocks mentioned, and no plans to initiate any positions within the next 72 hours.
I wrote this article myself, and it expresses my own opinions. I am not receiving compensation for it (other than from Seeking Alpha). I have no business relationship with any company whose stock is mentioned in this article.