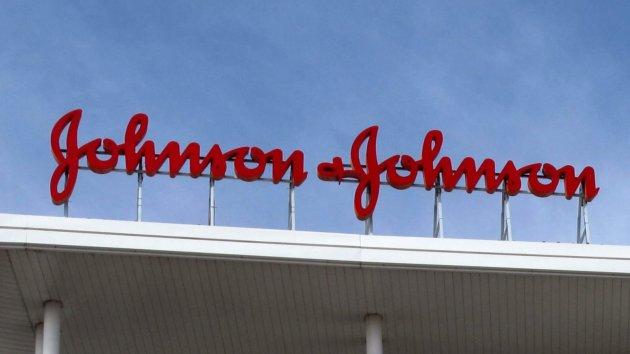 Looking at Johnson & Johnson's (NYSE:JNJ) sales growth since 2006, you'll notice steady growth for a few years and then a big dip at the time of the recession, and then a sharp climb until 2014, after which it slid down again during the last fiscal.
Since the overall trend has been upward, most investors may not notice this because they would naturally assume that it was the recession period that caused this growth disturbance.
Though that might be true in part, their sales performance since then shows that this may become a recurring pattern because of the way the business is essentially shifting from its solid consumer products base to a more unpredictable Pharma-led growth path.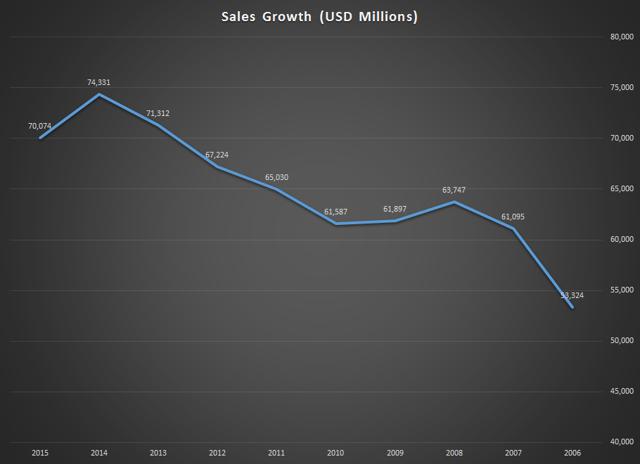 Click to enlarge
Segment Performances
Here's a quick look at how these three segments have grown over the ten-year period in question.

To put that in perspective, here's a look at how they've done over the past five years, which tells a much deeper story.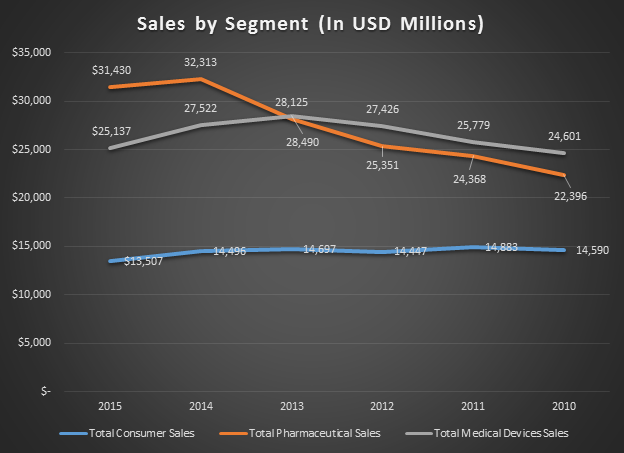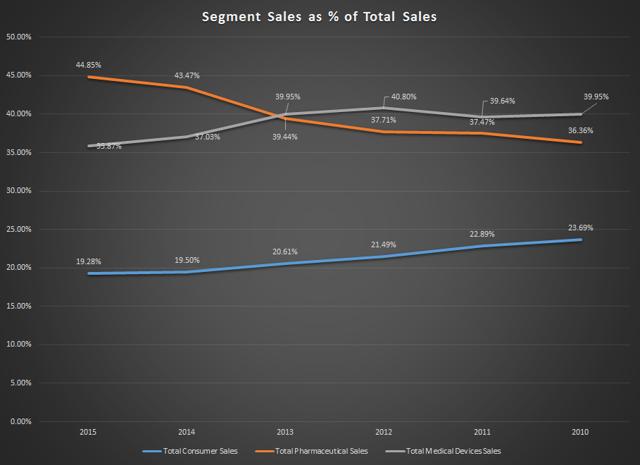 Click to enlarge
It's obvious that Medical Devices has been showing weak growth of late and this is of concern because it does not reflect the medical devices industry as such. After peaking out in 2013, this operating segment has been on a steady decline back to 2010/2011 levels.
The weakness here has been hurting the top line for a year now and will continue to be a big driver in slow overall growth unless the status quo changes.
At the other end of the spectrum is Pharmaceuticals, which has been showing strong growth until 2014. Bucking a Big Pharma trend, J&J posted a 14.9% growth in worldwide pharma sales that year, primarily driven by eight core drugs that address the needs of five major diseases. Olysio/Sovriad ($2 billion in sales), Rezolsta, Invega Sustenna and Zytiga were among those star performers.

Though they lost some traction in 2015 - partly because of Gilead Sciences' (NASDAQ:GILD) Harvoni, which saw strong market share gain from Olysia - blockbusters Imbruvica (oncology) and Invokana (diabetes) continue to perform well and are likely to bear the growth burden handsomely over the next several years.
The loss of growth in the Pharma segment over 2015 is likely to be a temporary phenomenon, however, because of their very strong late-stage pipeline of oncology and immunology related drugs. Even though Olysia sales dropped like a rock on the back of the approval of Harvoni through 2015, J&J's Phase III stage is impressively packed with promising blockbusters that will help carry that revenue load moving forward.
Right in between is their core business of Consumer Healthcare. The last five years have seen a pulsating decline in growth and revenue and it would seem that this segment needs a few support pillars to keep it at a steady level.
Investor-speak: The Not-so-subtle Shift in Revenue Dependency
As things stand, J&J's Pharma segment bears the majority load for revenue growth. While this is not a bad thing in itself based on that segment's future prospects, it does signal a shift from slow yet dependable growth to the uncertainties that are the bane of the pharmaceutical industry.
Make no mistake: J&J is still a diversified business with a strong foothold in three high-revenue segments, but with nearly 44% of their sales now coming from pharma products - and relatively stunted growth in Consumer Healthcare and Medical Devices - this is not the direction most long-term investors would want to see the company taking.
The slow but clear transition towards a revenue structure similar to a pharmaceutical company actually reduced the predictable nature that has been J&J's strength. They've already crossed their 53rd year of dividend growth, for example, which is one of the soundest indications of stability. While the pharma-heavy model isn't likely to shake their dividend growth by any measure, it does point to the irrefutable fact that we'll see more ups and downs in performance than ever before.
What the company needs is a booster shot in the Medical Devices and Consumer Healthcare spaces.
With respect to the former, an industry growth of 4.9% over the next five years means J&J is clearly losing market share there. That issue needs to be addressed at the earliest and a clear goal to mirror industry growth should be one of their imperatives over the next five years. This does not seem to be the current scenario, but the door is wide open. China, for example, is one key market that the company needs to tap into for the Medical Devices segment - that's projected to grow at 10.6% CAGR through 2020.
As for Consumer Healthcare, what J&J needs right now are some key brand acquisitions like what they did back in 2006 with Pfizer's (PFE) Consumer Healthcare division. That brought in hallmark brands such as Listerine, Zantac and Rogaine, and gave J&J the edge the firm needed for several years. That's exactly the kind of thing that's required at this point as this segment continues on its bunny slope slide.
That said, J&J is still very much a highly regarded stock. The company is on strong financial footing with more than $38 billion in cash, but the worry is that this cash could force the company to grow dividends at a faster pace rather than invest in key acquisitions or new markets like China. Their long-term debt of $12 billion still makes for a AAA rating that only two other companies enjoy.
Keeping all of that in mind, what investors really don't want to see is J&J going even heavier on Pharma at the cost of the other two segments - one of which is the very reason they are dividend kings in their 53rd year of dividend growth. The slow, but steady and dependable stability of their Consumer Healthcare business is what's at stake here, and this is the segment that investors are advised to watch over the next several quarters for any more signs of weakness - or signs of any major acquisition opportunities that the company might let slip through their hands.
Thanks for reading my work. Please follow me for insightful commentary on the movers and shakers in consumer goods, services, technology, retail and other key industries.
Disclosure: I/we have no positions in any stocks mentioned, and no plans to initiate any positions within the next 72 hours.
I wrote this article myself, and it expresses my own opinions. I am not receiving compensation for it (other than from Seeking Alpha). I have no business relationship with any company whose stock is mentioned in this article.