Every single day more people are born on this earth than die, and these people will consume additional amounts of resources, including food. To produce the ever increasing demand for more food will take additional amounts of fertilizer (potash, phosphate, and nitrogen). Potash (NYSE:POT) is perfectly positioned to meet these demands. Below you can see why the company is considered the industry leader.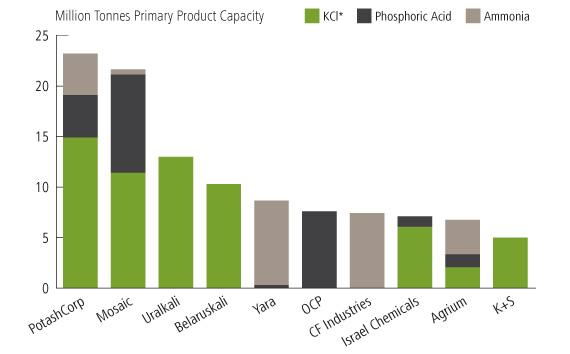 Of all the major fertilizer producers worldwide, Potash is the largest and most diversified of the bunch. Along with agriculture and population megatrends, and a currently strong financial condition, Potash is strategically positioned for unparalleled growth as fertilizer prices recover in the years to come.
Each year, new cropland is coming online across the globe, particularly in emerging markets. Furthermore, to achieve ever increasing yields, farms in developed countries continue to expand their use of fertilizer per acre. As you can see below, fertilizer usage worldwide has nearly doubled in just the last 10 years.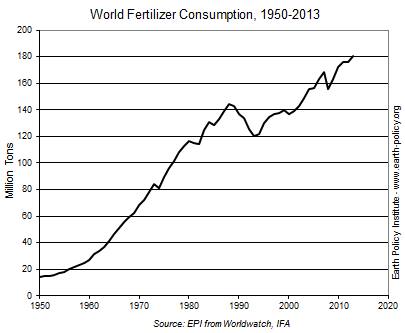 New farm ground requires extensive amounts of fertilizer once the initial resources have been exhausted (a perfect example of this is the Brazilian rainforest that is converted into farmland). In developed countries, farms have continued achieving per acre yield increases on the same or actually declining amounts of total farm ground. While seed and farm technologies have improved dramatically, the driving force behind these ever higher and higher yields per acre has been additional fertilizer usage.
From a financial perspective, Potash has done an excellent job of positioning itself for success once fertilizer, and particularly potash prices recover. While sales have stayed roughly at 8 billion dollars over the past 5 years, and COGS have increase by 1 billion dollars, the company continues to be extremely profitable, with a net income per share of $1.62 in 2015. It has a current ratio right at 1, indicating the company has ample liquidity in the near term. Furthermore, the company had 1.43 billion of free cash flow when the books were closed in 2015. From a financial perspective, the only concern I personally have is that long term debt held increase by 1.5 billion over the last five years. However, this debt is easily manageable, given the strong financial condition the company currently is in.
By far the biggest trend which favors Potash's future earnings is the continued growth of the earth's population. Furthermore, each one of these new mouths to feed will most likely consume additional calories per day than his or her predecessor. See the two charts below: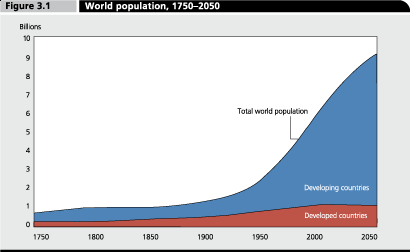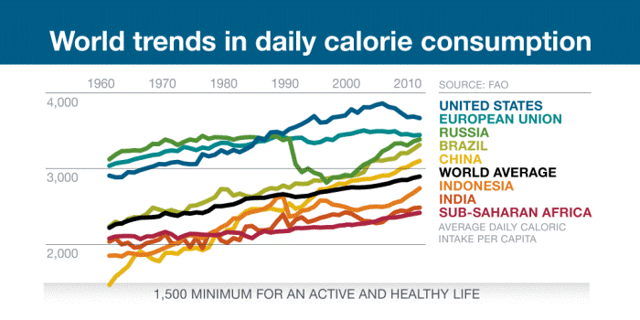 Click to enlargeMost are familiar with the number, but by 2050, there will be an addition 2-3 billion mouths to feed. Furthermore, you can see that daily calories consumed worldwide continues a steady march higher each and every year. Particularly large gains in total calorie intake are occurring in developing countries, which are also the same countries experiencing large population increases. This multi-decade trend directly impacts how much fertilizer is going to be used worldwide. Technology gains in seed and farm equipment only move the needle so far in terms of yield increases. Increased fertilizer usage is ultimately how higher and higher yield per acre gains will be achieved by farmers. With these mega-trends, along with a solid financial position as a company, Potash is in the perfect position to expand margins and overall earnings as fertilizer prices recover and ultimately move higher in the years to come. Potash should be bought today, and held for as long as there are additional people to feed across the globe!
Disclosure: I am/we are long POT.
I wrote this article myself, and it expresses my own opinions. I am not receiving compensation for it (other than from Seeking Alpha). I have no business relationship with any company whose stock is mentioned in this article.