As part of the annual order and delivery battle between Boeing (NYSE:BA) and Airbus (OTCPK:EADSY), I provide a monthly overview and analysis. The January report can be read here. In this article, I will have a look at the orders and deliveries in February.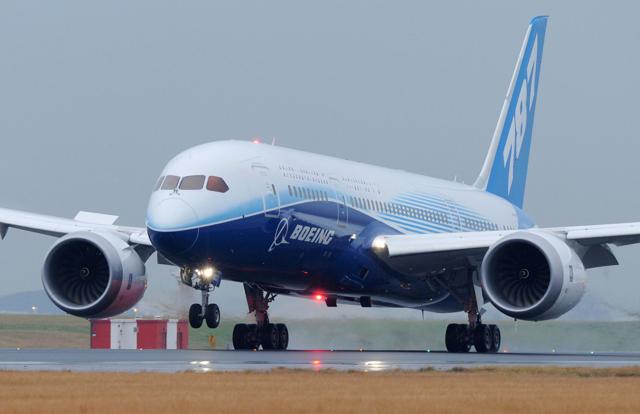 Click to enlarge
Image Courtesy of Airports International
Orders

Click to enlarge
Figure 1: Boeing orders (up until) February 2016 (Source: AeroAnalysis.net)
In January, Boeing booked 68 orders, with 61 orders for its single-aisle product and 7 orders for a wide-body aircraft. February was a whole lot different compared to January: Boeing received 2 orders only, with no order inflow for its wide body product.
All orders were for the Boeing 737-800, which means that there were no orders for wide body aircraft or the Boeing 737MAX:
An undisclosed customer ordered 1 Boeing 737-800
After placing an order for 40 Boeing 737-700s in January, United Airlines (NYSE:UAL) ordered a single Boeing 737-800
At list prices the orders are valued $192 mln, but after discounts the market value is closer to $90 mln
Compared to February 2015, order inflow dropped by as much 97%. Year-to-date Boeing received 70 orders versus 77 orders in the first two months of 2015. Although this is a 10% drop year-over-year, I do not see this as problematic for Boeing.
Deliveries

Click to enlarge
Figure 2: Boeing deliveries (up until) February 2016 (Source: AeroAnalysis)
Important to note is that Boeing's guidance implies a lower delivery target compared to 2015. The jet maker expects to deliver between 740 and 745 airframes in 2016, compared to 750-755 targeted deliveries in 2015.
In February Boeing delivered 56 aircraft valued at $4bn:
Deliveries dropped 11% or 7 units.
70% or 35 out of all deliveries was a 737.
No 747 deliveries in February.
Various operators took delivery of 5 Boeing 777-300ERs.
10 Dreamliners were delivered, 7 of which were Boeing 787-9s. It can be concluded that the Boeing 787-9 will have the upper hand in the Dreamliner deliveries, which bodes well for Boeing as the aircraft has higher profit margins.
Delivery volume was well below the monthly average. In order to reach its delivery target Boeing will need 64 deliveries per month for the remaining months this year. Deliveries will pick up in the months to come, but with a lower delivery target for 2015 the ramp up in deliveries during the year that is typical for jet makers will be smaller.
Book-to-bill ratio
Just like in 2015, Boeing is targeting a 1:1 book-to-bill ratio. In February Boeing booked 2 orders and delivered 56 air frames, resulting in a book-to-bill ratio of 0.035. Year-to-date the book-to-bill ratio is .67. This shows that Boeing has fallen behind a bit, but orders will likely pick up pace in Q2.
Conclusion
Order inflow was far below what anyone could have expected.
Deliveries were lower than expected.
Boeing's book-to-bill ratio is .67, below its target but order inflow is likely to pick up pace
In 2015 Boeing achieved its book-to-bill target at the very last moment. Despite lower anticipated deliveries in 2016, I expect Boeing to be facing a major challenge to achieve its book-to-bill target. In April 2015 I published an article in which I said that the order books of jet makers are not bubbles, but should decline at some point. In that article I shared my thoughts and expected order inflow to decline in a few years from now. With oil prices having declined ever since, chances are the order books will decline sooner than I expected at first. With Boeing just barely meeting its target last year, 2016 might be the year in which Boeing will not achieve its book-to-bill ratio. After a strong first month for Boeing, the February month was weak and supports my view that order books are likely to decline soon. This, however, is not necessarily a bad thing although a lot of investors and analysts might think so.
Disclosure: I am/we are long BA.
I wrote this article myself, and it expresses my own opinions. I am not receiving compensation for it (other than from Seeking Alpha). I have no business relationship with any company whose stock is mentioned in this article.