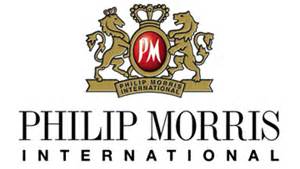 Philip Morris (NYSE:PM) shares have been on fire of late, skyrocketing to $98 and well above its steeply rising 50DMA. The stock is, of course, favored for its hefty dividend and with low rates persisting, dividend stocks have certainly been in vogue of late. But PM shares look extended here and given its string of sizable dividend increases, one may begin to wonder how long its dividend will be serviceable. In this piece, I'll take a look at PM's FCF against its dividend and assess what implications it may have for shares.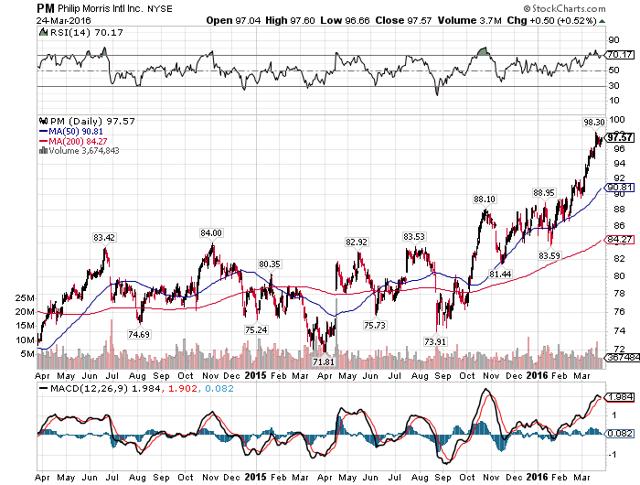 Click to enlarge
As a note, all data came from Morningstar.
PM's dividend has been called "sacrosanct" by company management as PM exists - as far as shareholders are concerned - to return cash from the business. PM's ability to do this is based upon many things including forex translation rates, something which has removed billions of dollars from earnings in recent times. Indeed, the same fate is true for FCF, as we will shortly see.
But first, the company's payout has increased at an average rate of about 12% since it began paying the dividend in 2008. That kind of growth is virtually unprecedented as keeping up that level of increases is unbelievably tough.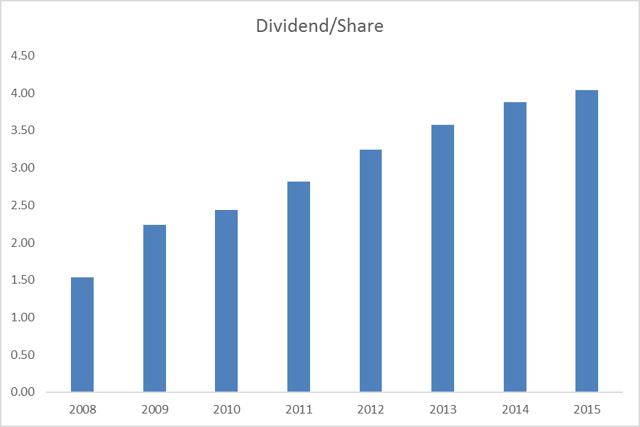 Click to enlarge
The company's payout is now in excess of $4 per share and that is certainly the single biggest reason why shares are flying the way they are today. Management has said it will defend the dividend forever and while that has calmed markets enough to send the stock higher, surely every management team that has had to subsequently cut a dividend has said that prior to doing so.
How does PM pay for this dividend? It uses its FCF as that is the only recurring source of cash for any business. No company can pay a dividend with asset sales or debt forever as those things necessarily have limits; FCF is the only thing that matters for long term sustainability of the dividend and PM's numbers since the spin off are below.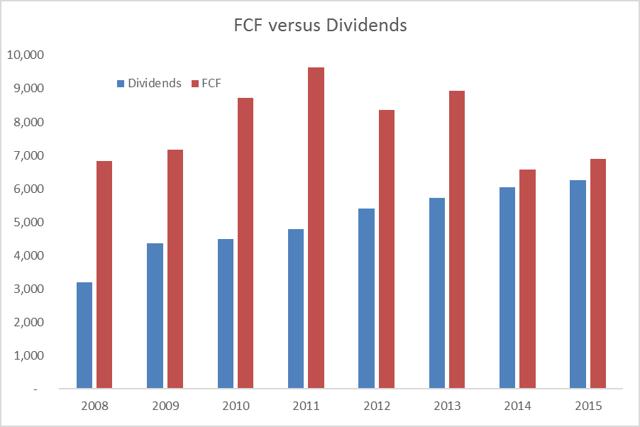 Click to enlarge
PM's FCF has seen ups and downs but importantly, it is at almost exactly the same level that it was in 2008. If that isn't disheartening to longs, I'm not entirely sure what is. That means the company's FCF, despite being much higher in good times, is subject to enormous downswings during trying times for the company's earnings. While this sounds intuitive, it isn't always the case as FCF generation differs wildly between different businesses; some management teams are better than others at extracting cash from operations.
The simple fact for PM is that currency fluctuations - namely, strength in the dollar - is the main culprit for why its FCF is down so much in recent times. While that's a convenient excuse, it also highlights the fact that a simple move in the dollar can absolutely crush PM's FCF. Given PM's extraordinary exposure to the dollar one would think management would enact strategies to even out some of the fluctuations in the dollar but obviously, that is simply not the case. PM's complete mismanagement of its FCF could certainly have implications for the dividend down the road as we've already seen with the once-mighty buyback.
This is PM's buyback activity for the past five years and as you can see, there was virtually nothing to speak of last year.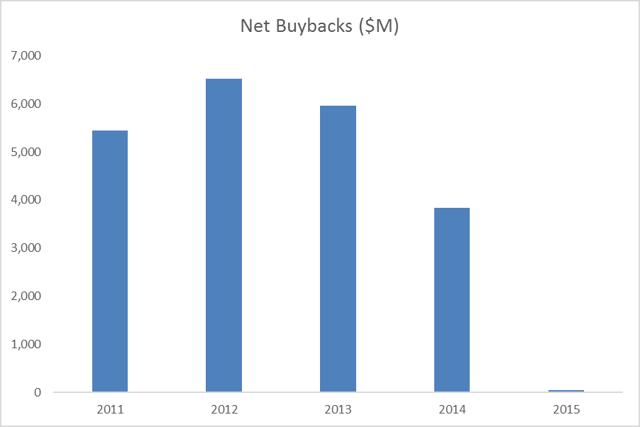 Click to enlarge
PM used to spend heavily on its buyback but that was because at the time, it had billions in FCF in excess of its dividend. But years of negative growth in FCF and huge growth in the dividend has led PM to a point where it simply cannot afford to buy back shares without borrowing 100% of the money.
Could something similar happen to the dividend? Of course, anything is possible. PM would never get to a point where it paid no dividend but there are plenty of plausible scenarios where it would have to suspend raises and eventually borrow to pay it. I believe management when they say they will defend the dividend but regardless of rhetoric on conference calls, there has to be cash available to pay it.
PM's capex level is interesting to me as the company has cut expenditures in the last two years to prop up falling FCF levels.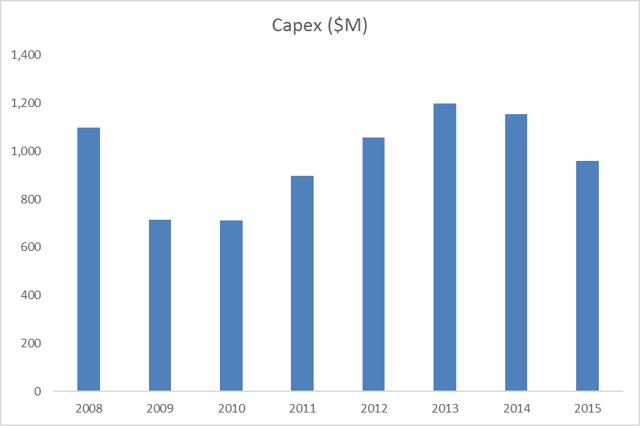 Click to enlarge
PM's capex will need to be bumped again at some point in the future and when you're talking about razor-thin margins on FCF in terms of covering the dividend, every dollar counts. If PM is pushing capex needs out that will come home to roost at some point in the near future.
If we boil all of this down into the company's ability to cover the dividend, we get the FCF coverage ratio. This number is exactly what it sounds like; it is the proportion of FCF that is used to pay the dividend.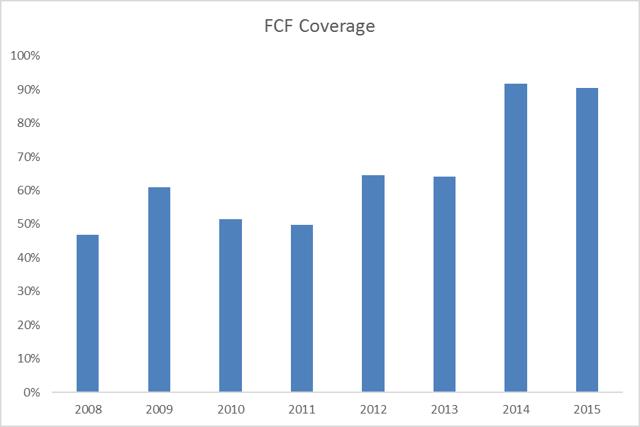 Click to enlarge
With PM we can easily assess why buybacks were shuttered last year; the company is using nearly all of its FCF to pay its dividend. The comfortable line for me is around 80%; at this level companies can pay high dividends indefinitely, barring some shock to FCF. PM has certainly experienced a shock to FCF but continues to raise the dividend anyway, creating a nasty situation where it is heavily constrained in creating cash to use for other things such as capex.
PM is certainly in the danger zone with its dividend as continued forex pressure would result in PM using more cash on the dividend than it creates. This is sustainable over the short term so I don't think dividend cuts are on the horizon. However, very small, token increases almost certainly are and that makes the investment case for PM harder to make.
Indeed, I'm not the only one with these concerns as S&P downgraded its view of PM's credit metrics last week. PM's FCF weakness, and the reason for the weakness, aren't going anywhere anytime soon. The Fed seems ready to lift rates twice this year after revising its guidance from four hikes in 2016. That will lead to dollar strength and even if the dollar doesn't continue to rise in 2016, it will certainly bounce around current levels. Virtually every other major central bank in the world is still easing so for the Fed to remove accommodation, the dollar is going to be strong. That's terrible news for PM and it means earnings and FCF are at risk for the foreseeable future. PM is a great buy in a lower dollar environment but that trade ended over a year ago; the dollar has momentum the other direction now.
Given all of this, there are better places for your dividend-earning capital. Even PM's sister stock, Altria (NYSE:MO), is a much better choice at current prices. Not only is PM's dividend precariously funded right now but the stock is just plain expensive. You're better off avoiding the high yield of PM due to weak funding and stick with MO or any number of other, better funded dividends.
Disclosure: I/we have no positions in any stocks mentioned, and no plans to initiate any positions within the next 72 hours.
I wrote this article myself, and it expresses my own opinions. I am not receiving compensation for it (other than from Seeking Alpha). I have no business relationship with any company whose stock is mentioned in this article.