Welcome back from the holiday weekend. I hope you all had a good one.
For market bears, Thursday was less than ideal, however. Markets opened lower on the heels of a big dip in oil. But by the end of the day, markets had recovered all their losses to close the day precisely flat.
For market pessimists, it was another disappointing setback, following Wednesday's moderate selloff. Bears simply can't get any momentum going, they've been reduced to laying eggs: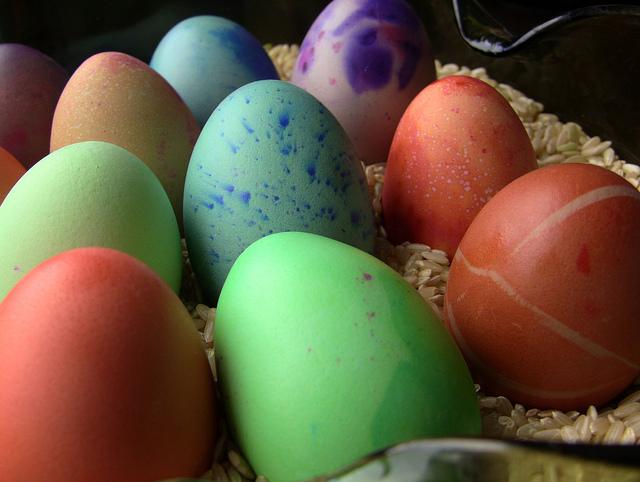 For now, the market remains resilient. Some of this may be due to the holiday effect. Traditionally, equity markets are very strong in the days immediately surrounding holidays. The effect is strongest for Christmas, but it can be seen around almost all national holidays. As of this writing, futures are up a bit to start the week.
As markets return to normal trading volume and liquidity this week, it will be interesting to see if the market's tenor changes. As I commented last week, it seems the momentum behind the commodity names and emerging markets is starting to fade.
The rally in oil (NYSEARCA:USO) has been put on pause. The sour inventory numbers sent it back under $40. Gold (NYSEARCA:GLD) and silver (NYSEARCA:SLV) continued their recent sell-offs on Thursday. And as of Sunday evening, gold is down sharply again. Perhaps most importantly, the US dollar (NYSEARCA:UUP) is steadily recovering from the recent plunge: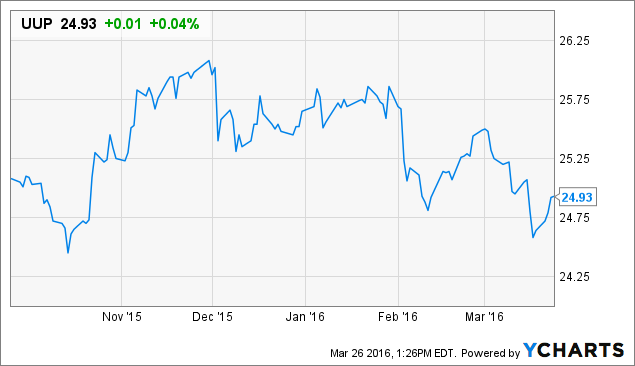 UUP data by YCharts
With many recent trends starting to give back some of their moves, it wouldn't be surprising to see markets take a dip.
Beware Of Story Trades 1: H&R Block
I was digging through the list of new 52-week lows to see if there was anything that jumped out as the market continues to be strong. It's often informative to see what stocks are out of favor when most things are up.
Two interesting story stocks came up. The first is H&R Block (NYSE:HRB) which primarily prepares tax returns. Just about every year, you'll see many articles discussing buying H&R Block at the start of tax season.
Anyone that bought for this year's tax season is smarting - shares are down 20% YTD and at new 52-week lows: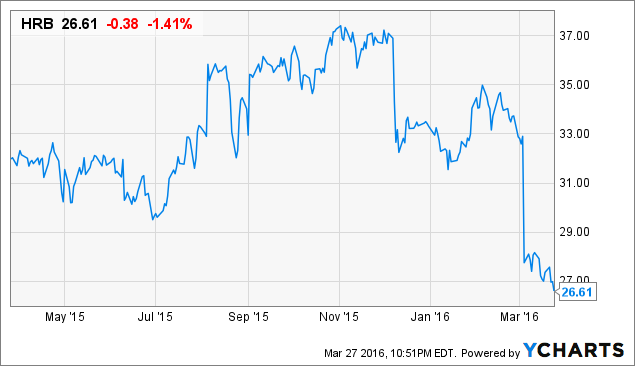 HRB data by YCharts
As I've discussed previously, it's not enough to know that a company has news coming up. Sure, you know H&R Block will get more press in March and April, but you don't necessarily know that it will be good.
In this case, it was bad. Tax preparers are continuing to lose share to other alternatives. It had been hoped that the complexities of Obamacare would drive more potential clients back to paid preparers.
This may still happen, though there was a twist in the story. As SA Author Ben Strubel notes, refunds are coming more slowly this year - it appears that the added complexities have slowed down the filing process.
That appears to have caused the earnings miss that cratered the stock in March. That said, the rate of filings picked up in February, suggesting that H&R Block's next quarter should be stronger compared with 2015.
Still, at 19x earnings, there's no pressing reason to buy the stock even at the lows. The IRS only projects 1% growth in tax filings in the long term, and the market appears to be continuing to shift against preparers such as H&R Block. Beware of overpaying for no or slow-growth businesses. And be cautious of trading stocks simply for being seasonal or in the news.
Story Stock #2: Jack In The Penalty Box
Jack In The Box (NASDAQ:JACK) is a restaurant operator notable for its ownership of the Qdoba fast casual restaurant chain. I can't count how many times I've seen the Sell Chipotle (NYSE:CMG), Buy Jack In The Box trade suggested since Chipotle's health scare began.
It's one of those on the face of it extremely compelling sorts of ideas. But alas, the market doesn't generally reward people for thinking of the obvious - you need second level of thinking to outwit other investors most of the time.
Jack In The Box stock has been a big disappointment to anyone that thought it was a great anti-Chipotle: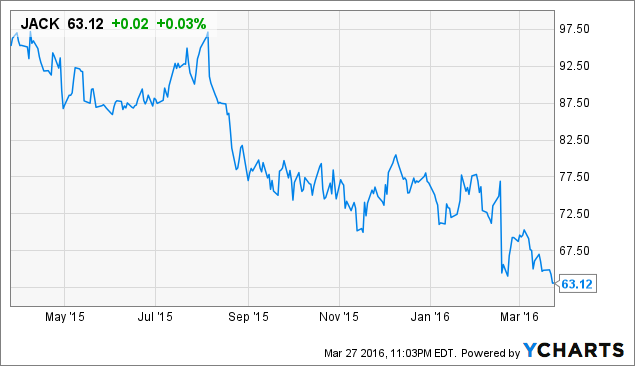 JACK data by YCharts
If you bought Jack In The Box at the start of the year, you're already down 20% on your money.
The latest negative driver for the stock was an earnings miss that walloped the stock. The miss was primarily the fault of the Jack In The Box restaurants, not Qdoba. It appears that McDonald's (NYSE:MCD) all-day breakfast rollout caused collateral damage to Jack.
Qdoba same-store sales were up 1.8% in the latest quarter. That's fine enough, but it's a far cry from the sort of catalyst that the sell Chipotle/buy Qdoba trade hinged on.
With Chipotle sales down 20-30% post-health crisis, you'd have hoped Qdoba would be able to get more than 2% sales growth, particularly since Qdoba has a much smaller store base, so a meaningful influx of Chipotle customers really could have moved the needle.
I've said it before, and I'll say it again. Beware of story trades. It's easy to build an analogy or mental model that suggests something should work. Buy H&R Block for tax season or buy Qdoba because Chipotle has problems - these ideas make sense.
But if you don't go the next step and see if the news item will actually drive earnings, you're setting yourself up for potential trouble.
Disclosure: I/we have no positions in any stocks mentioned, and no plans to initiate any positions within the next 72 hours.
I wrote this article myself, and it expresses my own opinions. I am not receiving compensation for it (other than from Seeking Alpha). I have no business relationship with any company whose stock is mentioned in this article.