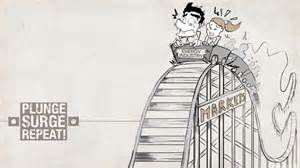 Volatility instruments such as VXX (NYSEARCA:VXX), which roughly correlates to S&P 500 volatility over the short term, have been, well, volatile of late. The stock market was crushed to begin this year but since that time, has put in a very impressive, double digit rally in very short order. That condition was a great time to short volatility but at this point, I'm actually taking the other side of the trade. In this article I'll explain why I think the market rallied too quickly and has become too complacent, opening the door for a short term spike in volatility.
Please keep in mind that when trading volatility instruments, risk and reward are both high; please plan your position sizes accordingly.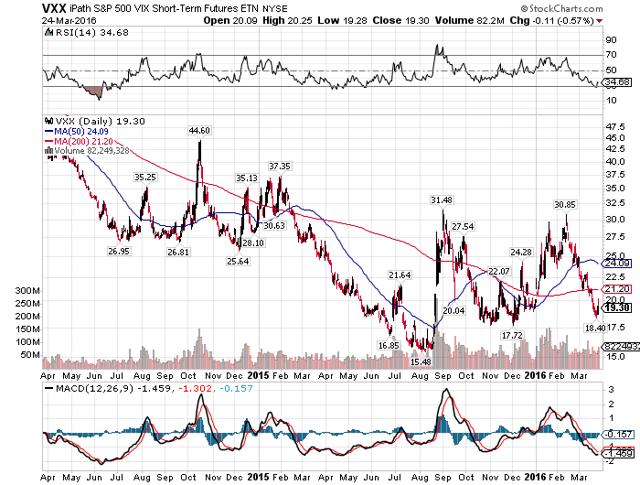 Click to enlarge
We can see in the chart that the beating the market took to open 2016 sent VXX from $19 to almost $31 in the span of a few weeks. That kind of return makes VXX and others like it very attractive to hold for short periods of time when a catalyst for a market selloff emerges. Of course, VXX loses money over time so this is not a buy and hold strategy; this is a calculated entry point where I believe we have the best chance for a spike in volatility. That also means that if you're wrong, you have to be willing to get out because if you don't, you'll lose more and more as time goes on.
So why am I so sure that the VXX is going to rise? To be frank, I'm not sure, but I do believe that the setup for a long here is favorable. To start, the market - as represented by the SPY - has rallied from $180 to $205 in a matter of a few weeks.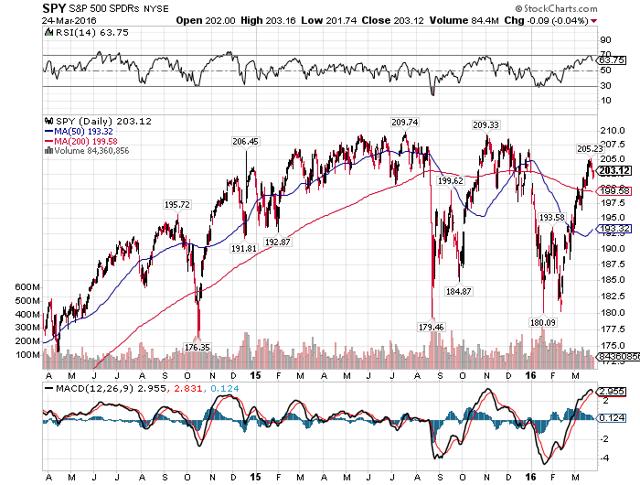 Click to enlarge
This is a substantial snapback rally and the sheer slope of the line is almost awe-inspiring. The amount of money that has flowed into equities to produce that level of gains in the span of a month or so is impressive. And while I'll concede that I certainly don't think $180 is the right level for the SPY right now, I do believe the market has topped and that means volatility will rise at some point.
The momentum indicators on the SPY are showing exhaustion and overbought conditions as well and why shouldn't they; we're up ~13% in a few weeks. The 14-day RSI just hit the 70 threshold for being overbought and while it could certainly go higher, it is exceedingly rare for the SPY to sustain a 14-day RSI reading in excess of 70. In fact, it seems the move down of about $2 last week off of the highs was enough to show it won't maintain its overbought status.
In addition, the MACD is showing that buying momentum is waning as well. The histogram shows that the shorter term MA is crossing over the longer term MA, indicating that a trend reversal is possible here. Again, it isn't that the SPY can't go a little higher from here, I just think the risk/reward is heavily skewed towards risk right now.
On top of that, with the SPY failing at $205, it once again failed to make new highs on a rally attempt. This has been the story since last summer when SPY topped and then plunged after repeatedly failing at the same levels. SPY continues to rally towards new highs but is rebuffed time and again and this time, it was at only $205. I think the evidence is piling up that the SPY has topped for the intermediate time frame and that implies that rallies should be sold. That sets us up for the next leg of this discussion, volatility itself.
While the VXX is certainly no perfect match for the VIX, it does move higher when the VIX does and that is what I'm trying to capture here.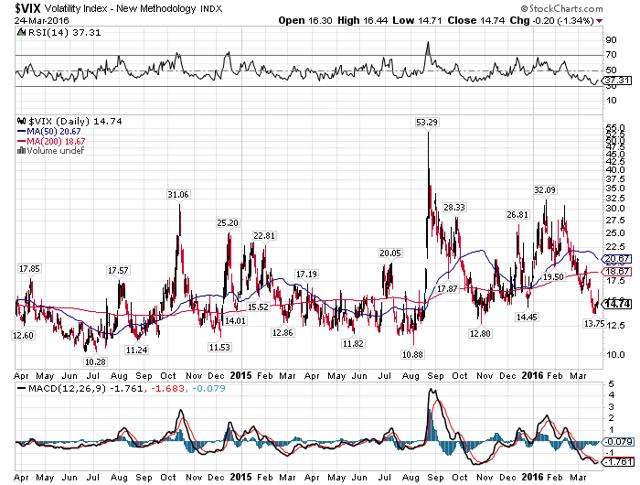 Click to enlarge
The VIX has been absolutely crushed since it hit 30 back in February at the height of the panic selling and is now at less than half of that level. That kind of selloff in such short order reflects lots of complacency in the market and that creates opportunities from the long side if you believe the reason for the rally is less than fundamental. Indeed, I think the market sold off too quickly in February and a rally was warranted but 13% in such short order is too much and that means a small selloff is needed to work through some of the gains. I'm thinking a 5% or so selloff will be sufficient to see investors take gains from the last few weeks and reposition and if we get that selloff, we'll likely see the VIX spike into the 20s from its low base now. The VIX is at a level where the market is showing significant complacency and given all the headwinds for the market, complacency is the wrong stance right now in my view.
In addition to levels for the SPY momentum indicators and the VIX itself that I believe are ripe for a selloff, the S&P 500's level of stocks that are trading above their respective 50DMA averages is stratospheric right now. This is a product of the sharp downturn in February giving way to an even sharper rally higher but as we'll see, this kind of rally isn't sustainable.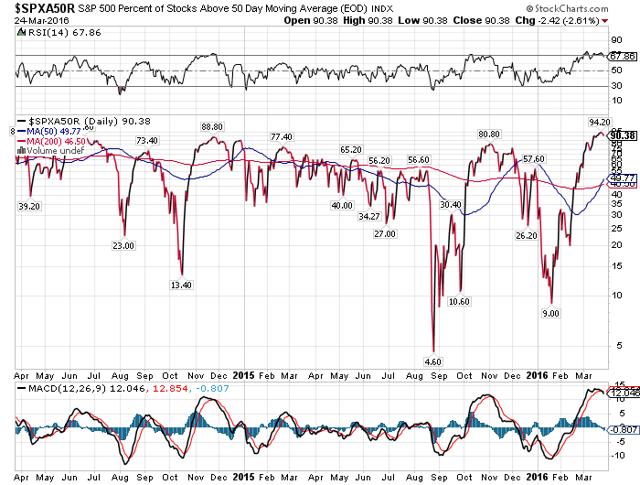 Click to enlarge
The current level of 90% of S&P 500 components over the 50DMA would be the highest level in three years were it not for the 94% reading put in last week. This metric correlates pretty well to selloffs and rallies in the market and to say that we are at extreme levels right now is an understatement. When 90%+ of the market's components are rallying hard like this, odds are there will be a selloff to get us back to normal levels as investors take short term profits.
Finally, the dollar continues to rule the markets as it moves up and the market moves down and vice versa. The Fed's rate hike cadence was recently revised down for 2016 from four hikes to two but given that virtually every other central bank in the world is still easing in some way, strength in the dollar is likely here to stay.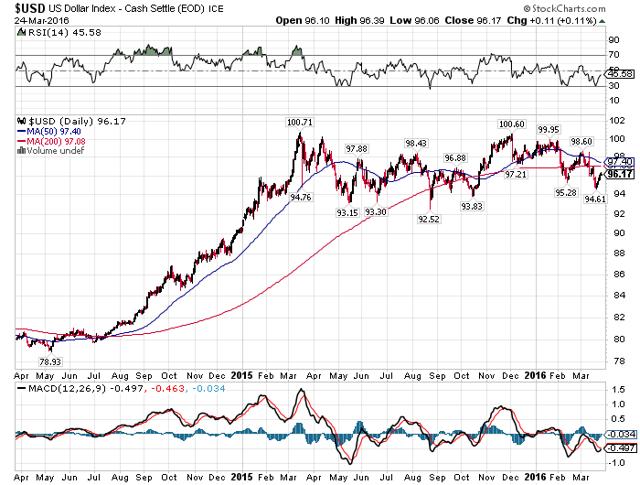 Click to enlarge
The recent move down in the dollar has corresponded to a strong rally in the stock market but with the dollar near the lower end of its channel going back to the beginning of 2015 and the fundamental factors that should drive strength, it seems to me the dollar is setup for another rally. Even if the dollar rally is small, it could very easily lead to the 5% decline I'm calling for in the equity markets. And with Fed participants chattering about an April hike, that volatility could arrive sooner than later via a dollar rally.
So what is the magnitude of the opportunity, assuming I'm right about a selloff coming? I don't think the VIX is going back to 30 in the near term although later this year as the presidential election gains some additional clarity, that kind of thing is certainly on the table. However, in the short term, I think a quick selloff in the market could very easily lead to a VIX reading in the low 20s and that means there's an opportunity to get long VXX here for a spike higher.
There are lots of ways to get long VXX; you can just buy the instrument and look for a move from the current price of $19 to the mid-$20s. You could also sell puts on VXX that expire fairly quickly in order to reduce your cost and capture some yield. This is certainly a lower risk way of owning volatility but your potential gains are capped as well. For example, the April 22 expiry $18.50 put is going for about a dollar right now, producing a gross yield of more than 5% for a put that expires in three weeks. That would also reduce your risk down to about $17.50 on the VXX should the selloff not materialize so the risk/reward here is pretty strong. At any rate, I believe the VXX is going higher over the short term as the equity rally has come too far, too fast.
Disclosure: I am/we are long VXX.
I wrote this article myself, and it expresses my own opinions. I am not receiving compensation for it (other than from Seeking Alpha). I have no business relationship with any company whose stock is mentioned in this article.