Whirlpool (NYSE:WHR) has been on a run the past few months, up approximately 40% year to date. I am bullish on the stock, not only due to strong momentum, but also due to compelling fundamentals and a reasonable valuation.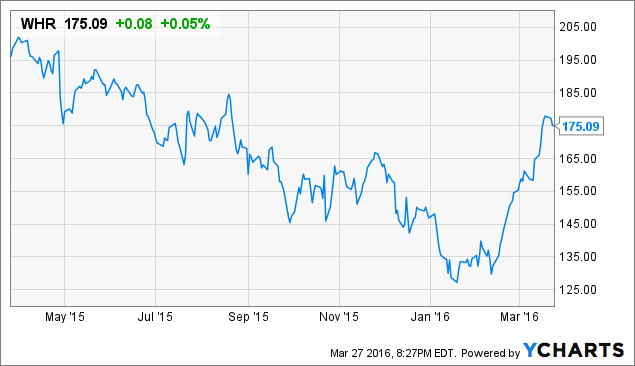 With the company trading at just 12x 2016E earnings of $14.50/share and 7.2x 2016E EBITDA of $2.5 billion, I believe the company is currently undervalued (with growth vectors factored in).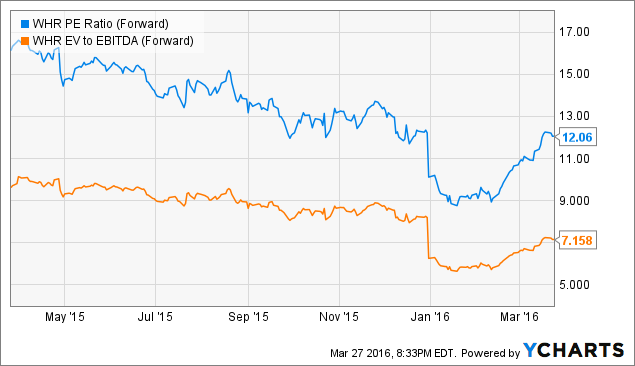 WHR PE Ratio (Forward) data by YCharts
As I look out at the 2016 North American appliances market, and the market expansion from WHR's acquisitions in Europe and Asia, there is significant revenue, earnings, and cash flow growth potential for this stock.
According to WHR's most recent investor deck there are plenty of growth vectors, which include:
Integration efforts to deliver growth and synergies
Revenue growth and margin expansion
Brand and product innovation
Growth in adjacent businesses
Robust ongoing cost productivity programs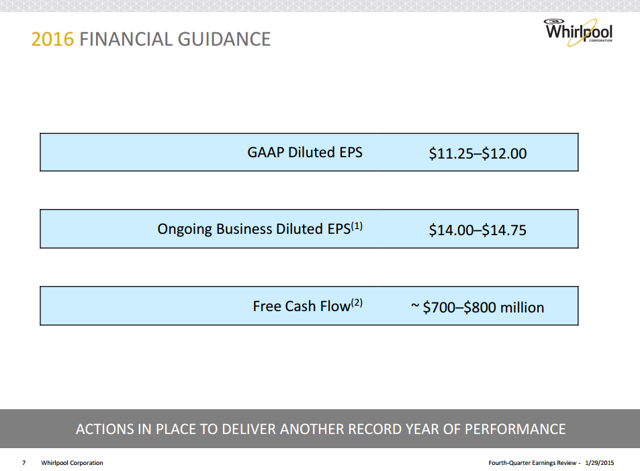 Click to enlarge
In 2016, I believe WHR can generate the top end of their guidance range $800 million in free cash flow, which equates to about a 6% free cash yield at the current share price $175.
Over the long term I believe the company has significant strategic growth vectors in place which will driver superior shareholder returns. I have updated my financial model (I am always working at perfecting my financial modeling skills) to incorporate free cash flow generation of $800 million in 2016, growing at >7% the next few years, which equates to a NPV of $18 billion, or upside of 33% from today's share price.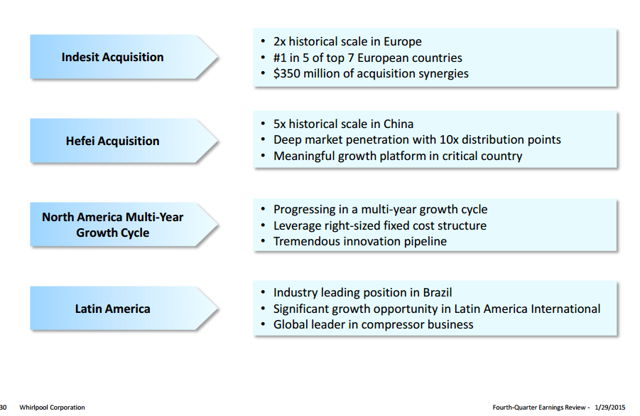 Click to enlarge
In closing, I believe WHR's momentum will continue through 2016 and I expect a risk adjusted return of 33% over the next 12-18 months.
A quick note on risk. I am confident that I have risk adjusted the model sufficiently and have enough margin of safety (current price relative to intrinsic value) to make this an attractive opportunity. However, investors should weigh the risks that do exist for this stock, which include but are not limited to: intense industry competition, acquisition integration risk, relationships with vendors, input costs, FX exposure, and product liability.
Disclosure: I/we have no positions in any stocks mentioned, but may initiate a long position in WHR over the next 72 hours.
I wrote this article myself, and it expresses my own opinions. I am not receiving compensation for it (other than from Seeking Alpha). I have no business relationship with any company whose stock is mentioned in this article.