We all know the GOP rhetoric. We may even have preconceived notions from (albeit fantastic) television shows about mischievous high-school chemistry teachers or their unscrupulous future attorney. Mexico has been the topic of much discussion recently, and where there's focus, there's generally opportunity. With all the hoopla surrounding Mexico in the political debates lately, I've been trying to figure out a trade for a while. This curiosity originated with an idea of a peso trade idea that, admittedly, just didn't work out like I thought it would.
My hypothesis was that if I looked at movements in the peso on days on/after a GOP debate (i.e. when all the big talk of "building a wall and making them pay for it" was broadcast to millions of people) that maybe we'd see legs down in the peso. It turns out that the peso was just as likely to move up as down on such occasions. Then, one day I found in my inbox a new edition of This Week in Geopolitics, a column available from Mauldin Economics and written by George Friedman of Geopolitical Futures. I highly suggest you read the entire article here. This completely changed my perception of the Mexican economy. In response, I started exploring the web for news regarding the economic situation in the country.
Having a preexisting basic knowledge of the Tequila crisis of the mid-'90s, I was very surprised to see the bold stance some of the current financial literature is taking on the situation in Mexico. Even as early as the tail end of 2014, you could begin to find headlines such as Mexico on the Verge of a New Tequila Crisis? In this piece, via Wolf Street, the author noted that "Like many oil producing nations, Mexico is struggling to come to terms with the plunging oil prices. On Monday, the price of Mexico's mix reached $63.72 per barrel on the Brent Index, its lowest point since July 2009. Mexico cannot survive for long on this price, especially considering that oil revenues account for roughly one-third of government finances." These concerns of course have credence, as plunging oil would reduce the value of a significant amount of Mexican assets, and this coupled with rising debt would put the country in a precarious situation to be able to sustain the burden.
The author goes on to note that "External and internal public and private debts have more than doubled since 2000, from roughly $250 billion to $550 billion today. In the last two years alone, since Peña Nieto took over, Mexico's public debt has increased by over 21% to reach close to $400 billion (38% of GDP)." Last month, BloombergBusiness ran a piece, aptly entitled Nearing Tequila Crisis-Era Debt Levels Gives Mexico a Hangover, which updated these numbers with the following chart: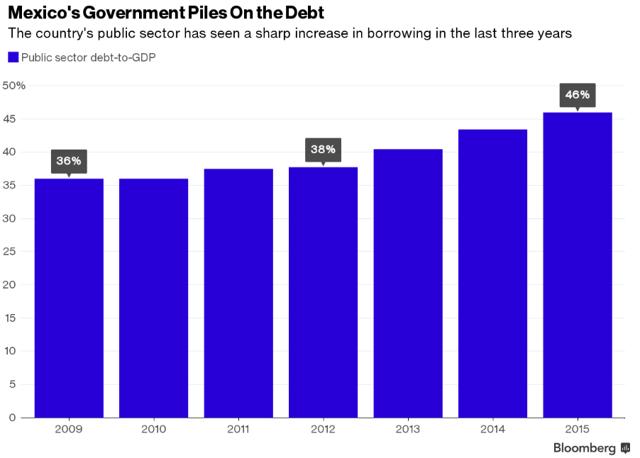 Click to enlarge
However, the author of the Wolf Street article made an insightful observation on these debt levels when he noted that "Granted, this pales in comparison with the staggering levels of debt registered by its Northern neighbor and most European countries." The numbers corroborate this important condition: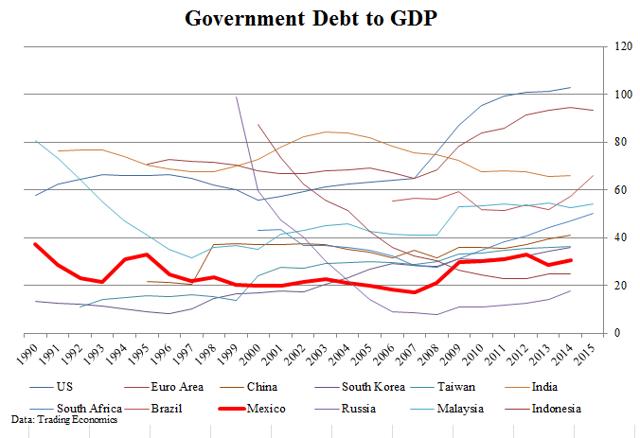 Click to enlarge
And taking a moment to just focus on Mexico's relative position within EM: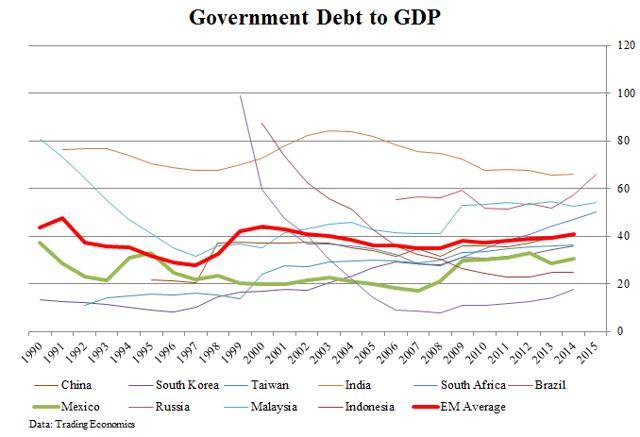 Click to enlarge
While it is simply a fact that we are back up to Tequila crisis levels, as you can see, the notion that any nominal, uncontextual increase in Mexico's debt puts it on the verge of another crisis seems unfair and appears to ignore the relative level of this debt with comparable nations.
Regarding the fears of the ramifications of low crude, these appear similarly overblown. Yes, the plunge in crude has certainly found its way into Mexican fundamentals, and the peso has fallen in similar manner to global crude oil prices: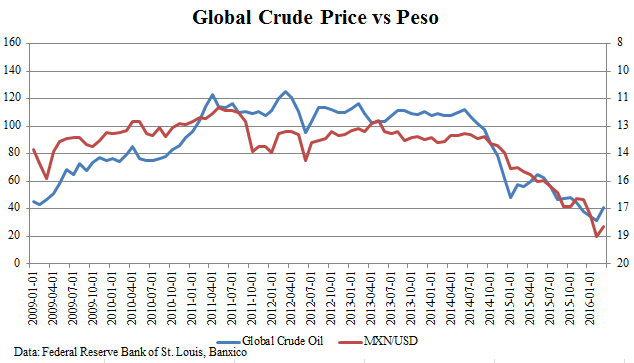 Note the recent acute reversal in the trend, however. Rather than being a direct response to the recent small rally in crude back to near $40, this has more likely been due to recent actions by Mexico's central bank (Banxico). On February 17th, Banxico made a surprise move to increase the policy interest rate, when it "cited the persistent deprecation of the Mexican Peso as the primary reason for the move, noting that further downward pressure could cause inflation expectations to become unanchored." It also works to calm debt-servicing fears such as those noted in the aforementioned Wolf Street article, which states that "While 75% of the debt is internally financed, as the government is fond of repeating, the reality is somewhat more complex: The domestic banks that issue loans to the public authorities are in fact by and large subsidiaries of foreign banks while the loans in local currency are pegged to a much stronger currency (the U.S. dollar). This means that if the peso is devalued or the value of the dollar increases - as is happening right now - the amount to be reimbursed increases considerably."
Additionally, as I alluded to at the beginning of this paragraph, I believe the significance of the collapse in crude for the Mexican economy is also overblown. First of all, Mexico has been quite successful in hedging these prices. Last November, BloombergBusiness ran an article outlining the $6 billion payout Mexico was due from its hedging program in 2015. Earlier last year, BloombergBusiness also noted that Mexico has hedged its 2016 exposure at $49. Regardless of its hedging program, Mexico's perceived dependence on oil could itself be a falsity. In a Reuters article published on January 22nd, Alejandro Werner, director for the Western Hemisphere Department at the International Monetary Fund, said "Mexico is clearly no longer primarily an oil-producing country, as net exports of the commodity are low and government reliance on its sale has declined." He went on to say that "Markets are exaggerating Mexico's dependence on oil prices. We are seeing some market overreaction to oil price moves."
Enough of these boring fundamental details. What has the market done? Well, Mexico (via exposure to the EWW ETF) has recently fallen with the rest of EM, however prior to that, it was enjoying a fair level of out-performance post GFC. For the chart below, I've backed into the VWO ex-Mexico return by removing the contribution of Mexico according to the current weighting in the FTSE Emerging Markets Index (5.5%). I know this has likely changed over time, however I didn't know how, nor did I feel it was at all a practical use of time, to find a time series of the historical country weights of the index. I think it still provides a fair approximation: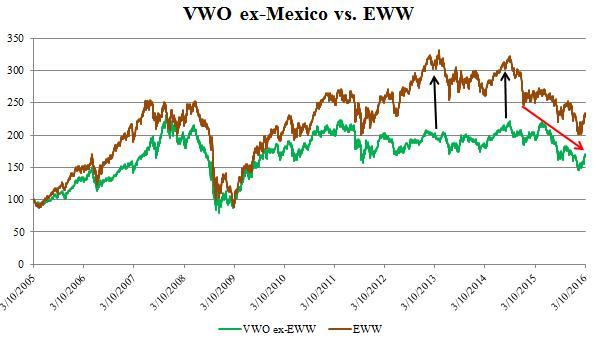 Data: Yahoo Finance
After researching further, it became apparent, though perhaps not surprisingly, that prior to the recent correlated sell-off with the rest of EM, Mexican equity has moved in similar fashion to exports to the US, its largest export destination (the red circle emphasizes a recent downturn in this factor; more on that later, but still note the uncharacteristic divergence between this series and the ETF).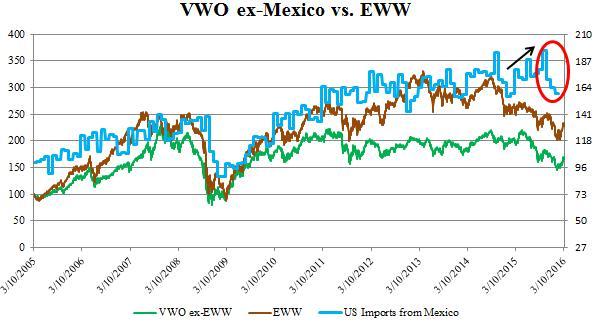 Data: Yahoo Finance, Census.gov
And keep in mind this is in USD. When measured in pesos, their export activity has been much more stable, which gives credence to the ability for floating exchange rates to mitigate fundamental imbalances and volatility. Other than the GFC (where exports in pesos still didn't get all that hammered), the elasticity of the relationship has actually seemed to provide a short-term bull trend in exports.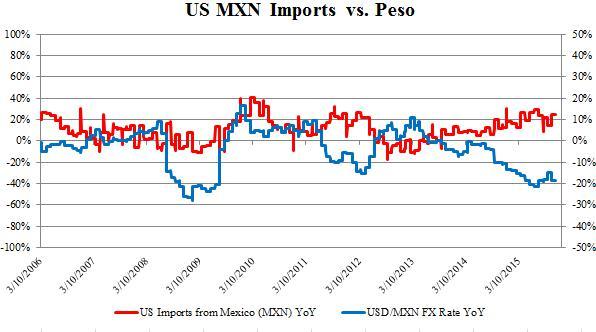 Data: Banxico, Census.gov
As is generally my preference, I decided to transform the variables and try out a relative value analysis pairing peso-denominated exports to the US with Mexican equity performance. We are now approaching territory that has historically preceded a nice rally in the ETF.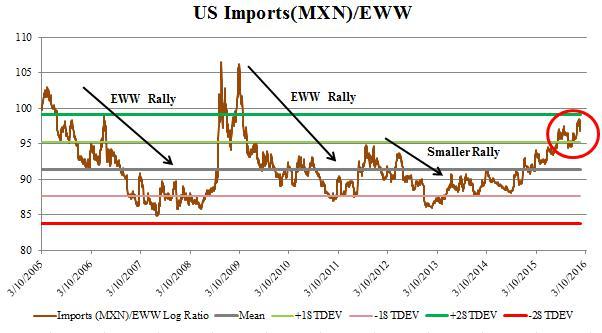 Data: Yahoo Finance, Census.gov
I think it will be important to watch the exchange rate for clues on stabilization of expectations and real capital flows (which, as I'll remind you of what I wrote above, has already had a bit of a reversal recently when Banxico decided to raise, then stand pat with its current rates).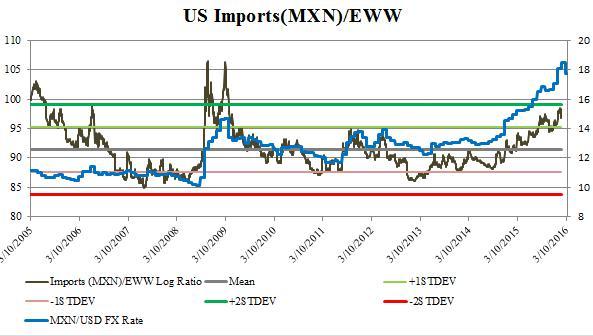 Data: Yahoo Finance, Census.gov, Banxico
So, is Mexico facing headwinds? Absolutely. First, the new low oil paradigm does weigh to some extent on its prospects, even with its hedges in place and a declining dependence. Second, you'll note in one of my charts above that I pinpointed a concerning little dive in export activity to the US. This is an important development, as the US could (or needs to) be the force that stabilizes Mexico during times of global distress. George Friedman, in his This Week in Geopolitics article linked above, thinks similarly when he observes (emphasis mine) that "while Eastern Hemisphere powers teeter on the edge of an economic volcano or tumble in, the United States finds itself relatively insulated from declines in global import demand, and the US insulates the countries on its northern and southern borders to a great extent." Third, trends in Mexico's capital account are anything but reassuring.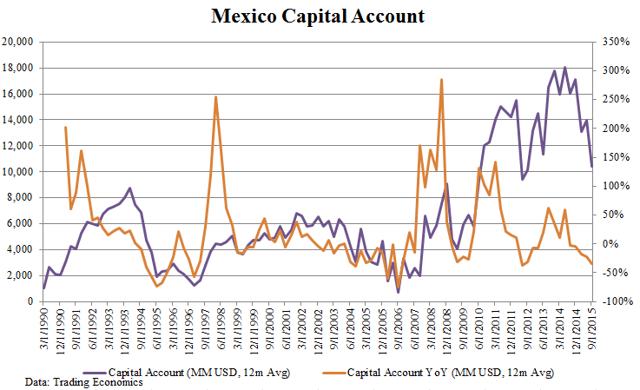 Click to enlarge
However, as I began this article, I feel the reaction to these developments has been overblown, and I think it relates to the behavioral concept known as the availability bias, particularly the manifestation where memorable past events have an unjustifiably significant effect on investor behavior. It appears that Mexico can't afford to have a stumble without calls of a new impending tequila crisis saturating the environment. In the end, I feel that these misconceptions and the broad EM sell-off is offering an attractive opportunity for exposure to Mexican equities, and that Mexico will continue its relative out-performance when the global economy finds its footing again.
Disclosure: I/we have no positions in any stocks mentioned, and no plans to initiate any positions within the next 72 hours.
I wrote this article myself, and it expresses my own opinions. I am not receiving compensation for it (other than from Seeking Alpha). I have no business relationship with any company whose stock is mentioned in this article.