Before we begin, let's recall, as we did last week and the week before, what it was that we said three weeks ago in comparing what our S&P 500 forecasting model was projecting would be the apparent trajectory of stock prices for March 2016 versus what we predicted that they actually would follow:
That's also true for the projections for the remainder of March 2016, which suggest that stock prices are in for a rough ride before recovering. However, that apparent trajectory is really an artifact of the historic stock prices we use in our model to project their future trajectory, and as such, it is an echo of past volatility, which means that our model will be less accurate until that echo subsides....

So can we predict where stock prices are likely to go next?

Of course we can!... Provided investors keep their forward-looking focus on 2016-Q4 in making their current day investing decisions, we can expect that the S&P 500 will continue to track largely sideways (plus or minus 3% of their current value of just under 2000), through the end of March 2016.
Our override forecast, that the S&P 500 would be most likely to trade in a range between 1940 and 2060 (or rather, 2000 plus or minus 3%) over nearly the whole month of March 2016 is still holding!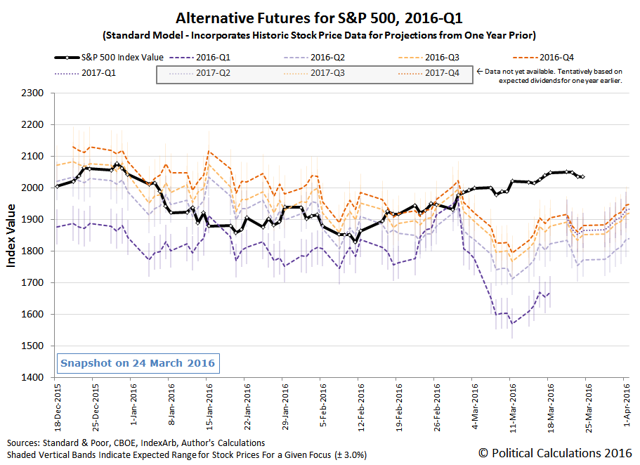 Click to enlarge
With just four days left to go in March 2016, we're content to let that predictive bet for the future of the S&P 500 continue to ride in Wall Street's casino as the clock for the month runs down.
That said, let's review the major market moving news from the Good Friday holiday-shortened fourth week of March 2016, starting with a recap of the news we previously covered for Monday, 21 March 2016 in our previous edition.
As for getting a clearer signal with our futures-based model of the S&P 500's stock prices, we should have that by the second week of April 2016.