At Dane, we spend the majority of our time looking at small-cap stocks. Five small caps that we are confident are well positioned for substantial stock price appreciation in 2016, are AgroFresh (NASDAQ:AGFS), Digirad (NASDAQ:DRAD), RadiSys (NASDAQ:RSYS), RMG Networks (NASDAQ:RMGN), and Volt Information Sciences (NYSEMKT:VISI). We wrote about DRAD, RSYS and RMGN 2 weeks ago and subsequently they are up 1%, 14% and 20%, respectively, (and we think each still has significant upside) versus the Russell 2000 which is down 1% over the corresponding period.
Our focus on small caps is not because of a particular affection for low market cap companies, but because of a fundamental question we ask ourselves with any investment: why does this opportunity exist? With small caps, that answer is often fairly self-evident: the stock is tiny and widely ignored, it may lack research coverage, it may be too small to be investable or relevant for certain funds due to market cap or trading volume, it may fail to meet certain listing requirements, or it may be in the midst of a turnaround for which investors lack adequate patience.
We don't view our philosophy as entirely original. Warren Buffett has said that he believes he could achieve 50% annual returns, as he did in his early years, if he managed far less money and could focus on smaller stocks. (For those who have not read the best of Buffett's letters, it's well worth reading Lawrence Cunningham's curated edition).
That being said, there's a reason most small caps are small - they lack industry leading products or services; participate against smarter, better capitalized competitors; have a mediocre management team; or don't have the scale to cover their expense structure (or a litany of other reasons). To put it more succinctly, most small-cap stocks are small cap, and remain small, because they're not very good companies.
With that as a backdrop, we think it's incumbent that the smaller and more illiquid the company, the greater our confidence must be that management 1) has a solid business plan, 2) is aligned with shareholders, and 3) is an intelligent capital allocator. Other essential questions we ask are the risk of permanent capital loss (what is our margin of safety?) and the asymmetry of the opportunity (what are we playing for?). For more on Dane's investment philosophy see here.
Given our philosophy, it's not surprising that many of the companies in which we invest have had insider purchases - one of the behaviors we find most indicative of a management/board that is both aligned with shareholders and optimistic about their company's future. However, it's worth noting that insider buys are not simply a positive sign or something that helps us sleep better at night - empirical evidence indicates a strong correlation between insider buys and stock performance. As we often tell our colleagues, we think insider buys in smaller-cap companies are particularly meaningful, given the potential challenges of future stock resale by insiders for what are often relatively illiquid securities. Again, the empirical evidence strongly supports this assertion. In 2000, University of Michigan Finance Professor Nejat Seyhun published Investment Intelligence From Insider Trading, which analyzes every reported insider transaction over the preceding 21 years (over 1 million trades). While insider buys for companies of all market caps strongly correlate with positive stock performance, the data shows that stock performance is inversely correlated with market cap - that is, the smallest market cap segment with insider purchases had by far the best subsequent performance (over every period, be it 1 month, 3 months or 1 year). For those interested in details, pages 89-98 are most relevant, but we recommend the entire book. We note that Professor Seyhun remains active in this field, and in a 2010 paper notes that the only major literature that does not show the outperformance of insider buys is from a 1998 paper reviewing performance of post-insider buy activity on the Oslo Stock Exchange (see Eckbo and Smith, 1998).
Given our perspective on insider buys, we were pleased to see Form 4 insider purchases filed with the SEC for VISI on March 21st and AGFS on March 22, in addition to several buys this week as part of an ongoing 10b5-1 buy plan at DRAD by Lone Star Value Fund, Chairman Jeff Eberwein's investment firm.
AgroFresh - AgroFresh was a unit of Dow Chemical (NYSE:DOW) that merged into Boulevard Acquisition Corp., sponsored by Avenue Capital Group, the $12B investment firm. AgroFresh's primary business is SmartFresh, which keeps apples ripe for an extended shelf-life. The company had a challenging 2015, with results that fell modestly short of expectations laid out in the company's merger prospectus. As the company stated in last fall's 3Q earnings release and reiterated on March 11th, the results were largely the result of a far weaker than anticipated US apple harvest - a view supported by USDA crop data.

Click to enlarge
Source: USDA December 2015
Notably, the US crop (by far AgroFresh's biggest market) was down versus 2013. Still, AgroFresh generated EBITDA 20% above 2013 levels.
When the company reported 4Q on March 10th, it gave guidance for 2016 of 5-12% revenue growth, EBITDA of $90-$100 million, and free cash flow of $35-$45 million - implying EV/EBITDA of just over 7x at current prices and a 12-13% free cash flow yield. Concurrent with earnings, it announced the departure of CEO Thomas Macphee and President of Stan Howell. While we believe their exits might seem alarming, we believe it's very different working for a company like Dow with tens of thousands of employees and AgroFresh with 156. While Mssrs. Macphee and Howell might be excellent executives, in all likelihood they simply weren't the right fit for a smaller, more entrepreneurial organization. We think that management set guidance that they believe is achievable and reflects currency impact and the potential lower margins of Harvista (keeps apples ripe on trees) as the product ramps. If things were not well at AgroFresh, we're not sure what better opportunity the company would have had to slash guidance than the departure of executives. We don't think the opportunity has changed, and management is pointing to growth.
We'd suggest that until AgroFresh finds the right long-term leadership, the company is in very good hands, with board members and Co-CEOs Nance Dicciani handling business operations and Steve Trevor of Avenue Capital addressing financial matters, as well as experienced CFO Margo Loebl. Notably, Marc Lasry, Founder of Avenue, recently joined AgroFresh's board, which we believe reflects Avenue's commitment to making AgroFresh a success.
In our view, Ms. Dicciani's recent insider buy - not to mention insider buys from multiple executives in late November, as well as late August and September - reflects management's view regarding the company's long-term prospects. We recognize that Pace's FYSIUM has been mentioned by some in the financial community as a competitive concern (albeit one we haven't seen gain traction in the marketplace), but we believe it's far likelier that the company benefits from an abundant crop or accretive M&A far sooner than it is negatively impacted by competitive products. If 2016 proves a bountiful harvest, or even a decent harvest, shares are far too cheap.
Volt Information Sciences - Volt is a staffing company that we wrote about last July. The company had been out of compliance with its filings for several years and had an entrenched management and board, until activists got involved. It's a turnaround, but one where we believe our risk of permanent capital loss is small, and the upside remains substantial. While shares are down 20% since our write-up, and revenues have continued to decline, the pace of the decline has slowed, and insiders continue to buy, including the purchases filed on March 21st. Following the sale-leaseback of the company's Orange County facility and the sale of its San Diego property, the company has excess liquidity versus a tight liquidity situation 9 months ago. Further, management has been unequivocal that when it sells its non-core, but profitable MainTech unit (they have publicly guided to late 2Q or early 3Q - the next 1-3 months), the company will engage in a potentially substantial share repurchase.
I'll add to that. To be specific, there is a lot of ifs there, but if we get to that point, we have that much cash on our balance sheet, we are looking forward to be buying back shares. That is clearly - we're not going to pay down debt and not consider share buybacks. We do believe that the stock price is low. We do believe it's undervalued.

We would like to delever, we think it's prudent. But if we get to the point that you're talking about, there's a lot of things that has to happen. And we'll see when we get to that point, the actual split between all of our capital allocation priorities, but there will be lots of opportunities to buy back shares at that point.

Source: Volt CEO Michael Dean 1Q earnings transcript (bold added)
In addition, an $18 million tax refund should arrive (finally) within the next several months, further bolstering liquidity. Should interest rates remain low, the allocation should be toward more share repurchases and less debt pay down
While buybacks are great, they are relatively meaningless if fundamentals don't improve. Here we'd make 3 points. First, management remains confident that the turnaround is gaining and will continue to gain traction. As Mr. Dean said on the last earnings call:
That said, turnarounds are often two steps forward and one step back. But I believe that returning Volt to growth is not a matter of if, but a matter of when.
Second, the US economy, while uneven, is generally pointing in the right direction regarding employment, a positive for a staffing company. While this doesn't guarantee a positive outcome, it's certainly easier to execute a turnaround when swimming with the tide than against it.
Third, the staffing industry remains fragmented creating substantial M&A opportunities. We believe Volt, with activists on the board, and a turnaround CEO at the helm, will eventually be willing sellers at the right price.
We have no illusions that the staffing business is easy - it's an industry with many players and low margins - but if Volt's management can start growing top-line, and we think this is a team with a well-conceived plan, we could see substantial fall-through to the bottom line. Certainly insider buys suggest that insiders remain confident in a positive outcome.
Updates
Digirad - Since our write-up 2 weeks ago, shares are up 1%. This past week, Digirad had multiple insider buys via Lone Star Value's 10b5-1 insider buy program. Based on the Form 4s, it appears that the ceiling price for purchases is $5.01, above Thursday's close of $4.95. We'd remind readers that Lone Star previously had a 10b5-1 buy for Digirad that expired last August with a ceiling that we believe (based on Form 4s) was $3.51. Given the company's significant value-creating activities since then (specifically its acquisition of DMS Health Technologies), we believe the previous 10b5-1 was a prescient indicator of Digirad's potential. If Mr. Eberwein is willing to pay $5.01 for an essentially illiquid/unsalable (for Lone Star) position, we wonder what he believes the company is worth. We'd suggest a substantial premium to current prices. At just over 6x EV/EBITDA, a 10%+ FCF yield and an insider who will be in the market above current prices, we see limited downside and many things that can go right.
RadiSys - Since our write-up, shares are up 14%, hitting a multi-year high. We think there's much further to go. We remind readers that RadiSys had multiple insider buys during 2H 2015, as well as several as recently as February. We also remind readers that the vesting of stock options for senior management is tied to share price appreciation.
Over the last 2 weeks, 2 sell-side firms (Lake Street and Roth) have initiated coverage with Buys and the company appeared at the Roth Conference. At Roth, it became clear that RadiSys' DCEngine opportunity with Verizon (NYSE:VZ), which includes an initial $19 million 1Q order, should be significantly larger over the course of 2016 and could be materially larger in 2017 as RadiSys addresses the data center. At current prices, the stock trades for around 14x 2016 EPS and 11x 2017 EPS, but that doesn't include potential large new DCEngine opportunities which the company expects to trial over the course of 2016. Potential DCEngine trial customers that the sell-side has suggested include SK Telecom (NYSE:SKM); Reliance India, a major cable operator; and others. DCEngine wins likely come with high margin software business as well, not to mention high margin annual service revenue. In our view, the company is likely one major win away from being a dramatically higher priced stock. The company is in hot spaces (NFV and SDN) that should enjoy secular growth for many years. Shares are not expensive and there's potential for significant upside to earnings, particularly as we look into late 2016 and beyond, and plenty of room for multiple expansion.
RMG Networks - Over the past 2 weeks, shares of RMG have appreciated 20% on the heels of a solid presentation at Roth and winning a gold APEX award at the 12th annual Digital Signage Expo.
For those who might haven't seen the press release, the award was for work done for Virgin Money in conjunction with BT.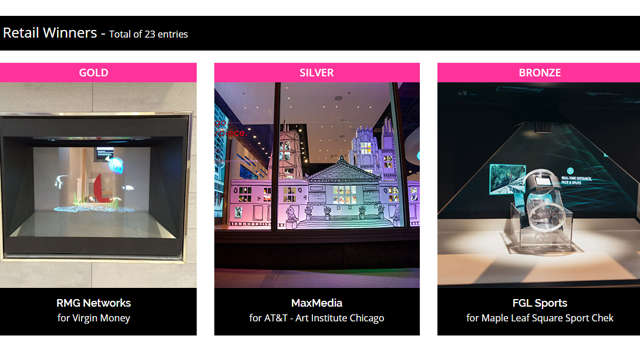 Click to enlarge
Source: Digitalsignageexpo.net
As we wrote in our original write-up from December, RMG is a company whose customers include 70% of the Fortune 100. If RMG can get it right, the opportunity is vast, and the asymmetry of the investment is significant. We think the company is very well positioned, having spent 2015 focused on innovation, a sales force overhaul, and expense reductions. This resulted in 6 new products in 2015 and the first overhaul of its operating platform in 5 years, while dramatically reducing op-ex while generating more substantial sales leads.
At Roth, management was non-committal regarding the magnitude of growth expected for 2016, but unequivocal that they will grow this year - which in combination with significantly reduced op-ex set the company up for solid profitability, particularly as we move into 2H. Given the size of RMG's customers, several meaningful wins could dramatically alter/accelerate the company's growth - like the others, there's a lot that can go right, and in our view, limited potential for permanent capital loss. With shares now at $1.12, we're hopeful that RMG will soon meet Nasdaq listing requirements (it has been out of compliance since last August), opening up potential investment from a set of investors that have been sitting on the sidelines. RMG was EBITDA positive in 4Q, the first time the company has been since 2013 (there were also insider buys reported November 30th). Clearly, the company is making progress. By the time this is widely understood, we expect shares to trade for far higher prices.
Conclusion
We understand that small caps can be particularly volatile, and as we wrote 2 weeks ago: small-cap value investing can be a lonely, frustrating pursuit. One can find themselves owning shares in a company whose stock moves sideways for an extended period waiting for value to be unlocked.
We think our patience will be rewarded. In the interim, we see these insider buys as signposts that while the short term can indeed be frustrating, those in a position to know, see far better times ahead.
Disclaimer: This article was provided for informational purposes only. Nothing contained herein should be construed as an offer, solicitation, or recommendation to buy or sell any investment or security, or to provide you with an investment strategy, mentioned herein. Nor is this intended to be relied upon as the basis for making any purchase, sale or investment decision regarding any security. Rather, this merely expresses Dane's opinion, which is based on information obtained from sources believed to be accurate and reliable and has included references where practical and available. However, such information is presented "as is," without warrant of any kind, whether express or implied. Dane makes no representation as to the accuracy, timeliness, or completeness of any such information or with regard to the results to be obtained from its use should anything be taken as a recommendation for any security, portfolio of securities, or an investment strategy that may be suitable for you.
Dane Capital Management, LLC (including its members, partners, affiliates, employees, and/or consultants) (collectively, "Dane") along with its clients and/or investors may transact in the securities covered herein and may be long, short, or neutral at any time hereafter regardless of the initial recommendation. All expressions of opinion are subject to change without notice, and Dane does not undertake to update or supplement this report or any of the information contained herein. Dane is not a broker/dealer or investment advisor registered with the SEC, Financial Industry Regulatory Authority, Inc. ("FINRA") or with any state securities regulatory authority. Before making any investment decision, you should conduct thorough personal research and due diligence, including, but not limited to, the suitability of any transaction to your risk tolerance and investment objectives and you should consult your own tax, financial and legal experts as warranted.
Disclosure: I am/we are long AGFS, DRAD, RMGN, RSYS, VISI.
I wrote this article myself, and it expresses my own opinions. I am not receiving compensation for it (other than from Seeking Alpha). I have no business relationship with any company whose stock is mentioned in this article.
Editor's Note: This article covers one or more stocks trading at less than $1 per share and/or with less than a $100 million market cap. Please be aware of the risks associated with these stocks.