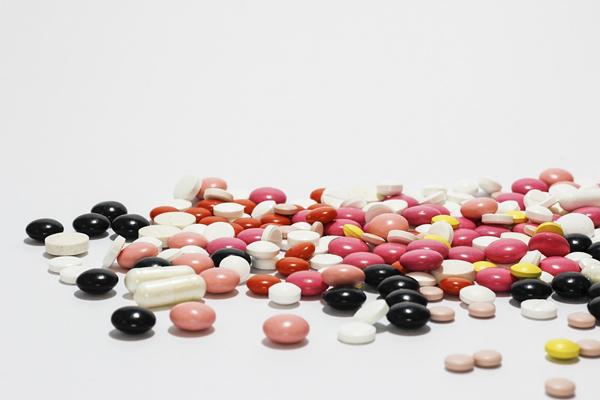 It's common knowledge to investors who have been keeping up with news on Concordia Healthcare Corp [TSX:CXR](NASDAQ:CXRX) that it's been experiencing tremendous growth. Although its Q4 EPS was $1.24 (missing by $0.08), its year-over-year results looked promising:
Revenues grew $289M (+276%) to $394.2M

Adjusted gross profit grew $243.5M (+270%) to $333.8M
Adjusted EBITDA grew $206 million (+347%) to $265.7M

Adjusted EPS grew $2.63 (+150%) to $4.38
Then, why did Concordia's share price fall 13% on Thursday after its earnings report?
In exchange for this amazing growth, Concordia took on a lot of debt. In April 2015, Concordia acquired Covis Pharma S.à.r.l and Covis Injectables S.à.r.l. ("Covis") for $1.2B. In October 2015, Concordia took on an even bigger acquisition for a total consideration of $3.11B by acquiring the U.K.-based speciality pharmaceutical company, Amdipharm Mercury Limited ("AMCo").
Indeed, Concordia's biggest expense item in 2015 was its interest and accretion of $127.8M which accounted for 36% of the year's expenses. Excluding the $57.2M of acquisition, restructuring, and other one-time expenses, its interest and accretion expenses accounted for 43% of the year's expense.
Ok, so the fact that Concordia took on a lot of debt is not uncommon knowledge either.
But just how much debt did Concordia accumulate?
Concordia's long-term debt at the end of 2015 is listed in Figure 1 below. Specifically, its term loans mature on October 21, 2021 (essentially in 5 years and 7 months), have floating interest rates, and require fixed payments over the term to maturity. There are also mandatory repayments based on excess cash flow Concordia generates.
The Bridge Facilities are a type of gap financing for Concordia to access short-term loans for meeting short-term liquidity requirements. $112.5M of the bridge loans has an interest rate of 9.5% for 2 years. If these loans are not repaid on or prior to October 21, 2017, the interest rate will increase to 11.5% and the lenders will have the right to convert the loans into a 5-year bond.
Another bridge loan of $22.5M carries a maturity of 2 years and an interest rate of 9.5%. Originally, the bridge loans were an aggregate of $180M, but Concordia repaid $45M in December.
The October 2015 senior notes mature on October 21, 2022, and bear an interest rate of 9.5% that's paid semi-annually on June 15 and December 15 of each year. Before December 15, 2018, Concordia may redeem up to 35% of these notes.
Concordia closed a private offering of $735 million of senior notes due 2023 that bear an interest rate of 7%, paid semi-annually on April 15 and October 15 of each year. There is no mandatory redemption or sinking fund payments with respect to these senior notes.
At the end of 2015, Concordia's long-term debt amounted to $3.32B, its debt-to-equity ratio was 2.87, its debt-to-asset ratio was 0.63 (end of 2014's was 0.39), and its debt-to-capital ratio stands at 73%. Higher debt can lead to volatile earnings because of the increased interest expenses.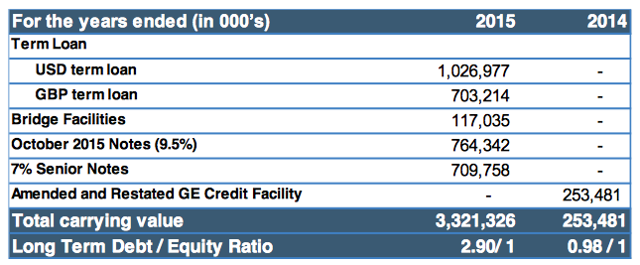 Click to enlarge
Figure 1 - Source: Concordia 2015 Annual Report - p23
The good thing is that Concordia has set up a plan for long-term debt principal repayments and purchase consideration as shown in Figure 2. Having a plan is better than having no plan.

Click to enlarge
Figure 2 - Source: Concordia 2015 Annual Report - p24
Can Concordia meet its obligations?
Concordia has strategically lined up the interest payment schedules for the senior notes so that they don't overlap. Specifically, payments are required on the 15th of April, June, October, and December.
From Investopedia, "The quick ratio measures a company's ability to meet its short-term obligations with its most liquid assets." Concordia's quick ratio of 0.75 at the end of 2015 meant that the company only had 75 cents of liquid assets to cover each $1 of current liability.
From Investopedia, "The current ratio measures a company's ability to pay short-term and long-term obligations." Concordia's current ratio was 0.95 at the end of 2015. Naturally, the higher the ratios, the better.
Concordia believes its cash flows from operations provide sufficient liquidity to support its business operations for at least the next 12 months. As of the end of 2015, Concordia had $155.4M of cash and up to $200M available from an undrawn secured revolving credit facility to meet any unanticipated cash requirements.
How have the acquisitions performed so far?
Concordia's 2015 revenue came in at $394.2M, $289M or 276% higher than 2014. AMCo contributed $115.7M (29%) of revenues and Covis contributed $127.4M (32%) of revenues. So, Concordia's original portfolio generated $151.1M (38%) of revenues, which was still $46.1M higher than in 2014, an impressive growth of 44%.
However, investors should also note that AMCo had less than a quarter and Covis had less than three quarters to contribute to results. So, their full-year contributions should be even more impressive for this year.
Value added by the acquisitions
Covis added to Concordia's branded product offerings, including products such as Plaquenil®, Nilandron® and Lanoxin®. AMCo further diversified Concordia's product offering by adding more than 190 products. Not only that, AMCo also came with an international pipeline and a global platform for expansion, allowing Concordia to extend its reach to more than 100 countries. Now, Concordia's revenue mix is about 40% in the U.S. and 60% internationally, and it has a much more diversified product offering such that no single product accounts for more than 10% of revenues.
Valuation
Based on the Graham Number of $36.77, Concordia's price of $26.50 on Thursday's close indicates the shares have a margin of safety of 28% with an upside of 38%.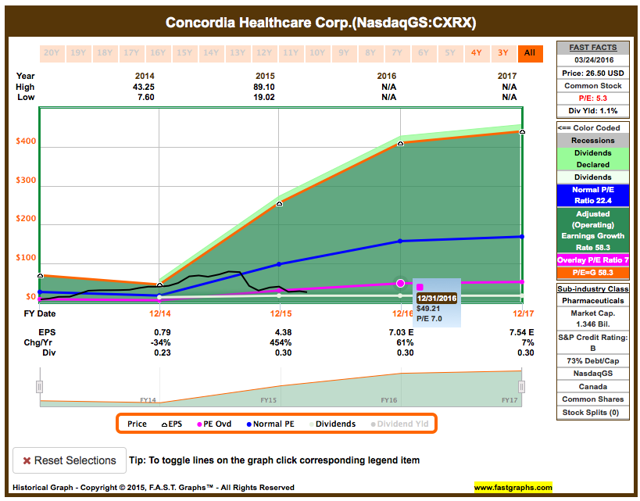 Click to enlarge
FAST Graphs shows that Concordia is only trading at 5.3x its earnings. Let's say that the company only expands to a conservative multiple of 7; the shares would be trading at $49 indicating 85% of upside.
Conclusion
Concordia looks cheap from a valuation standpoint and has high growth potential due to its international expansion. However, because of its big appetite for acquisitions last year, the company is now swimming in heavy debt which usually don't bode well with companies with low credit ratings (Concordia's S&P credit rating is B).
So, I view Concordia as an opportunistic investment for substantial capital appreciation if it turns out well. And I manage my risk by keeping it as a small percentage of my portfolio. Holding it in a taxable account will also help because if any losses are realized, they can be written off and used to offset other capital gains.
In the coming quarters, Concordia must prove it can generate strong cash flows to pay interests and to lower its debt levels, in order for its share price to head higher.
Investors with an above-average risk tolerance may find Concordia's shares to be undervalued at 5.3x its earnings with 85% of upside potential in the next two years.
Share in the comments below!
Do you use a part of your portfolio to invest opportunistically? (i.e. Taking on higher risk to target a higher return?)
If so, feel free to share your opportunistic investments.
How do you manage the risk around these investments?
If you like what you've just read, you can also follow me for free! Simply click on the "Follow" link at the top of the page to receive an email notification when I publish a new article.
Disclaimer: This article consists of my opinions and is for educational purposes only. Please do your own research and due diligence and consult a financial advisor and or tax professional if necessary before making any investment decisions.
Disclosure: I am/we are long CXRX.
I wrote this article myself, and it expresses my own opinions. I am not receiving compensation for it (other than from Seeking Alpha). I have no business relationship with any company whose stock is mentioned in this article.
Additional disclosure: I'm long TSX:CXR.