A news story that Russia will increase oil exports to Europe to their highest level since 2013 is being reported as threat to OPEC's freeze agreement. Russian Energy Minister Alexander Novak responded: "The discussion is only about freezing production. And not exports."Russian exports are said to be increasing because planned maintenance at refineries reduced their capacity to process crude oil.
A review of Russian production and exports reveals the normal fluctuation in exports. Moreover, the data show a 9% increase in 2015 compared to 2014 despite a nominal increase in production.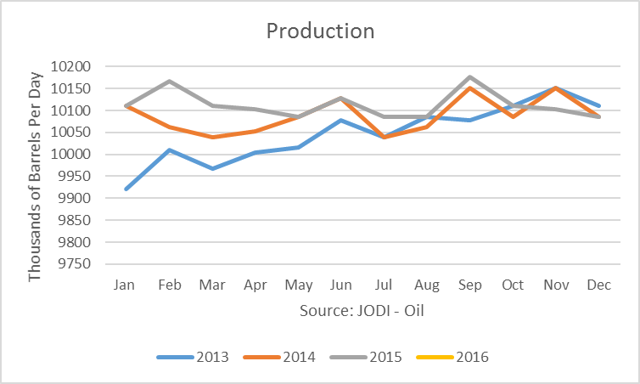 Click to enlarge
Russia's oil production averaged 10.1 million barrels a day (mmbd). in 2015. It increases to 10.180 in January, according to JODI data. Exports averaged 4.9 mmbd in 2015.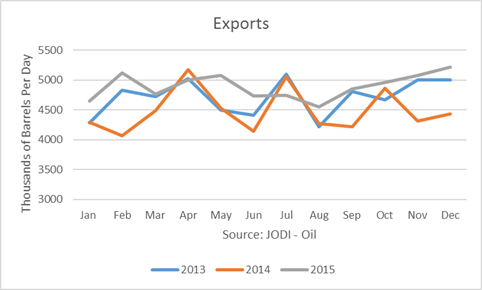 Meaningless?
An executive of the International Energy Agency (IEA) called the OPEC - Russian freeze proposal "meaningless" since Russia does not have the capacity to increase production. "Amongst the group of countries (participating in the meeting) that we're aware of, only Saudi Arabia has any ability to increase its production,"said Neil Atkinson, head of the IEA's oil industry and markets division.
While it is true that the freeze will in fact not result in the decrease of world oil supply by one barrel, what observers seem to be missing is the market impact of statements by the oil producers. By simply making statements, they can create a price reaction. These reactions have been mainly to the upside.
While these market impacts do have their limits, they reduce the aggressiveness of short-sellers. Ever since the first "freeze" announcement, OPEC statements have become increasing bullish. In mid-February, OPEC's Secretary General Abdullah al-Badri said OPEC had not expected oil prices to drop as much as they had following their decision to fight for market share. Last week, he said "I hope the result of the (Doha freeze) meeting will be positive."
Badri said he hoped oil prices, had bottomed out and would rise further if a supply overhang could be erased.
The "price going up, I hope this trend will continue," he said. "I don't expect the price will go high but I think it will go to a moderate level."
"At this time, the only problem I see is the overhang above five-year average of stocks, about 300 million barrels."
According to the Energy Information Administration (NYSEMKT:EIA), excess petroleum inventories in the OECD countries were about 385 million barrels. The EIA projects that the excess will rise to over 600 million barrels in 2017 before supply and demand balance.
Conclusion
Unless OPEC cuts production. That's the card OPEC can continue to play to keep prices off the bottom.
Disclosure: I/we have no positions in any stocks mentioned, and no plans to initiate any positions within the next 72 hours.
I wrote this article myself, and it expresses my own opinions. I am not receiving compensation for it (other than from Seeking Alpha). I have no business relationship with any company whose stock is mentioned in this article.