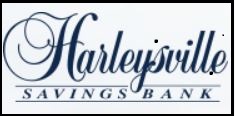 This is the second article on small banks that I own and wrote about earlier. I have kept Harleysville Savings Financial Corporation (NASDAQ:HARL) in several of my portfolios because it pays about 4.5% at its current price. It has been a steady performer with little to no growth. As a matter of fact, the bank's EPS is almost exactly the same for 2015 as it was for 2012 at around $1.30 per share. I keep it because of the dividend and the strong possibility that it will be bought out by another bank since it sells near book value.
The bank operates 7 offices, 6 in Montgomery County, PA. and 1 in Bucks County, PA. It primarily does what most banks do, collect deposits from consumers and businesses and invests those deposits in residential, commercial and consumer loans. Ford Equity Research recently placed a strong buy on HARL primarily because earnings have been growing recently. You can see the graph it produced below: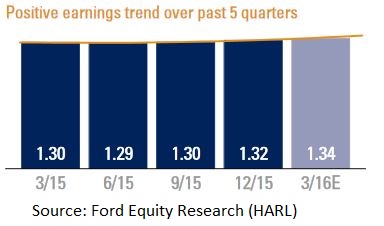 With the current PE of the bank at 13.88 and a dividend at 4.5% I believe the bank is selling at slight discount to its value. I suggested that Harleysville was a possible buyout candidate the first time I wrote about it. I continue to see the company as a buyout opportunity for a regional bank such as Univest (NASDAQ:UVSP) which currently owns 11,816 shares of HARL or First National Trust Co. which is the owner of 17,806 shares.
Just as a matter of interest, I could not find First National Trust Co. anywhere. However I was able to find a First National Bank and Trust Co. of Newtown. This bank has 12 offices located in Bucks County, Pennsylvania which is adjacent to Harleysville Financial Savings Corp's offices in Montgomery County. Univest has its offices in both Montgomery and Bucks County so that either of these 2 regional banks could be an interested buyer of the bank.
If you are interested in buying this bank, be sure to place a limit order since the average number of shares sold is about 3500 shares per day. This is a small cap company and thinly traded.

Univest or UVSP is also one of my favored banks that I covered in the past. This bank pays just a bit over 4% or $0.80 per share and sells for a PE of 13.73. This bank sells at about $19.00 per share or near the listed book value of $18.51 per share.
UVSP has recently become a buyer again of smaller nearby banks to enlarge its footprint and customer base. It closed on Valley Green Bank on 1/1/2015 and announced a pending deal to buy Fox Chase Bancorp, Inc. on 12/8/2015. The bank's web site also has started to tout a new location to be opened in the Fairmount section of Philadelphia shortly.
UVSP is headquartered in Souderton, PA. and has more than 50 offices in southeastern Pennsylvania which extends to the Maryland line. The company has several offices dedicated to financial planning and insurance sales. It also does all the other things one expects a bank to do.
The bank's revenues and EPS has been growing right along. You can track these in the graphs taken from S&P below: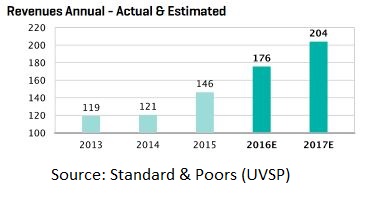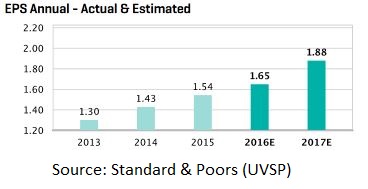 Net interest margins have increase from 3.81% in 2013 to 3.96% in 2015. ROE or Return On Equity has gone from 7.4% to 8.4% and ROA or Return On Assets has gone from 0.94% to 1.07% during the same time period. Dividends per share have stayed the same from 2009 to 2015 at $0.80 per share. The dividend payout ratio has gone from 107% to 58% over the same time period. It is important to note that the company did not decrease dividends during the bank crisis and the bank should soon begin to be able to increase dividends once again.
Conclusions:
I believe the current price of Harleysville Savings Bank at around $18.00 per share has the company slightly undervalued. The bank offers a good dividend at the current price but I see little EPS or dividend growth in near or long term for this company. The only thing that would increase the price significantly is a buyout by another bank at a premium.
On the other hand, Univest is back into a growing mode and increasing its footprint in Pennsylvania. It is also growing volume and EPS. Its financials are in good shape and the bank is in a position to prosper. I believe that Univest will again begin to increase its dividend in the near future. The current dividend offers a little over 4% and the payout ratio is near the level where the board has seen fit to increase the dividend in the past. I am a buyer at the current price for Univest and suggest you investigate to see if you want to buy as well.
Disclosure: I am/we are long HARL, UVSP.
I wrote this article myself, and it expresses my own opinions. I am not receiving compensation for it (other than from Seeking Alpha). I have no business relationship with any company whose stock is mentioned in this article.
Editor's Note: This article covers one or more stocks trading at less than $1 per share and/or with less than a $100 million market cap. Please be aware of the risks associated with these stocks.