Socket Mobile (OTCQB:SCKT) is a provider of mobile cordless barcode scanners. I became aware of the company back in September 2015 and put out an introduction article following my due diligence. For more basic information on the company, I suggest that you read my original article.
Since I originally covered the company, the share price has ran up ~35%. Besides the value created by a share price run-up, management has continued to increase the value of the overall business model. Furthermore, the company is cheaper at today's valuation than when I initially covered the company. Most importantly, there are a few catalysts on the horizon, which will help to ensure further upside.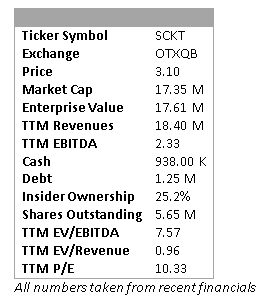 Investment thesis
In the past 10 years, SCKT has been an unprofitable company with a dying legacy business. However, in 2014, the company turned over a new leaf with a revenue uptick and the first year of profitability. Moving forward, in 2015, the company had a record-breaking year of profitability.
Currently, top line growth is hidden from a declining legacy business. Profitability will continue to expand as revenues grow and expenses are properly managed. Moreover, there will be more of a kick to FCF due to the recent retirement of high cost debt. Additionally, the current warrant overhang will expire in May 2016, acting as a sort of catalyst. Finally, within the next quarter or two, SCKT should meet the requirements of up-listing to the Nasdaq.
There are a significant amount of bullish indicators in play with SCKT going into 2016 and future years. Micro-cap investors can play the rise in their mPOS segment, sustained profitability and near-term catalysts before the rest of the street hears about the story.
Top line growth is hidden
From 2014-2015, the top line only grew 8.1%. The reason for the sub-par top line growth is due to a declining legacy business segment, 23% decrease YOY. In 2015, the mobile handheld computer segment (legacy business) represented 13% of consolidated revenues, compared to 18% YOY. A declining legacy business segment will continue to hide the real top line growth of their core business segment. Any growth investor heavily inclined on screener use will miss this opportunity.
When looking at the core business segment, we can see that revenues grew 16% YOY. As the legacy business segment continues to decline, the real growth of the company's business will start to come into the light. Curiously, the core business segment has seen annualized top line growth of 28.62% in the past four years.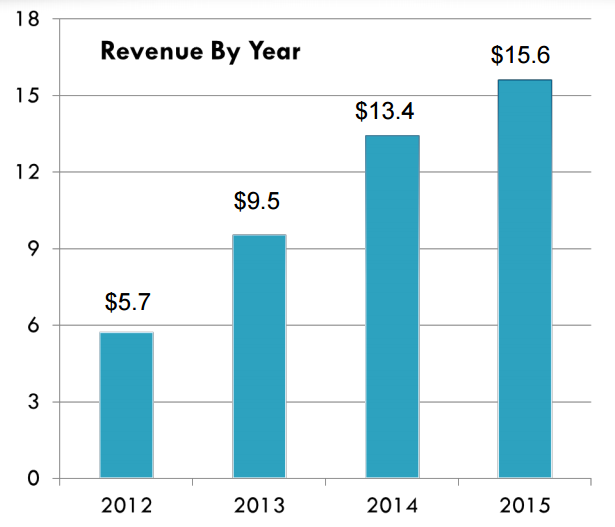 Source: Investor Presentation
Interestingly, another top line bullish indicator is that SCKT's scanners are the pre-selected hardware devices in >100 mPOS Applications (up from 90 just a few years ago). Thus, after a customer purchases an app, SCKT's hardware is the chosen product the majority of the time. Given the company's market position for small retailers, they have pushed themselves into a market that could have real exponential growth.
Remember, in 2015 and 2014, mPOS drove for more than 50% of scanner sales. There is a huge market out there transitioning from the old school cash register to the cordless scanner. SCKT is well positioned to take advantage of the secular shift.
Lower fixed costs will translate into free cash flow
When I first covered the company back in September 2015, one of my biggest concerns was the weak balance sheet ($2.19mm in debt and $830K in cash). Besides the high debt to cash position, a good majority of the debt was very expensive (high double-digit interest rates).
From my original chat with management, they told me that they were going to focus on strengthening their balance sheet, thus decreasing their high fixed costs. Since my chat, management has decreased debt by ~43%. Moreover, they paid off a $500,000 note that had a sky high interest rate of 18%.
On an absolute basis, in 2014, SCKT had an interest expense of $405,250. By 2015, the interest expense dropped to $279,225. What is interesting is that the $500,000 note that was paid off accrued interest rates of $100,455 and $207,299 in 2015 and 2014, more than half of the total interest payments. Investors also should understand that this note was fully paid off on January 29, 2016. Thus, the next quarter will show much higher FCF due to the payment of this note.
As the company continues to pay down its debt, interest expenses will gradually decrease. Likewise, lower interest expenses will translate into more FCF, thus strengthening the balance sheet and lowering non-systematic risk. Higher FCF should help to clean up the balance sheet even further, in the next few quarters.
Recent uptick in profitability has turned Socket Mobile from a growth to a value play
Back in September, SCKT was far from being a value investment. More or less, the company's valuation and forward prospects were geared toward the growth investor. With a TTM P/E and EV/EBITDA of 17.42 and 11.08, respectively, it was a little richly valued for most value investors.
If you have read my original article, by now you should know that I was estimating that SCKT would bring in EPS between $0.17-$0.20/share for 2015. Thus at the current price of publication, I was estimating the forward P/E ratio to be 11.5x-13.5x.
SCKT exceeded my EPS target by a far-shot, pulling in $0.30/share for 2015. The share price did run up after last quarter's blowout performance. However, despite the run-up, the TTM valuation has gotten much cheaper.
| | |
| --- | --- |
| TTM P/E | TTM EV/EBITDA |
| 10.33 | 7.57 |
Interestingly, management has continued to control/lower operating expenses as revenues increased and the bottom line expanded.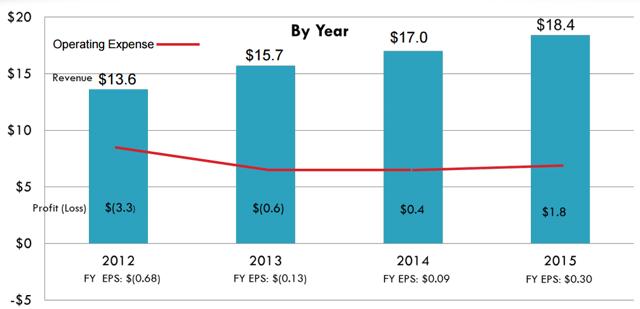 Click to enlarge
Source: Investor Presentation
Is it irrational for a company with potential exponential growth, recent inflection point of profitability, and a lower fixed cost from a stronger balance sheet to be trading with a P/E and EV/EBITDA of 10.33x and 7.57x, respectively? I believe so. But I will let you make the judgment call.
Moving Forward
The reason why SCKT has had success transforming their business model relies almost wholly upon their relationships with app providers. For customers, the app is the primary purchase. Knowing this, management did a significant amount of legwork in which they leveraged their position with app providers. Due to the relationships with app providers, they have become one of the key providers of cordless barcode scanners in their market.
As more and more small retailers and the market as a whole continues to transition into mPOS, there will be a steady increase in demand for scanners. The integration work that management did in 2013 and 2014 has finally started to pay off. Furthermore, since the integration with app providers is complete, as more apps are bought, SCKT will continue to capture market share with their scanners.
Future business in 2016 will be driven by small retailers purchasing scanners due to the secular demand in mPOS. SCKT also has a few new product lines coming online in the near-term. However, given the fact that the sales cycle is typically longer, we won't see a decent clip in sales from these new product lines.
However, as the year passes into 2017, growth from these new product lines will start to come online. Take Durascan for an example. Durascan is a durable barcode scanner that is designed specifically for harsh environments. Currently, there is a lack of durable scanners in the market. Thus, when this product is fully integrated, it could be game changing for the company, providing a whole new stream of revenue.
SCKT also has a new product line called TouchPoint. This product line will be available for customers in the near term as well. With TouchPoint, mPOS customers should be able to open more doors to their own customers via RFID token exchange. The software for TouchPoint still needs to be written into the developer community though. TouchPoint will provide yet another stream of revenue for SCKT going forward.
Overall, the company has a bright top line future. Even if top line growth slows down to 10% going forward, with a P/E ratio of ~10, the company offers probabilistic upside.
Valuation
Putting an estimated P/E multiple of 15.0x on an expected EPS of $0.35/share gives us a price target of $5.25/share. This price target should be viewed as conservative given the continued top line growth, strengthened balance sheet (high interest payments offline), and recent swing into sustained profitability. Furthermore, new products will come online mid to late 2016, giving SCKT further revenue streams.
Shielding the company's bottom line is their high Federal NOLs of $27,578,000, which run through 2033. Additionally, the warrant overhang with Hudson Bay will expire in May of 2016, acting as a type of catalyst. Finally, the management is pretty adamant on up-listing the company to the Nasdaq. All the company needs for a successful up-listing is equity balances of >$4.0mm. With a current equity balance of $3.3mm, the key up-listing requirement is nearly complete.
Risks
The lack of working capital is still a risk. However, the company has greatly improved their capital position and we should continue to see a stronger balance sheet going forward.
There has been a history of losses in the past. If the past dictates the future, there may be losses going forward. In the company's current position, I believe that the event of future losses are low.
SCKT has customer concentration and supplier concentration. Furthermore, there is a heavy reliance upon developers.
The technology market is fast moving and will require SCKT to expense/capitalize heavy investments in R&D and/or capex.
Conclusion
Based upon my analysis of the company, I believe that SCKT is more attractive now than it was when I originally analyzed the company. Furthermore, there is a clear absolute undervaluation that investors can take advantage of. Finally, two notable catalysts in the near-term have the potential of pushing the stock price up in the short run.
To end this report, I would like to share a recorded interview I did with Socket Mobile's management team, Dave Dunlap and Kevin Mills. Note: the recording is silent until 2.27 minutes have passed.
Disclosure: I/we have no positions in any stocks mentioned, and no plans to initiate any positions within the next 72 hours.
I wrote this article myself, and it expresses my own opinions. I am not receiving compensation for it (other than from Seeking Alpha). I have no business relationship with any company whose stock is mentioned in this article.
Editor's Note: This article covers one or more stocks trading at less than $1 per share and/or with less than a $100 million market cap. Please be aware of the risks associated with these stocks.