GameStop (NYSE:GME) has been a great investment for us this year, but we have decided to now call time on the investment due to concerns over its future. This comes following less than impressive guidance that management provided in its fourth quarter earnings release.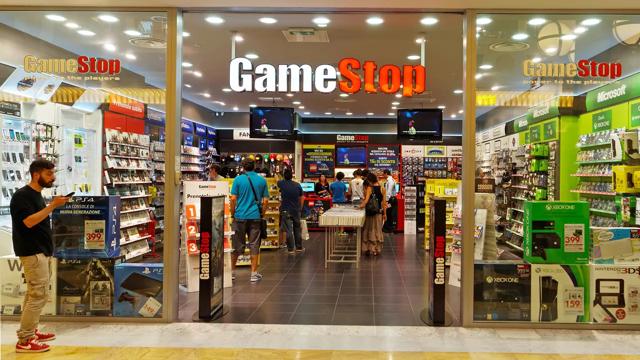 Just over two months ago we felt that GameStop was too cheap to refuse. At that point in time GameStop's stock was trading at $25.64 and paying a dividend that yielded 5.62%. This meant it was trading at a PE ratio of just 6.9, which was the lowest level it had traded at in four years. Concerns over its business model and threats about competition from Amazon (NASDAQ:AMZN) seemed to be holding the share price down.
Since then the stock has climbed to over $30.00, but this is likely to be chopped down to around $28.15 according to after-hours trading. Still, this is around a 10% gain, which for the short time we held the stock is a great return.
The company produced a 15 cents beat on earnings in the fourth quarter leading to full year EPS of $3.78. If the stock opens at $28.15 on Monday, it will mean its trading at 7.44 times earnings. Despite the stock again being potentially in bargain territory, we won't be holding it this time around.
The guidance that management provided in its earnings release was quite worrying. It has forecast sales in the first quarter to be down by -4.0% to -7.0% year over year without explanation. Although it expects full year sales to come in between 0.0% and 3.0%, we are not confident it will be able to achieve this after such a terrible start to the year.
As you can see above the GameStop has really struggled to grow its revenue in the last few years. There are big concerns about Amazon stealing its business and these are justified in our opinion. We still believe that what we said in our previous thesis is true. That is that Amazon is a great place to buy games from, but it still needs to be delivered. The advantage GameStop has over Amazon is its omnichannel focus. The ability to buy online and pick up from store is great for those that just can't wait for deliveries. With around 4000 stores in the US there's going to be one reasonably close to the majority of consumers.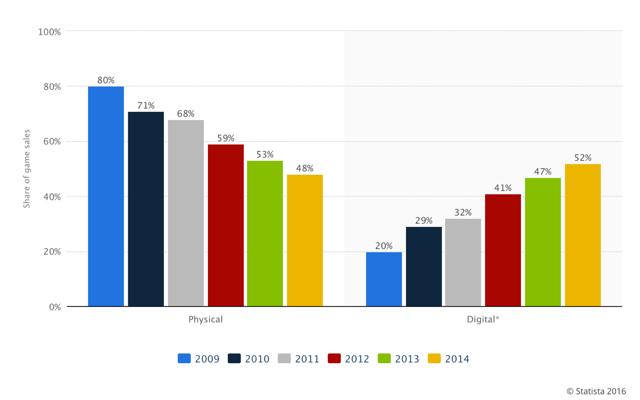 Source: Statista
But the problem with this advantage is that it is very likely to disappear in the next few years as digital downloads start to take over. In 2014 digital download sales took over physical sales for the first time having accounted for just 20% of total sales in 2009. GameStop do offer digital downloads of course, but there is little by way of an economic moat in a world of digital downloads. It also means that the company will be left with almost 4,000 stores that are semi-redundant.
The attempt by the company to diversify into electronics could possibly work. It now operates over 1000 Technology Brand stores where it sells items such as iPhones, the Apple Watch, and Beats headphones. At present the electronics segment is contributing around 6% of total sales, so there is still a long way to go and the company will be relying on its core business for a while yet. We were optimistic on this, but its growth may be happening too slowly for it to cover the drop in physical sales at GameStop. So until the company can show us why consumers will choose to shop at its electronics stores rather than at somewhere like Best Buy (NYSE:BBY), we are not going to make an investment on the back of it. We are pleased to see the company try to diversify its operations, though, and hope it will be a success.
There are things on the horizon which could be a boost to its core business this year. Nintendo is expected to release a new console this year. Consoles cannot of course be downloaded, so this could be a boost to the top line if it is received well by gamers. Also, the emergence of virtual reality could again be a lifeline to the company.
At the low multiple the stock trades at presently there is potential for a lot of upside in the future. But for us, we are going to have to sit this one out and invest elsewhere.
Disclosure: I/we have no positions in any stocks mentioned, and no plans to initiate any positions within the next 72 hours.
I wrote this article myself, and it expresses my own opinions. I am not receiving compensation for it (other than from Seeking Alpha). I have no business relationship with any company whose stock is mentioned in this article.