Canadian Solar (NASDAQ:CSIQ) reported great Q4 earnings with an EPS of $1.05 and revenue of $1.12bn, beating analysts estimates. After issuing "soft" guidance, the stock was sent down by 13%. Management guided for $2.9bn to $3.1bn in 2016 vs. revenue of $3.47bn in 2015. The guidance provided by management can be seen as very conservative given the fact that it excludes the potential sale of some of its OECD plants, in which case revenue for the full year of 2016 is expected to be in the range of $3.2bn to $3.6bn. As a result, I consider the shares to be significantly undervalued.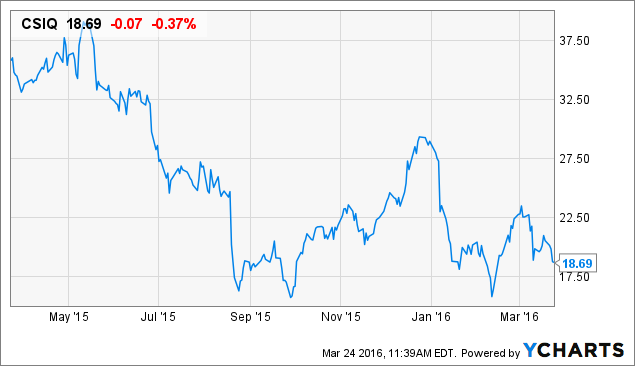 CSIQ data by YCharts
Investment thesis
Canadian Solar operates in the solar PV industry through its module manufacturing and project development business. I consider it to be one of the better solar stocks in the industry today as it is conservatively managed and undertaking a significant capacity expansion plan. The company is increasing its manufacturing capacity to meet expected strong growth in demand for its solar products across the globe. Equally as important, CSIQ is continuing to make impressive progress in the buildout of their total energy or total solutions business, with 398 MW of solar plants in operation, a late-stage project pipeline totaling 2.0GW in execution, and an early stage project pipeline of 8.3GW in development, 2.6 GW of which is in the US and will benefit from the recent ITC extension.
Its solar projects will eventually be monetized either through a yieldco, direct sales or a combination of the two. CSIQ already filed a yieldco registration statement. However, considering the fact that the yieldco market is not in a very good shape at the moment, management remains flexible and will, if needed, keep selling projects as it has done in the past.

Source: CSIQ IR presentation March 2016
Its solar power plant assets in OECD countries are expected to reach 1.1 GW by the end of 2016. Management estimates that the resale value of these assets is roughly $2.5 billion. In addition, it is estimated that electricity revenue from these solar power plants, on an annualized run-rate basis, is approximately $160-170 million at the end of 2016. The company remains flexible in order to maximize shareholder returns. It is clear that if CSIQ decides to sell some of its plants, revenue will be significantly higher than its reported guidance. I think that the market greatly underestimates the potential value unlocked by dropping these assets to a yieldco, selling the projects or a combination of both.
Manufacturing capacity expansion
The company is increasing its manufacturing capacity to meet strong growth in demand. Module shipments have increased with a CAGR of 80.1% in the past 10 years. It is planning to expand its wafer, cell and module capacities to 1.0 GW, 3.9 GW and 5.73 GW by December 2016. The focus on the module side is to upgrade technology and to improve cost structure through selected capacity investment.

Source: CSIQ IR presentation March 2016
The company anticipates an increase in gross profits and gross margins in 2016 as new capacity additions should help in achieving economies of scale. Management expects costs of production to decrease during 2016 as new capacity will lead to fewer external and OEM purchases.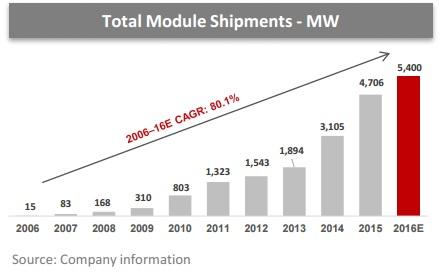 Valuation
CSIQ is trading at attractive multiples, with a P/E of 6.1 and EV/EBITDA of 6.92. It is often said that CSIQ is trading for a discount because of its China connection, while it is in fact a Canadian company. Even a slight improvement in valuation will result in significant upside. Historically it has been trading with an EV/EBITDA of around 8.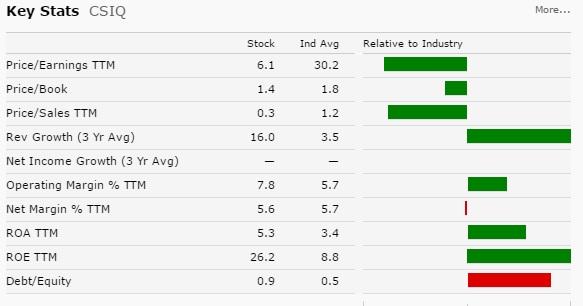 Source: Morningstar
I believe that CSIQ is currently significantly undervalued and that it is an interesting investment opportunity. I present my base and bull cases below. Figures are based on guidance by management. For the full year 2016, the company expects revenue to be in the range of $2.9 billion to $3.1 billion. For my base case I take the midpoint of this guidance (revenue $3.0 billion). If the company decides to sell some of its OECD solar plants, it is expected that revenue will be in the range of $3.2 billion to $3.6 billion. For my bull case I take a revenue forecast of $3.5 billion. Valuation is based upon an EBITDA margin of 10%.
| | | |
| --- | --- | --- |
| | Base | Bull |
| EBITDA | 300 | 350 |
| Multiple | 8 | 8 |
| EV | 2,400 | 2,800 |
| +Cash | 1,100 | 1,100 |
| -Debt | 1,913 | 1,913 |
| Total Equity | 1,587 | 1,987 |
| Shares Outstanding | 55,97 | 55,97 |
| Estimated Equity Per Share | 28.35 | 35.5 |
In millions
My base scenario results in a potential upside of 50%, my bull scenario in an upside of 88%.
Conclusion
Canadian Solar is an attractively priced company in a growing sector. After issuing soft guidance the stock declined 13%. This guidance is very conservative as it excludes the sale of some of its solar plants. In my opinion this has created an even more attractive entry point with a potential upside of at least 50%.
Disclosure: I am/we are long CSIQ.
I wrote this article myself, and it expresses my own opinions. I am not receiving compensation for it (other than from Seeking Alpha). I have no business relationship with any company whose stock is mentioned in this article.