Sugar has been up over 50% since August lows and has increased over 25% just since the February lows. On Friday alone the May US Sugar No. 11 futures contract dropped 5.55%. Investors are wondering is this going to end just like my kids after eating all the Halloween candy? That is, the kids have a massive amount of energy from the sugar high and suddenly crash, or is there another scenario. I like to turn to chart indicators to help guide us in these situations.
The Sugar No. 11 contract is the world benchmark contract for raw sugar trading. The contract available on the ICE futures exchange prices the physical delivery of raw cane sugar. For those without a futures account exposure to the Sugar No. 11 contact can be achieved through the iPath Dow Jones-UBS Sugar Total Return Sub-Index ETN (NYSEARCA: SGG) or the Teucrium Sugar Fund ETF (NYSEARCA: CANE). The SGG ETN holds the front month Sugar No. 11 contact and the CANE ETF holds a basket of 3 different months Sugar No. 11 contracts. Therefore, each vehicle will provide slightly different results depending on the market structure.
Fundamentals
The sugar market has recently experienced multiple years of plenty where the production has been greater than the consumption. This has led to an increase in sugar stocks and a long slow steady decline in the price of sugar as shown in Chart 1.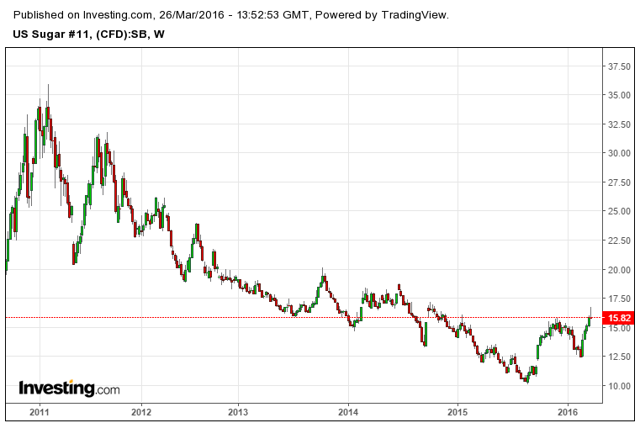 Chart 1: data source Investing.com
This year is different, finally consumption outstrips production this year after years of oversupply. Like other commodities a bottom appears to be forming.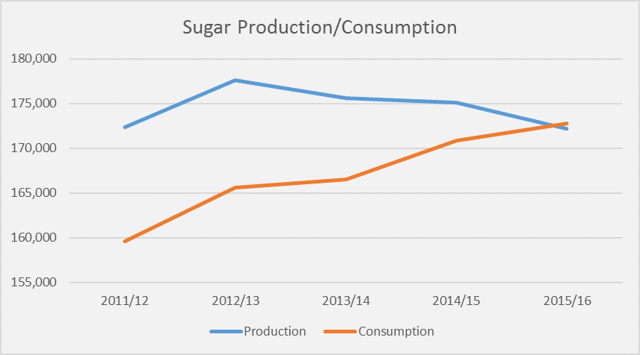 Chart 2: data source USDA
This overproduction in recent years has led to an increase in ending stocks. Ending stocks are important in all agricultural commodities. They help buffer the market from year to year production shocks and provide some certainty of supply given the variable nature of production agriculture. With the years of oversupply in sugar comes a corresponding increase in ending stocks. This year with a production deficit we are also seeing a reduction in these ending stocks.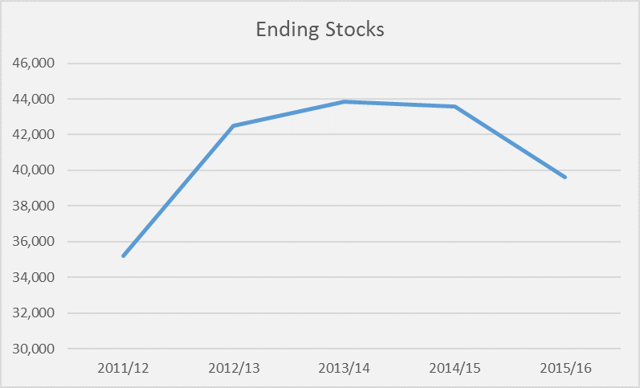 Chart 3: data source USDA
The idea of a production deficit this year ignited the first leg of the sugar rally in August. The rally continued into December before taking a breather. In February a number of industry analysts increased the world sugar production deficit estimate this year. These deficit forecasts fueled the 2nd leg of the rally that we are currently in.
Near term the sugar market remains fundamentally bullish on the increasing deficit forecasts. But the price has risen dramatically lately and we are starting to enter the harvest season in Brazil which is the world's largest sugar producer. Harvest season tends to be bearish in agricultural commodities. Near term headwinds are to be expected. Longer term consumption has been increasing about 2%/year and production has been relatively flat. Combined the macro economic conditions of rising population and income, I have a bullish outlook on sugar longer term.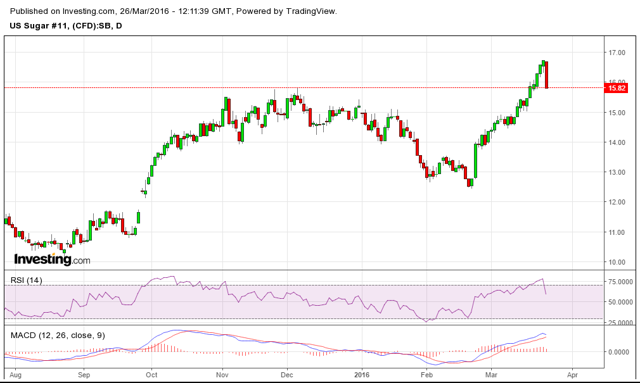 Chart 4: data source Investing.com
Technicals
Even though I am near and longer term bullish, the questions remain, what is the short term direction of the market and what are the turning points. We want to enter long trades when the market is looking like it will go higher and maybe exit those trades when the trend looks exhausted. I look at the futures price action and technical indicators to help guide me in that decision. I first look at the price chart of the underlying futures contracts then at the price charts of the corresponding SGG and CANE. The technical indicators I like to use are the moving average convergence divergence (MACD) and the relative strength indicator (RSI).
When one trades simple long or short positions in commodities or ETN or ETFs based on those commodities one is purely speculating on the direction of the price for that commodity. The most important thing you can have is a plan on how you are going to trade and built into that plan is a risk management strategy on how much you can afford to risk to execute that plan. Trade opportunities will come and go, and there will be winners and losers over time. It's so important to have a solid risk management strategy so your losers don't wipe you out.
Because we are taking pure directional risk, the MACD helps identify the direction of short term momentum. For those not familiar with the MACD indicator, here is a simple explanation. The MACD shown on Chart 4 uses a longer term (red line) and a shorter term (blue line) exponential moving averages. When the shorter term average is above the longer term average momentum is increasing suggesting price has been rising at a faster rate than it has in the past. As you can see the price has been rising since late February and the blue line has been above the red line indicating the trend is up. Because there are pull backs in continuing trends I don't simply look at the rising or falling momentum in the MACD to guide me. I also like to look at the RSI indicator.
The RSI is another momentum indicator that shows when an asset is overbought or oversold. RSI will oscillate between 0 and 100. When RSI is over 70 that is an overbought condition and when RSI is under 30 that is an oversold condition. You will see on the chart that we have lines drawn at 70 and 30 to help us spot the overbought and oversold conditions. It's important to note that in an upward trending market just because there is an overbought indication does not necessarily mean the trend is over. On strong uptrends the RSI will continue to be overbought and overbought and overbought. You will see that in our sugar Chart 4 during October and November. RSI continued to be overbought and the price continued to run higher as shown on Chart 5.
Rather than just simply looking at overbought and oversold, I like to look at divergences in the market. That is where the price trend is running higher, but the RSI overbought trend is running lower. Or at the bottom of markets where the price trend is running lower and the RSI oversold trend is running higher. I like to look for divergences on both the MACD and the RSI indicators to help identify turning points in the market. Chart 5 shows divergences in the sugar market in Oct-Dec and also in Feb.
Let me be very clear, markets do not always have divergences in the chart indicators. Sometimes market prices simply turn one way or another and that's it. Second, divergences in strong trending markets can continue for a long time. Just because indicators are diverging from price action doesn't mean the market is ready to turn. We saw this in October where the market was showing divergence for 2 months before finally turning. This is more of an art than a science but at times can provide decent higher probability entry and exit points.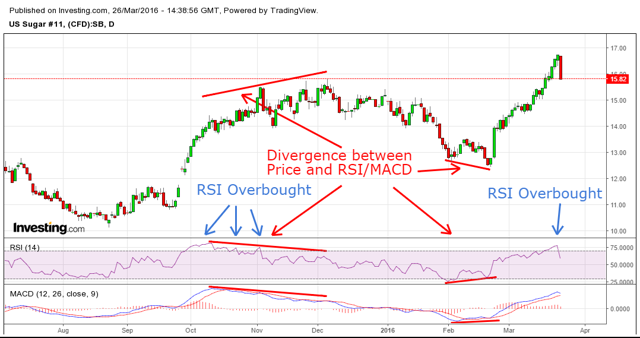 Chart 5: data source Investing.com
We see the same indicators on the SGG price chart.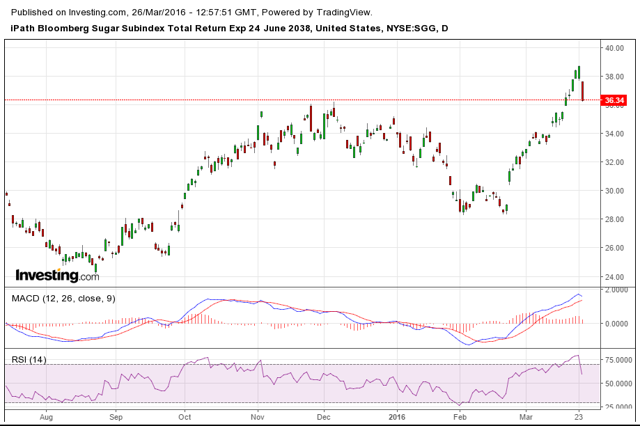 Chart 6: data source Investing.com
We also see the same price movement and indicators on the CANE price chart.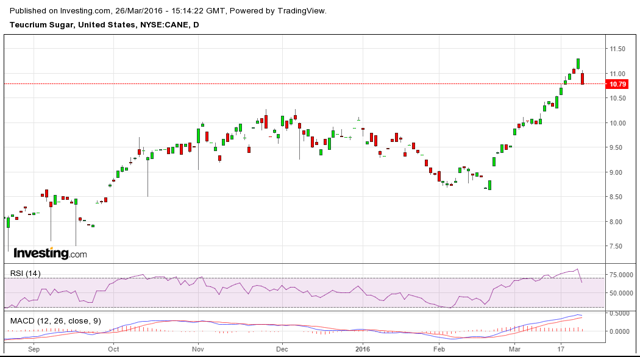 Conclusion
With the strong move down on Friday and seasonal weakness coming, its easy to make a near term bearish case in sugar. With the strong move higher since August it's understandable to make a bearish case through harvest season. With the MACD still pointing higher and no divergence on the RSI our indicators have not yet shown the recent uptrend is at and end. In these situations it's important to review your trade plan and risk management strategy and continue to watch the market closely.
Disclosure: I/we have no positions in any stocks mentioned, and no plans to initiate any positions within the next 72 hours.
I wrote this article myself, and it expresses my own opinions. I am not receiving compensation for it (other than from Seeking Alpha). I have no business relationship with any company whose stock is mentioned in this article.
Additional disclosure: The information contained in this article is taken from sources believed to be reliable, but is not guaranteed by AgTrades, LLC, nor any affiliates, as to accuracy or completeness, and is intended for purposes of information and education only. Nothing herein should be considered as a solicitation to trade commodities, equities, or a trade recommendation by AgTrades, LLC. Futures, equities, and options trading involves the risk of loss. Past performance is not indicative of future results.